Shiba Inu (SHIB) price analysis seems to indicate that the asset will soon overcome its resistance. However, the direction of the long-term trend remains uncertain.
The price is approaching the support zone
SHIB has been trending below a descending resistance line since Aug 14. This line caused several price deviations between the end of October and the beginning of November, after which it fell sharply (red circle). As a result of this decline, the price fell below the $0.0000098 support zone, after which it became resistance on December 5 (red arrow).
Since then, the price of the Shiba Inu cryptocurrency has declined and confirmed a support zone of $0.0000080 on December 19.
Although the same coin confirmed this zone and then bounced back, there is no sign of a bullish price reversal. The daily RSI has risen but is still below 50 and has yet to trigger a bullish divergence.
Due to the lack of decisive signals in one direction or another, a price forecast for Shiba Inu for January cannot yet be made. A cross of SHIB above the descending resistance line or below the $0.0000080 area can determine whether the future price trend turns bullish or bearish, respectively.
SHIB/USDT per day. Source: Trading View
Another ambivalent element: the percentage of SHIB tokens controlled by whales. Indeed, almost 70% of SHIB's working capital is currently owned by whales, just over 20% by individuals and less than 10% by investors. This can be a problem because the whales then have the opportunity to sell their holdings and cause the price of the same coin to drop.
Thus, because of this risk of a selling wave, technical analysis data is less convincing.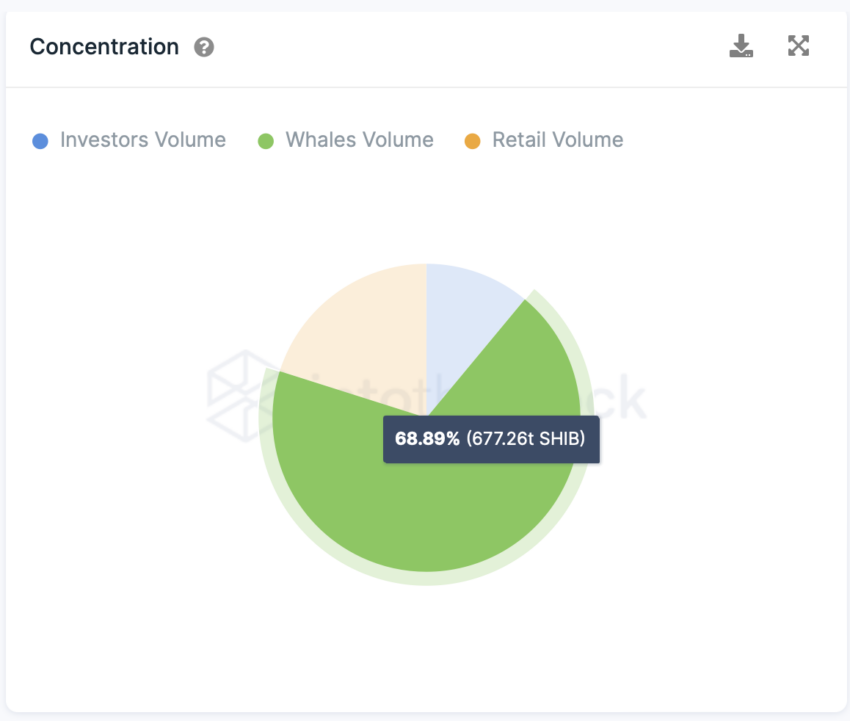 Holding a concentration chart. Source: IntoTheBlock
An Inevitable Breakthrough for Shiba Inu Cryptocurrency?
Technical analysis of the four-hour data is more bullish on SHIB. The price movement since November 8 is contained in a falling wedge, which is considered a bullish pattern. Although the price has been consolidating over the last 24 hours, it may exit this pattern soon, mainly due to the bullish divergence formed by the RSI (green line).
As a result, it seems likely that the Shiba Inu will eventually overcome this bevel. In this case, the price should reach the aforementioned $0.0000098 resistance zone. The reaction of an asset to reaching this level can determine its future trend.
SHIB/USDT over four hours. Source: Trading View
In conclusion, the most likely move for the price of SHIB will be a break above the short-term wedge and up to $0.0000098. We can then make a forecast for the Shiba Inu for January based on the price reaction when it hits that level.
Denial of responsibility
All information on our website is published in good faith and for general informational purposes only. Any action taken by the reader based on information found on our website is done solely at his own risk.