⇧ [VIDÉO] You may also like this partner's content (after ad)
Oil spills are a veritable scourge of the modern world and their prevention is no longer enough. To combat these human-induced ecological disasters, many solutions are being tested, and recently researchers at the University of California at Riverside (UCR) have turned to soft robotics. They designed a floating robotic film that could clean up oil spills on its own. It would even be adaptable to perform direct cleaning or filtration of the various contaminants.
And it seems that the researchers have thought of everything to make their concept as viable as possible: it would not require any external power source, since its source of energy would be none other than sunlight, combined with that which will be more abundant in its operating environment. , Water.
"Our motivation was to make the soft robots durable and capable of adapting themselves to changes in the environment. If sunlight is used to generate power, this machine is durable and will not require additional power sources, "said Zhiwei Li, a chemist at UCR, in a statement. "The film is also reusable."
A squishy robot inspired by gerrids
The "soft robots", which have aroused growing interest in recent decades, are built with flexible, elastic or deformable materials or structures. They thus allow a certain autonomous adaptability to their environments and a considerable reduction in costs for certain applications.
The robot is called Neusbot, after the term neuston, which refers to animals such as gerrids (water mosquitoes). These insects cross the surface of lakes and streams with a pulsating movement. Therefore, the researchers were inspired by this ability to design the Neusbot, which can move efficiently in any body of water. Details are already available in the journal Science Robotics, in a study report that was led by Li and Yadong Yin, professor of chemistry at UCR. Both specialize in making robots from nanomaterials.
In the past, other research teams have designed similar robotic films, which bend in response to light, but have not provided them with the adjustable mechanical oscillation that Neusbot has. However, this type of movement is essential to control the robot effectively, the researchers explain.
Overlay images showing Neusbot progressive folding. © Zheiwei Li / UCR
"Powered by water and remotely by light, this unique hydrogel oscillator allows easy control of oscillation modes and dynamics, providing an efficient approach to self-adapting soft robots and solar steam engines," the authors and researchers write in His article. "There are not many ways to achieve this controllable movement using light. We solved the problem with a three-layer film that behaves like a steam engine, "says Li.
A small steam engine that works with nanotiges.
To solve the problem of movement with elements as basic as water and sunlight, combined with a flexible structure, researchers quickly got an idea by remembering the origin of today's trains … did they drive the movement of the first locomotives? Boiling water vapor … As you may have understood, it is a similar principle that allows the Neusbot to move, but with sunlight as a source of energy (heat).
The porous interlayer of the film contains a hydrogel as well as copper and iron oxide nano-triggers. The nanorods convert light energy into heat, vaporizing the water and producing a pulsed motion on the surface of the water. In this way, a controllable disturbance of the thermomechanical balance of the oscillator can be obtained, which leads to a continuous or pulsed oscillation depending on the intensity of the light.
Neusbot's bottom layer is hydrophobic, so even if an ocean wave were to pass through the film, it would rise to the surface. Furthermore, nanomaterials can withstand high concentrations of salt without being damaged. "I am confident in its stability in high salinity situations," Li said.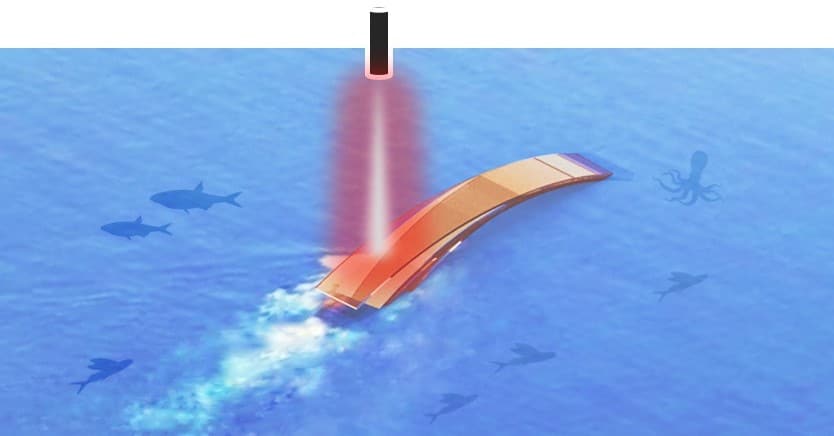 Artist's impression of Neusbot in full operation. © Zheiwei Li / UCR
The researchers were able to control the direction of Neusbot by changing the angle of its light source. Powered only by the sun, the robot was content to keep going. However, with an additional light source, it is possible to control the direction of the Neusbot for more targeted cleaning.
The current version of the gerrid-inspired robot has only three layers. The research team now wants to test future versions that have a fourth layer that can absorb oil, as well as another that absorbs other chemicals. "Usually people send cans to the scene of an oil spill to clean up by hand. Neusbot could do this job like a robotic vacuum cleaner, but on the surface of the water, "says Li.
Scientists would also like to try to control the robot's oscillation mode more precisely and give it the ability to perform even more complex movements. "We want to show that these robots can do much more than previous versions," Li concludes.
Science Robotics
PHP Script, Elementor Pro Weadown, WordPress Theme, Fs Poster Plugin Nulled, Newspaper – News & WooCommerce WordPress Theme, Wordfence Premium Nulled, Dokan Pro Nulled, Plugins, Elementor Pro Weadown, Astra Pro Nulled, Premium Addons for Elementor, Yoast Nulled, Flatsome Nulled, Woocommerce Custom Product Ad, Wpml Nulled,Woodmart Theme Nulled, PW WooCommerce Gift Cards Pro Nulled, Avada 7.4 Nulled, Newspaper 11.2, Jannah Nulled, Jnews 8.1.0 Nulled, WP Reset Pro, Woodmart Theme Nulled, Business Consulting Nulled, Rank Math Seo Pro Weadown, Slider Revolution Nulled, Consulting 6.1.4 Nulled, WeaPlay, Nulledfire