At a glance
Expert rating
pros
Very comfortable in the hand
Tactile and adaptive triggers are amazing
Built-in speaker
Minuses
More expensive than an Xbox controller
Short battery life
Limited support on PC
Our verdict
The DualSense controller feels great, and features like adaptive triggers are game-changing. However, there is no PC support.
The vision of Sony's DualSense controller becomes apparent as soon as you see it – this controller looks like an evolution of the old DualShock controllers that Sony has been using for the past 20 years. The grips extend downward from the main body of the controller, tapering more than on the DualShock 4 and earlier iterations. On the right side, you have the standard Sony buttons: square, circle, x, and triangle. Opposite this cross. All directional arrows are split making them very tactile and easy to press, but this design is not as good for fighting games or anything else that uses diagonal d-pad input.
The Sony controller uses symmetrical ministicks, as opposed to the offset sticks you see on all Xbox-style controllers. In the middle, you have a large interactive trackpad, which is, unfortunately, almost useless on a PC. You also get a share button and a menu/pause button on the face. In addition, DualSense has a tiny speaker that can add atmospheric sounds to your gaming experience.
From the top, the DualSense looks more like a traditional game controller. However, looks can be deceiving. There is one USB-C port that will link your controller to your computer and also charge the built-in battery. You'll still have to pay extra for rechargeable batteries for the Xbox controller, but none of them come with a USB-C cable.
The shoulder buttons work as you'd expect, but the triggers are something special. Developers can change the resistance level of triggers, making them feel different when performing different actions in the game. While you can't tell just by looking at the outside, the DualSense has huge vibration motors in the handles. This allows the controller to create an enhanced tactile experience, again depending on developer support.
The matte plastic body is sleeker than the Xbox controller, but it's still reasonably stable with longer handles. Aesthetically, this is an attractive tech if you like the look of the PlayStation 5. There are no exposed screws, and many of the plastic seams are integrated with the design language, creating a PS5-style negative space and light strips. This is a gamepad from the future.
Sony DualSense: features and hands-on experience
Many gamers are ingrained in their preference for controller placement. If you've been using Xbox-style controllers for years, you may need to learn how to use DualSense. However, Xbox fans shouldn't discount it. The DualSense weighs 281 grams, about the same as the current generation Xbox controller. However, we found the DualSense to feel more comfortable in the hand during long gaming sessions. The Xbox controller feels a little bulky in comparison.
The buttons on the front are tactile and easy to press, although the pause button is very flat and hard to find by touch. The sticks have a grippy rubberized texture and sufficient resistance. It takes less effort to click the sticks on the Sony controller than on the Microsoft controller, but it's not so little that you do it by accident.
Side by side: Sony DualSense controller and Xbox wireless controller.
Ryan Whitwam / Foundry
The controller's unique hardware works wirelessly with the PS5, but on PC you'll need to use a USB-C cable to get proper support for DualSense-optimized games. When a game supports DualSense, it really enhances the experience. For example, Returnal uses DualSense haptics to convey information about your character's status and environment. If you try to use your alt fire before it recharges, the controller will give you an angry vibe in the trigger area. In places where it rains, advanced haptic technology can even mimic the feel of raindrops hitting the controller. Combined with the DualSense speaker, it provides a much more immersive experience.
Adaptive triggers are even more impressive than tactile ones. Without adjustment, the triggers are smooth and easy to pull, with about the same amount of travel as an Xbox controller. Games can increase the resistance to make game action more real, but the trigger setting can also be functional. Returning to Returnal, the developers made a button with two stops out of the left trigger. Press it to the first stop and your character will aim for increased accuracy. Push through the tactile strike and you'll activate the alternate fire mode. This is very cool and useful in a fast paced game like Returnal.
In wireless mode, we averaged about eight hours of play on a single charge, which is well short of the 25-30 hours you get with an Xbox controller. Of course, DualSense does a lot more, but the improved haptics and triggers only work in some games and on a wired connection. This makes wireless mode on PC unimpressive.
How the DualSense hardware is far superior to the current Xbox offerings. It's more convenient, the buttons feel better, and features like adaptive triggers are revolutionary.
Sony DualSense Compatibility
Naturally, DualSense works best with PS5. Trackpad, adaptive triggers and haptics are used in almost all games and you can play wirelessly. Connecting the DualSense to a PC via Bluetooth is quick and easy, but it will only be detected as a regular game controller. Steam allows you to map Xbox controls to DualSense, so all controller-optimized games will at least understand it as an input device.
In total, there are about 30 games on PC that support DualSense haptic and/or adaptive triggers. Most of these are PlayStation ports such as Marvel's Spider-Man Remastered and the aforementioned Returnal. In all other PC games, the DualSense works like a regular controller without special features. Although quite comfortable.
If you play the game without DualSense support, you can play wirelessly without losing anything. However, you should stick with wired input for DualSense-enabled games. We'd love to see Sony unlock DualSense via Bluetooth for PC. At the same time, the third-party DualSenseX software can make the controller more useful in Windows, but it takes a lot of effort to get it to work properly.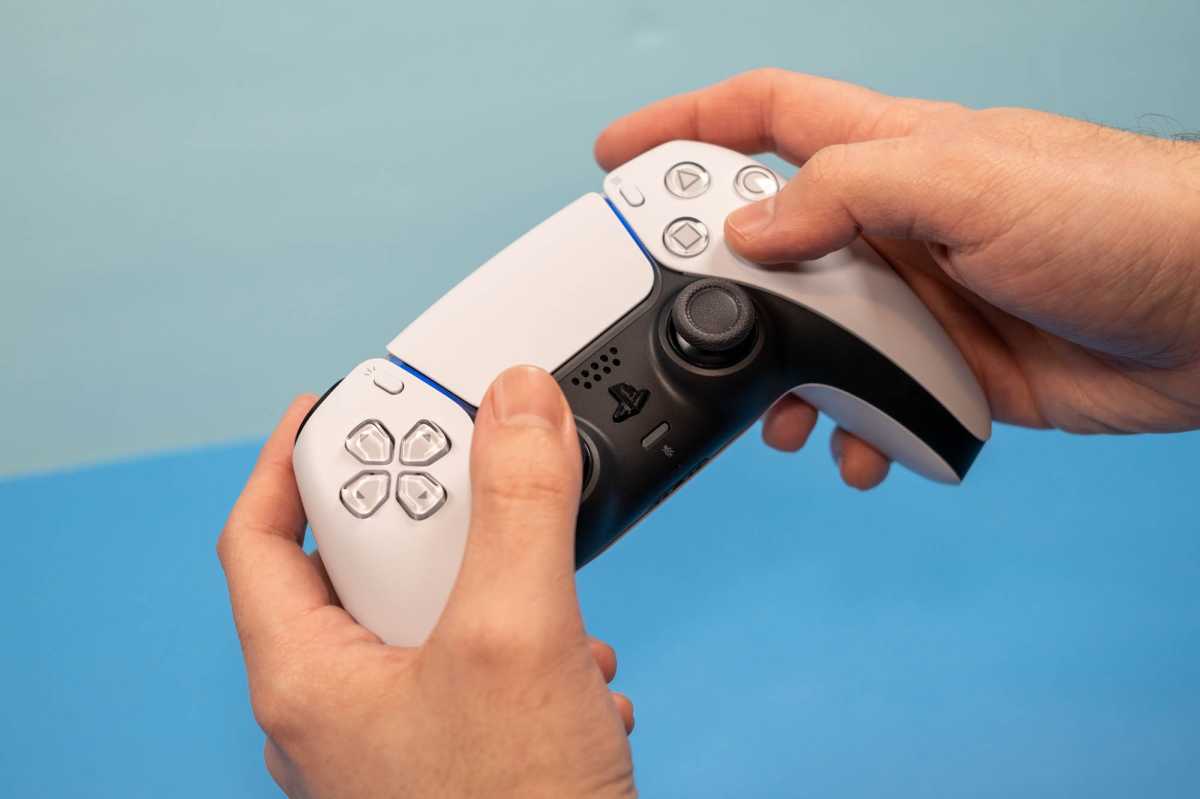 DualSense is limited on PC but still very comfortable in the hand.
Ryan Whitwam / Foundry
Should I buy the Sony DualSense?
DualSense is a very impressive gamepad that combines hardware and software for a more immersive gaming experience. How the DualSense hardware is far superior to the current Xbox offerings. It's more convenient, the buttons feel better, and features like adaptive triggers are revolutionary. Sony's precise, immersive haptics are on a different level than other controllers that just vibrate at different intensities. It's like comparing the haptics of an iPhone to any other phone – there's no comparison.
We like that the Sony controller comes with a built-in rechargeable battery, but battery life could be better. With approximately eight hours on a single charge, you might want to grab a charging dock so you don't forget to charge your controller when you're not gaming. You will also need your own USB-C cable as the controller does not come with one.
However, you will only get the best experience on the PlayStation 5. Only a few PC games support advanced controller features, and they all require a wired connection. Bluetooth DualSense is just a universal controller. The Sony DualSense is the premium controller that PC gamers deserve. But, unfortunately, there is no support yet.