Captain Kirk may have broken the rules while running the Starship Enterprise, but when it comes to flying in space for real, William Shatner is apparently abiding by the terms set forth by Blue Origin.
The soon-to-be astronaut "Star Trek" actor revealed one of the company's lesser-known restrictions while discussing the personal items he was packing for his New Shepard rocket trip this week.
"They have allowed me to take a blue bag full of memories, so I have family and friends collecting small souvenirs to take [them] "Shatner said in an interview with CNN host Anderson Cooper. Then he quickly added," It can't be sold. "
"It can't be monetized," Shatner said, referring to the kit's contents. "No, this is for your little purposes."
Live Updates: Follow William Shatner's Blue Origin Release Here
The rule, which might frustrate the hopes of some Star Trek fans thinking they might one day buy something that flew with Shatner into space, is not unique to the actor. It applies to all Blue Origin passengers, including Shatner's three NS-18 crewmates: Chris Boshuizen of Planet Labs, Glen de Vries with Dassault Systems, and Audrey Powers, Chief of Mission Operations for Blue Origin.
"Our terms prohibit people from selling anything they fly on board with them," said a Blue Origin spokesperson in response to a query from collectSPACE.com. "The terms that prohibit this are included in one of the documents that astronauts must sign before flying in New Shepard."
Related: Star Trek Movies, Ranked Worst To Best
Commercial space, less commercial
Blue Origin, which was founded by former Amazon CEO Jeff Bezos, did not elaborate on its ban on customers selling their space memorabilia.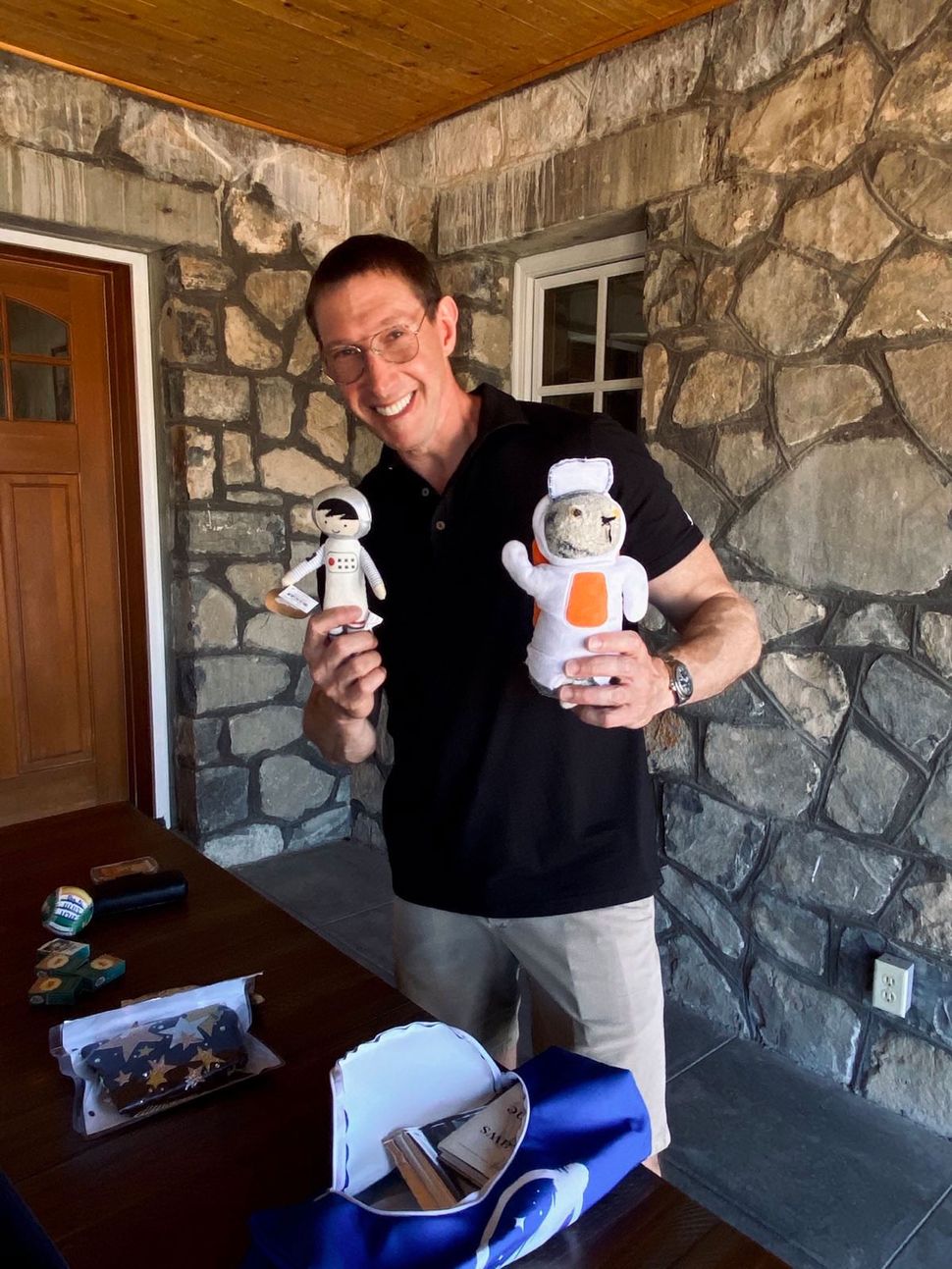 Glen de Vries, a member of the Blue Origin New Shepard NS-18 crew, packs his "blue wallet" with souvenirs for flying into space. (Image credit: Blue Origin)
"The terms of our launch services contract are confidential," explained Sara Blask, senior manager of public relations for Blue Origin.
Virgin Galactic, billionaire Richard Branson's commercial space flight company and competitor to Blue Origin, has a similar policy for passengers dropping items on its SpaceShipTwo rocket plane.
"We will allow our 'future astronauts' to carry personal mementos, but of course we must ensure that they conform to our safety standards and business principles. They must be small enough to fit in flight suit pockets, pass our technical requirements and not conflict with our brand, "wrote Clare Pelly, head of the astronaut bureau at Virgin Galactic, in an email to collectSPACE.
Photos and other items of a personal nature should be fine, according to Pelly, and can be shared with the passenger's friends, family and community as desired. But the company will ban items that can be traded.
"Our policy is not to allow any commercial exploitation of flight bookings and we want to ensure that the flight experience of individuals is not compromised by obligations to third parties," wrote Pelly. "This will be covered in the Transport Conditions that each client will sign before their flight and will establish limitations and restrictions on the use of souvenirs."
Personal preference kits
The practice of astronauts (and cosmonauts) of flying personal items on their missions dates back to the early days of manned space flight. At first, these little keepsakes were rarely considered to have any monetary value and were seen more as gifts for family, friends, and coworkers.
However, as human activities in space expanded, the public's interest in owning a part of the program grew along with it. It wasn't long before some of the astronauts' personal preference kits (PPKs) began to include items provided by commercial interests, which directly traded or compensated crew members for flying items that would later be sold.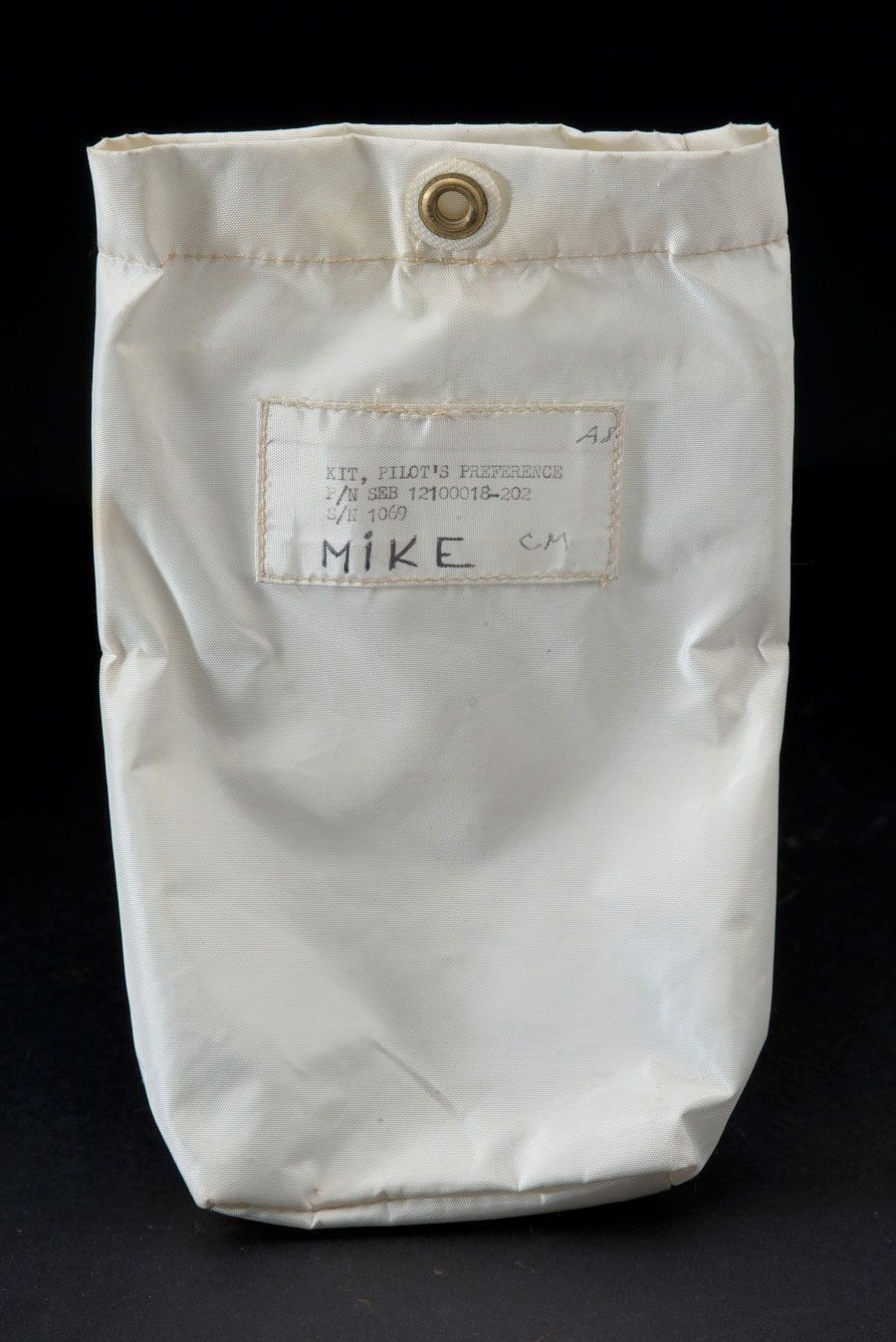 An example of one of NASA's first personal preference kits (PPK), this one used by Michael Collins on Apollo 11 in 1969. (Image credit: Smithsonian)
Since spaceflight remained a government-run affair, these side agreements drew the attention of lawmakers, who sought to end any speculation of a taxpayer-funded activity. Ultimately, NASA had to codify what was acceptable as astronauts' personal items, specifically restricting any items flown by PPK from being "sold, transferred for sale, used or transferred for personal gain or used or transferred for any purpose. commercial or fundraising ".
In addition, "elements such as philatelic [stamp-related] the materials and coins that, by their nature, are open to exploitation by the recipients ", were totally prohibited, a restriction that exists to this day.
However, those rules only apply to NASA astronauts until they retire from government service. They are then free to sell, donate, or otherwise dispose of any of the personal items transported through space that they were allowed to keep for their missions. (A similar scenario applies to astronauts from other space agencies, although some are more open to their crew members participating in business opportunities than NASA.)
It is unclear if a similar expiration will apply to passengers on Blue Origin, Virgin Galactic or other airline flights, or if exceptions will be made.
SpaceX, for example, recently completed Inspiration4, its first privately funded astronaut mission. The team used the sale of blown up memorabilia to further their goal of raising $ 200 million for St. Jude Children's Research Hospital. It was unclear if they were limited to charity sales or if they could have also sold items for their personal benefit if they wanted to.
Pelly said that "as a point of principle" Virgin Galactic would not be against anything that raises funds for charity, but its rules governing it are still being worked out. The company plans to start flying paying passengers in 2022.
As for Shatner and his Blue Origin crewmates, their items will remain personal.
"I have three or four knickknacks from people," Shatner said. "They'll stay in that little blue bag."
on Facebook and on Twitter at @collectSPACE. Copyright 2021 collectSPACE.com. All rights reserved.
Business Consulting Nulled, WeaPlay, Elementor Pro Weadown, PHP Script, Slider Revolution Nulled, Newspaper – News & WooCommerce WordPress Theme, Avada 7.4 Nulled, Fs Poster Plugin Nulled, Wpml Nulled, Elementor Pro Weadown, Flatsome Nulled,Woodmart Theme Nulled, Jannah Nulled, WordPress Theme, Astra Pro Nulled, Rank Math Seo Pro Weadown, Yoast Nulled, Dokan Pro Nulled, Nulledfire, Wordfence Premium Nulled, Woodmart Theme Nulled, Consulting 6.1.4 Nulled, Jnews 8.1.0 Nulled, Premium Addons for Elementor, Plugins, PW WooCommerce Gift Cards Pro Nulled, WP Reset Pro, Woocommerce Custom Product Ad, Newspaper 11.2