Elon Musk has amassed a lot of savings with Tesla, but it's SpaceX and Starlink that could take it to the next level.
It's not just in the aerospace world that Musk and Bezos face a duel from a distance. The two men also have their reserved seats at the top of the ranking of the world's greatest fortunes; they enjoy personal fortunes estimated at $ 226 and $ 199 billion respectively. But in this little game, it's the first one that seems to have the best dynamics.
In any case, this is the opinion of the financial group Morgan Stanley, whose analyst Adam Jonas spoke in the Bloomberg columns. He explains that before taking him to Mars, his company SpaceX could first propel him to another financial galaxy, to the point of making him one of the world's first billionaires (not to be confused with the translation of billionaire into English; we would talk about billionaire here, or 1000 trillion).
Like the race for the first billion before, this race for the extra four zeros has been going on for some time. In the early 2000s, it was rather Bill Gates who seemed like the perfect candidate. But the development of the private aerospace industry has radically changed the situation.
Behind Tesla, SpaceX also helped propel Elon Musk to the multi-billion dollar galaxy. © SpaceX
Aerospace, a leading market
As a pioneer in the field, Space X has experienced an even more meteoric rise than its rockets. When it was founded in 2002, SpaceX took a pioneering role in this field and has since gained a considerable advantage over the competition. A status that earns you a lot; Since its first launch in 2020, the firm's value has skyrocketed and now exceeds $ 100 billion.
That's still a long way from Tesla, whose value has surpassed $ 750 billion this year. A staggering number, but one that could soon pale in the face of SpaceX's results if it maintains its current financial course. However, according to Jonas, it is not his rockets that will propel Musk beyond the symbolic threshold of twelve zeros. Instead, he says that the real gold mine is hidden in much smaller objects.
In this case, the royal vein would be the constellation Starlink. As a reminder, this is a subsidiary company of SpaceX, which wants to offer an Internet connection anywhere on Earth thanks to a vast network of satellites. At present, this system is already operational. For example, it has been available in France since last February. But he still stutters. In its current state, its speed much slower than that of fiber is not enough to justify its high price, at least when there is an alternative.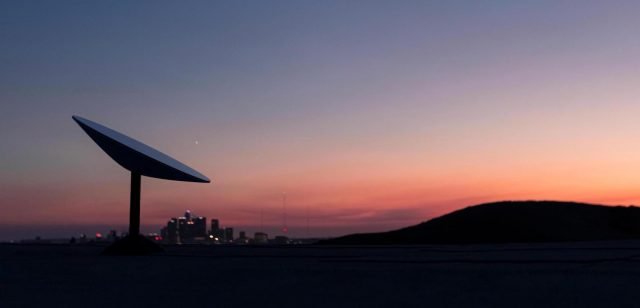 Starlink appears to have a bright future, both technologically and financially. © Starlink
Starlink, the real goose that lays the golden eggs of Elon Musk?
But Adam Jonas hopes this revolutionary idea on paper will also become a reality. As technology advances, it could generate very, very big profits. He is not the only one who thinks that; Jeff Bezos also agrees. He is even so sure of this that he invested himself in his own almost faithful copy of the concept, under the name Kuiper Systems. A good indicator, knowing your legendary talent when it comes to identifying a promising economic vein.
But with several years late and less experience on the field, Kuiper is a long way from making the cut and remains trapped in the pack. Technologically, Starlink advances much faster; the firm is currently on the high road, several steps ahead of the pursuers. You are approaching the tipping point that will make the offer interesting from a business point of view, and not just from a technological point of view. And once this milestone has passed, Starlink could very well experience insane growth, very profitable for its big boss.
However, remember that this is a prediction. Adam Jonas doesn't risk guesswork by proposing a quantified date. However, his story remains realistic, and it's probably only a matter of time before Musk surpasses the symbolic billion-dollar milestone. The question of whether he will arrive first, or whether Jeff Bezos still has other tricks up his sleeve to regain his throne … unless a new visionary comes to knock his elbows in this tango between billionaires.
Business Consulting Nulled, WeaPlay, Elementor Pro Weadown, PHP Script, Slider Revolution Nulled, Newspaper – News & WooCommerce WordPress Theme, Avada 7.4 Nulled, Fs Poster Plugin Nulled, Wpml Nulled, Elementor Pro Weadown, Flatsome Nulled,Woodmart Theme Nulled, Jannah Nulled, WordPress Theme, Astra Pro Nulled, Rank Math Seo Pro Weadown, Yoast Nulled, Dokan Pro Nulled, Nulledfire, Wordfence Premium Nulled, Woodmart Theme Nulled, Consulting 6.1.4 Nulled, Jnews 8.1.0 Nulled, Premium Addons for Elementor, Plugins, PW WooCommerce Gift Cards Pro Nulled, WP Reset Pro, Woocommerce Custom Product Ad, Newspaper 11.2