The boom in the NFT market continues to discover new territories to conquer. And after the indigestion caused by these digital collections of characters with random oddities, it's time to play. A sector that is also experiencing strong growth in the face of a growing number of potential users. And a connection between these two virtual realities that he could not avoid finding. A marriage that gave birth to a new economic model called Play to Earn. And that comes down to mixing video games with cryptocurrencies and non-fungible tokens. But the recipe for this announced success does not seem to be suitable for everyone.
It's hard to know where this long-awaited wave of adoption in the crypto field will come from. And while some are still staring at Bitcoin, the crypto gaming world is taking hold in the NFT token industry. An encounter that does not date from this year. But whose effective explosion is taking place before our eyes. With cryptocurrencies at the center of everything, they have become the main tool for the establishment of a true parallel economy. And players who use it as part of their virtual activities. But with real benefits in your real life.
A movement in motion, powered by now-historic projects like the famous Axie Infinity (AXS). And a gaming market that ends up occupying a place that is impossible to ignore in the NFT token sector. This especially if we look at the sharp increase in the number of transactions registered for several months. With a total of 754,000 addresses connected to games of this type during the third quarter of this year. Suffice it to say, the potential remains enormous. But that does not seem to be enough to convince the giant of the Steam sector.
Steam vs crypto-gaming: round 1
Because a surprising decision shook this little crypto gaming universe ten days ago. This follows an announcement from the Valve studio in charge of the leading video game platform called Steam. The latter at the head of a catalog that has thousands of games. All to the attention of 25 million daily players. But he's obviously not very receptive to the current wave of crypto games. As proof: its absolute ban on publishing games based on blockchain technology. And especially when they are in close or distant relationship with cryptocurrencies and / or NFT tokens.
A modification made without prior notice. If not, a simple mention added to the end of the list of "what is not possible to publish on Steam". "Everything for everyone" applications based on blockchain technology that issue or allow the exchange of cryptocurrencies or NFTs. An updated exclusion by the Age of Rust Twitter account, long involved in the field alongside key players such as the Enjin company and its cryptocurrency ENJ. And the response was immediate.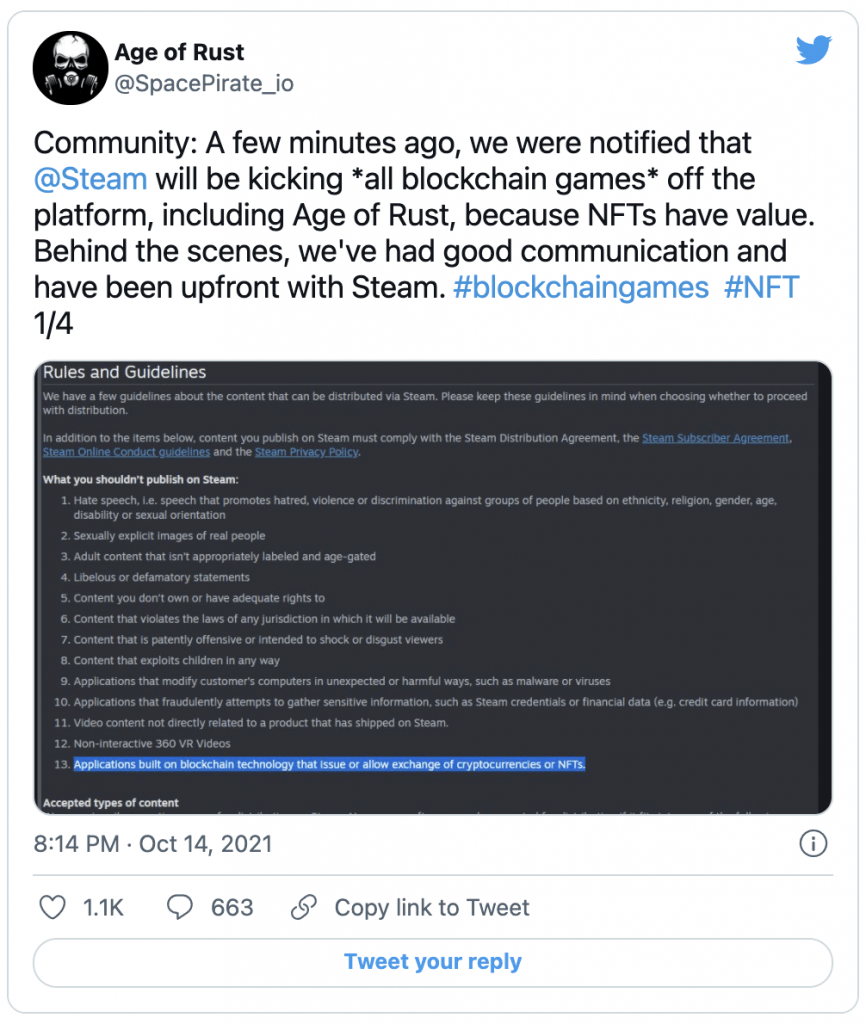 Because if there's one thing the crypto market is very good at, it's quickly circumventing obstacles that are intentionally getting in its way. And while the Steam platform refuses to touch this very real economy of virtual worlds, the world of crypto games is getting organized. First of all, a timely movement was started following the invitation launched on Twitter by the founder of the Epic Game platform. With the only requirement that "games that use blockchain technology comply with the relevant laws, disclose their conditions and be classified by age by an appropriate group." "This in order" to welcome innovation in the fields of technology and finance. "
Steam vs crypto-gaming: round 2
And at the same time, this very young crypto gaming universe is getting organized. This in order to face with one voice the decision considered arbitrary by the Steam platform. First, with the establishment of an advocacy group that brings together some thirty important players in this sector. And that has structures such as Fight for the Future, the Blockchain Game Alliance or the Enjin company within it. A group at the origin of the publication of an open letter. All to Valve Studio's attention and the evocative title: "Doesn't Ban Web3 Games." "
"Games that use blockchain technology, cryptocurrencies (…) and NFT can positively improve the user experience and create new economic opportunities. Tokens, in particular, open up vast possibilities for users to interact, collaborate, and create tangible digital worlds and objects that were previously impossible. These improvements make the games more decentralized, democratic, interactive, and player-centric. They also provide the opportunity to simplify and modernize intellectual property rights in a way that would greatly benefit both independent creators and established companies. "- Crypto Gaming Alliance
There's no question that Valve's study decision is driven by fear of exposing itself to the wrath of regulatory bodies. This facilitating access to crypto game solutions that exist outside of any legal framework. But he will have to make a quick and decisive decision on this now central issue in the field. With as a central point, the decision to place oneself (or not) on the side of innovation in motion. Because as the CTO of the Enjin company explains: "with blockchain, you can't put your genie back in the bottle and try to centralize it. "The rest of the next round …
Rank Math Seo Pro Weadown, Wordfence Premium Nulled, Yoast Nulled, PHP Script, Fs Poster Plugin Nulled, Astra Pro Nulled,Woodmart Theme Nulled, Wpml Nulled, Avada 7.4 Nulled, Woodmart Theme Nulled, PW WooCommerce Gift Cards Pro Nulled, Elementor Pro Weadown, Newspaper – News & WooCommerce WordPress Theme, Nulledfire, Slider Revolution Nulled, Elementor Pro Weadown, Jnews 8.1.0 Nulled, WeaPlay, Business Consulting Nulled, WP Reset Pro, Newspaper 11.2, Flatsome Nulled, Woocommerce Custom Product Ad, Premium Addons for Elementor, Jannah Nulled, Consulting 6.1.4 Nulled, Plugins, WordPress Theme, Dokan Pro Nulled