Find weekly technical analysis of the price of Bitcoin (BTC) and other flagship cryptocurrencies such as Ethereum (ETH). But also videos to introduce certain technical indicators, tips or more fundamental approaches. All this with the aim of remaining clear and accessible to allow you to learn the basics of trading. Benefit from state-of-the-art analysis conducted by experienced operators.
Full video of this Coin Trading analysis at the end of the article.
This week's analysis will once again return to the doubts and fears that are currently taking over the market. Because the situation hasn't changed much since last week. And the current setup is still a good opportunity to invest or reload your wallet, while everyone is selling at a loss. In particular with a Bitcoin whose rebound yesterday once again gives hope for a return to the upside.
Bitcoin remains at good buying levels
In weekly time units, the 50 moving average has been serving as support for several weeks. This at a symbolic level between $ 47,000 and $ 50,000 approximately. A good opportunity to buy BTC at an attractive price, although the outlook of $ 42,000 is still possible. Because this support corresponds to the lower limit of the Bollinger bands. But there is no evidence at this time that BTC is that low.
An identical situation to that presented in several analysis videos last June. This was when BTC was moving around the $ 30,000 level. A price that at that time had already been reported as a good buying opportunity. And this just before a comeback to the upside that once again pushed Bitcoin above $ 65,000. Because buying $ 42,000 or $ 47,000 won't make much of a difference once your bull market has restarted, even if it's clearly expired.
Ongoing rebound for Bitcoin?
In units of daily time, the drop that began in November and December is clearly visible. But it appears that a consolidation has been brewing since last week. With a possible rebound in the process that is taking place, after the significant bullish candle registered yesterday. And still being validated in the morning.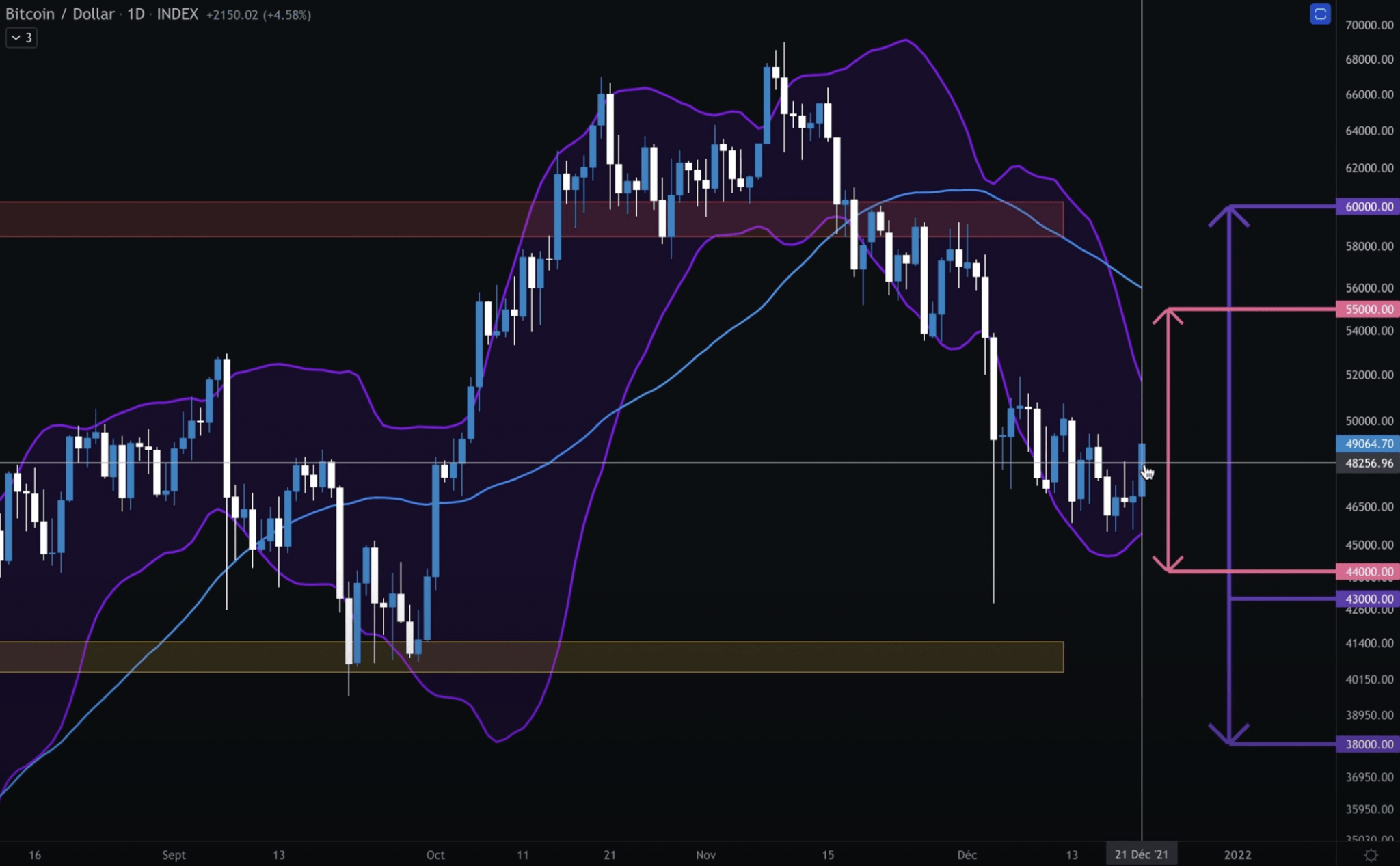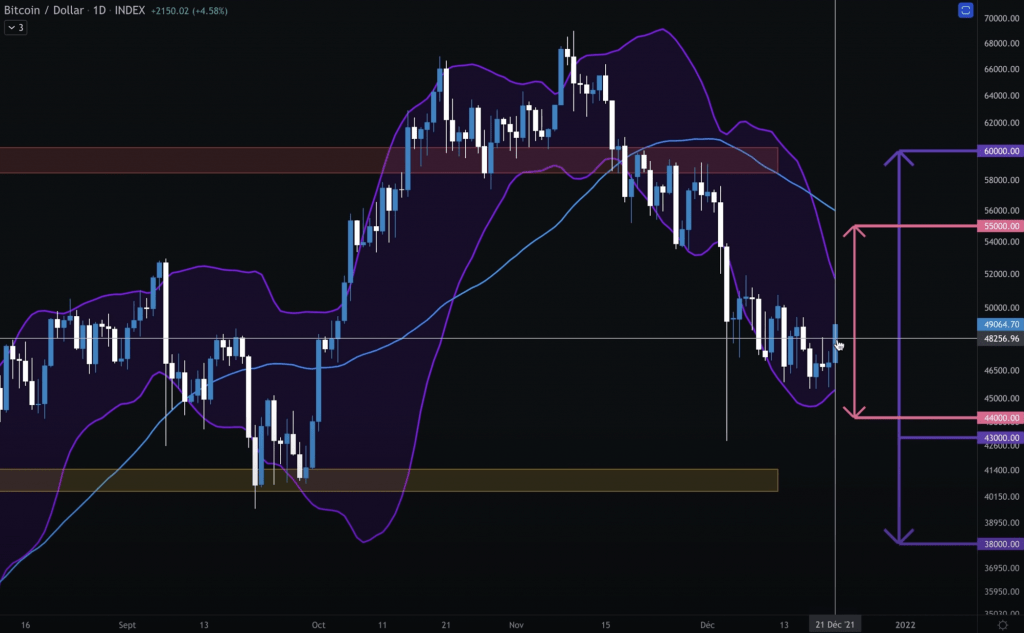 Ethereum holds up better than Bitcoin
During this latest bearish wave, Ethereum held up much better than Bitcoin. With a minor correction and a resistance level that turned into support and was confirmed during this period. Because the latter did not break under the strong selling pressure registered throughout the cryptocurrency market. And its price has always remained firmly positioned at the symbolic level of around $ 4000.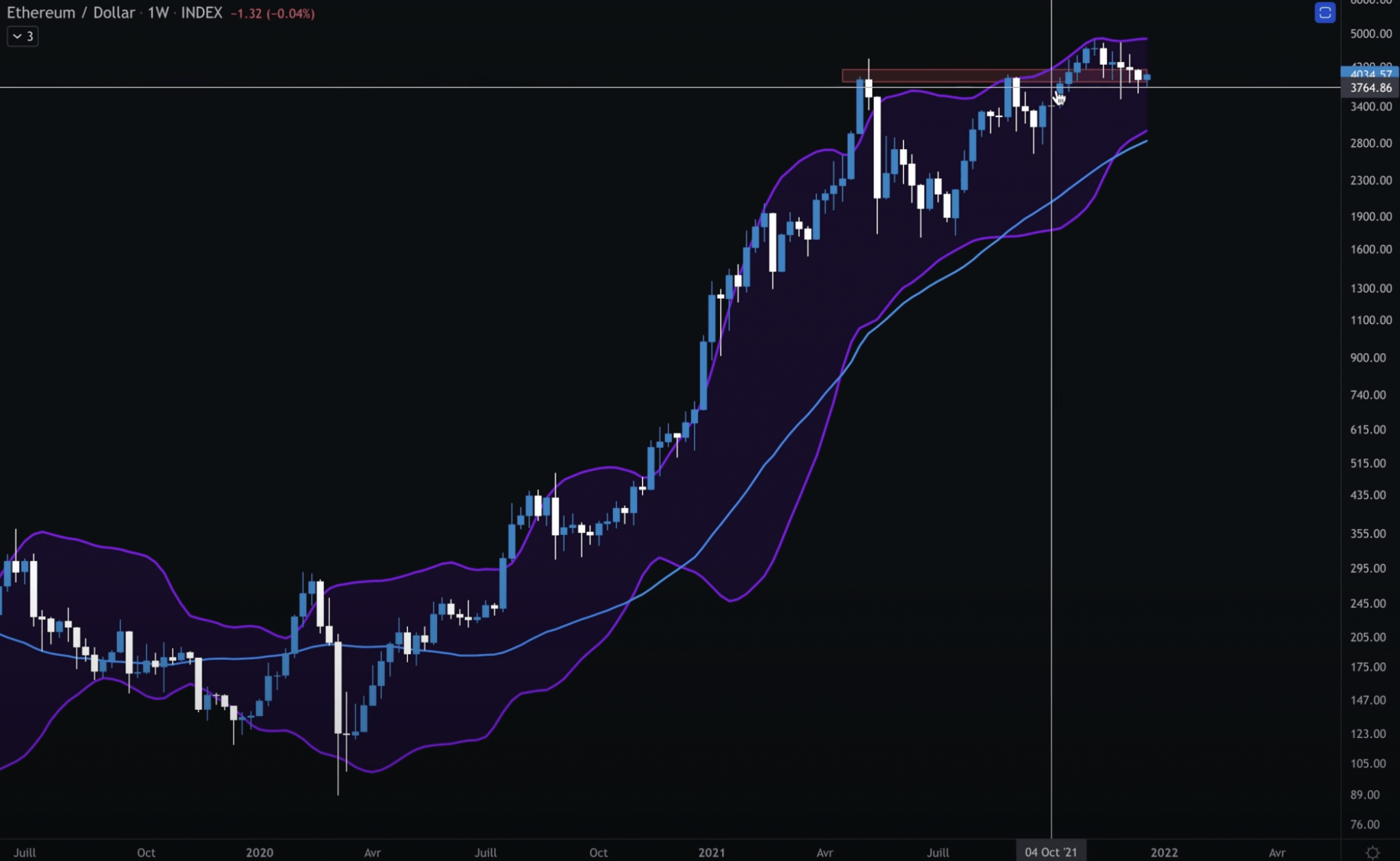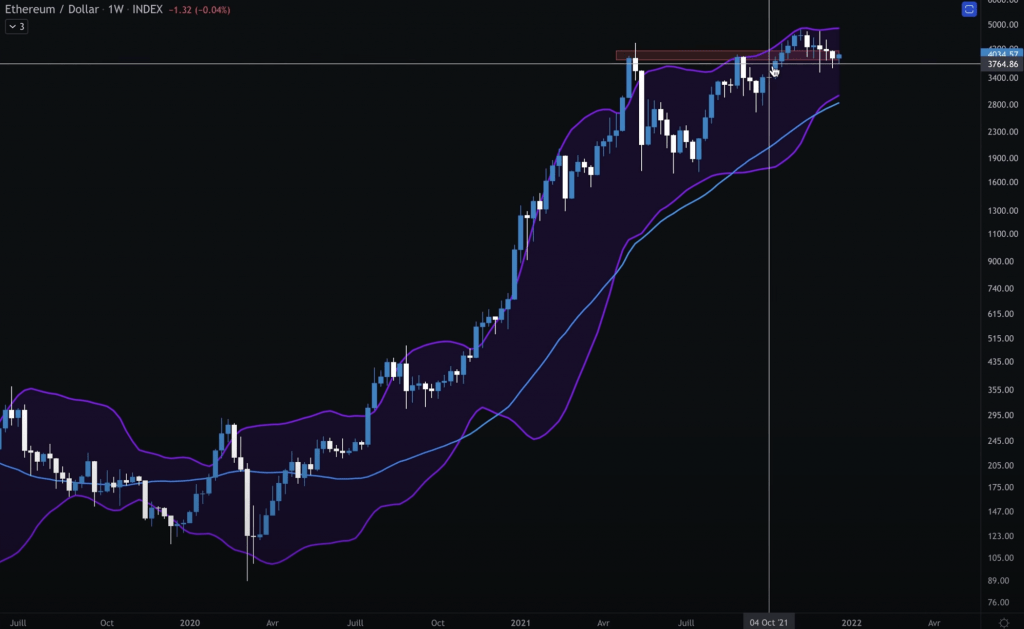 With the ETH / BTC curve in weekly units, a very clear consolidation pattern began since last May. The latter recently broke from the top 3 weeks ago, with a nice bullish momentum candle. This is all part of Ethereum's strong trend to significantly outperform Bitcoin for over a year. And a very likely situation to continue.
A great alternate season is expected in 2022
The analysis of the weekly unit chart of TOTAL2 / BTC is very interesting. Because this makes it possible to measure the performance of the altcoin market against Bitcoin. But also to point out that the resistance discussed in these analyzes for months is being tested again. The latter validated in January 2018 and approached many times during this year 2021. All this following the drawing of a Chartist figure of a now classic mug with a handle.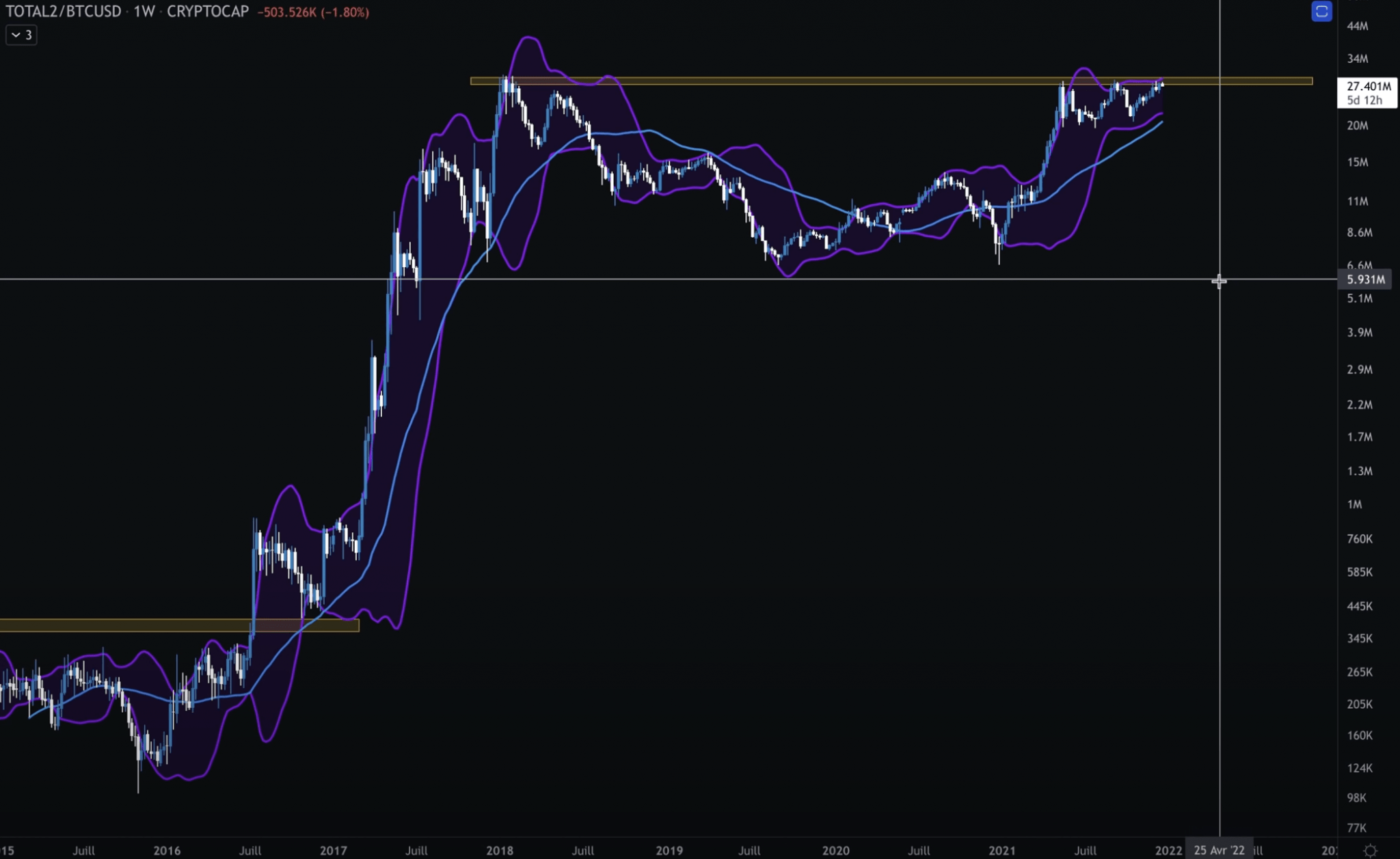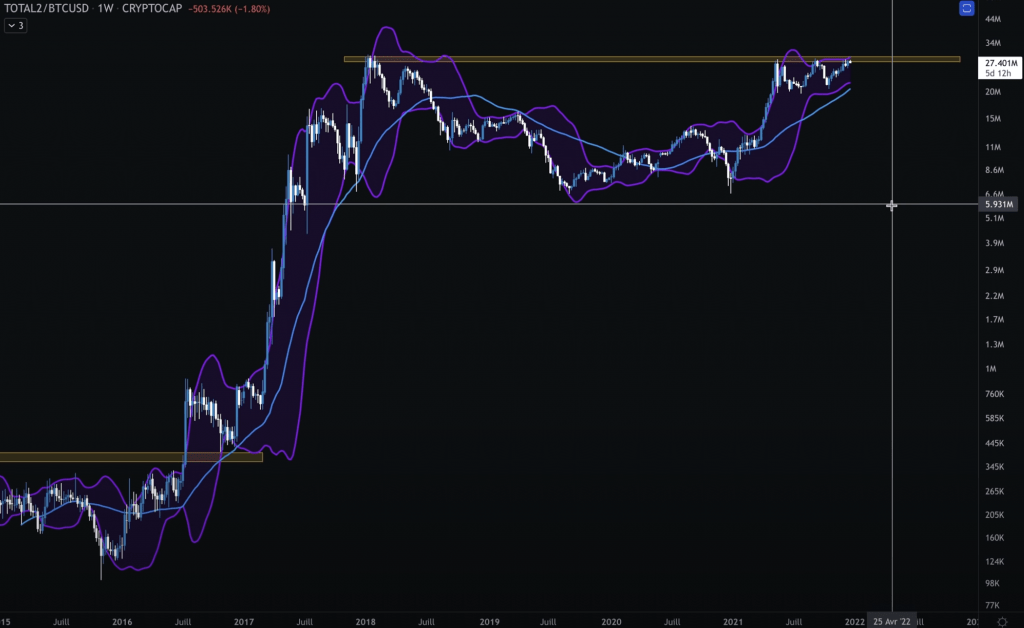 At the same time, a clearly bullish 50 moving average. And the Bollinger bands are flattening more and more, following a significant drop in volatility. A configuration whose purpose could hardly be other than a break from the top of this resistance. With the direct consequence, the unleashing of a huge bull market is expected by the year 2022. Because this will mean that the altcoin market will finally be in a situation of superior performance to that of Bitcoin (high season).
Bitcoin vs. Gold (XAU)
An always identical setup, even in the case of the Bitcoin versus Gold (BTC / XAU) chart. With a curve it returned to seek the level of its 50 moving average last June. And in a similar situation now, with very interesting purchase levels.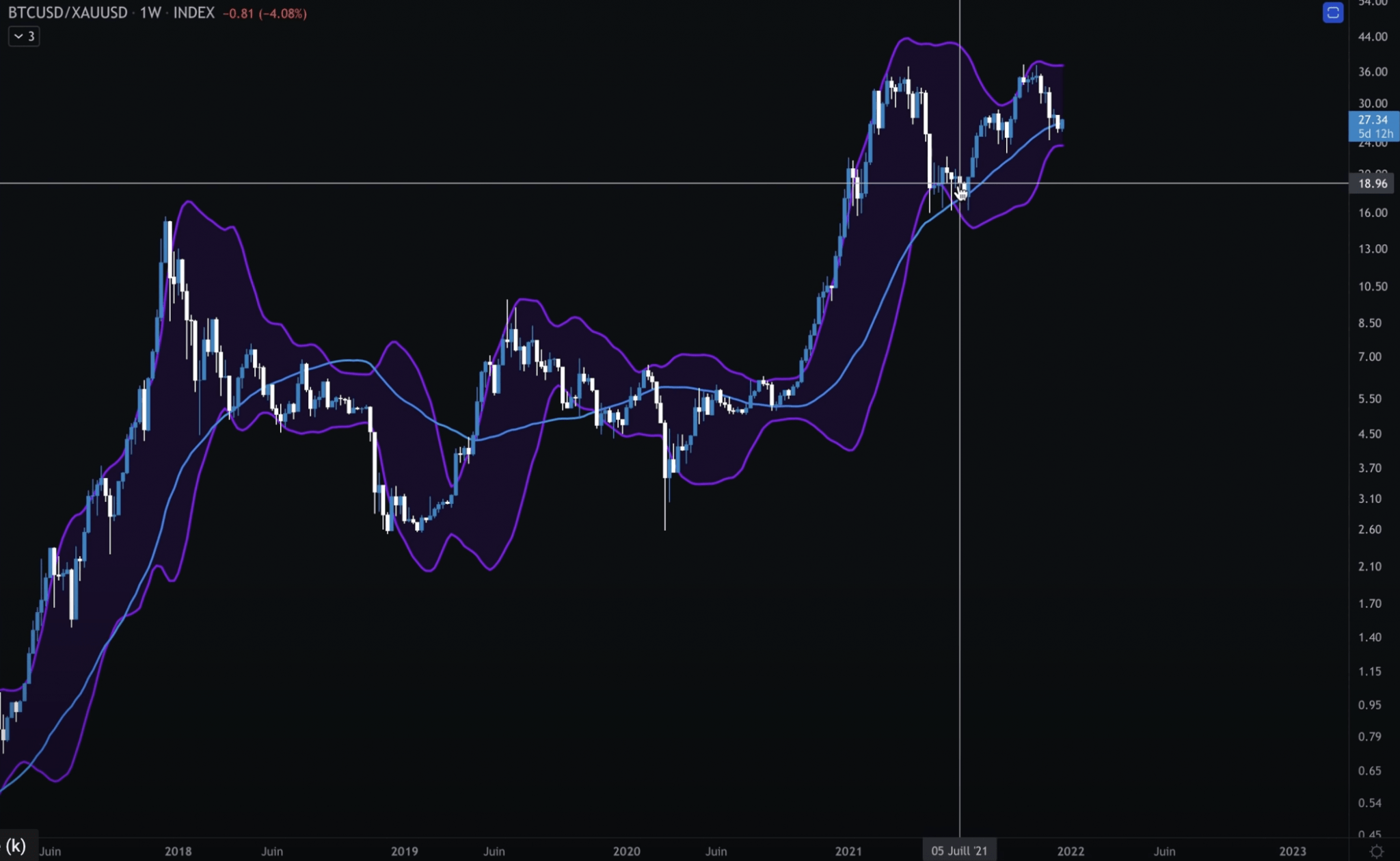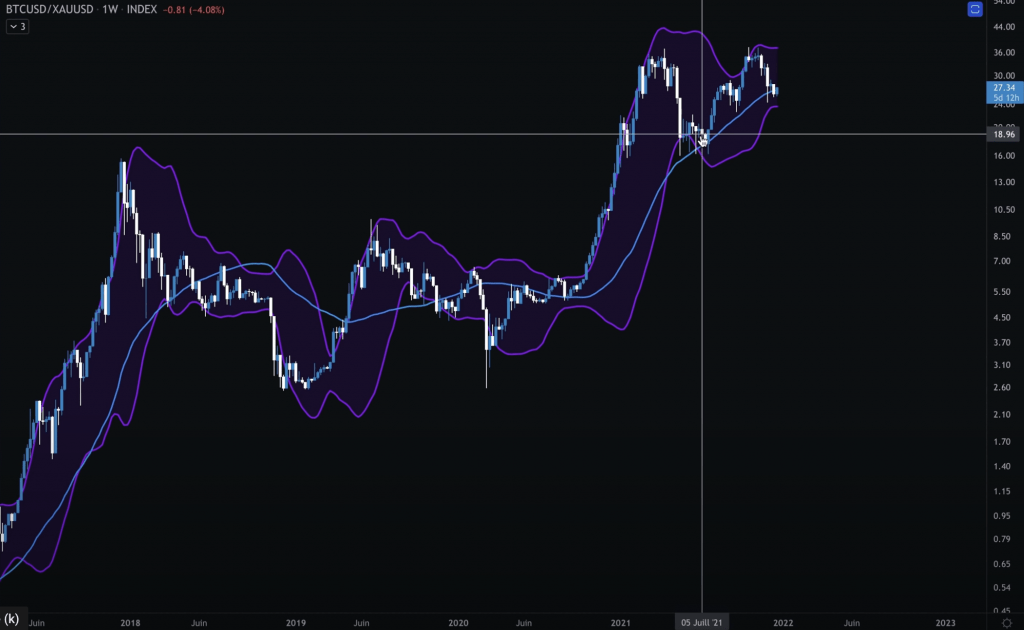 Know that the entry strategy at the time of an ATH breakout is still a good option in terms of risk management. But this reduces the risk / reward ratio very significantly. In particular, compared to taking a position closer to the end of the next correction. And more specifically in the case of a long-term investment strategy, where buying when everyone is in a panic is the best possible alternative. This while securing your position with a Stop Loss in the event of a major drop.
An auspicious period for taking positions
And finally, regardless of the graph or index observed, the situation remains the same. With curves bouncing off its 50 moving averages, without breaking them from below. And a panic that does not need to face what is at the moment only a small setback, compared to much worse collapses in the cryptocurrency market. And even the shitcoin index is still in its bullish channel started more than two years ago.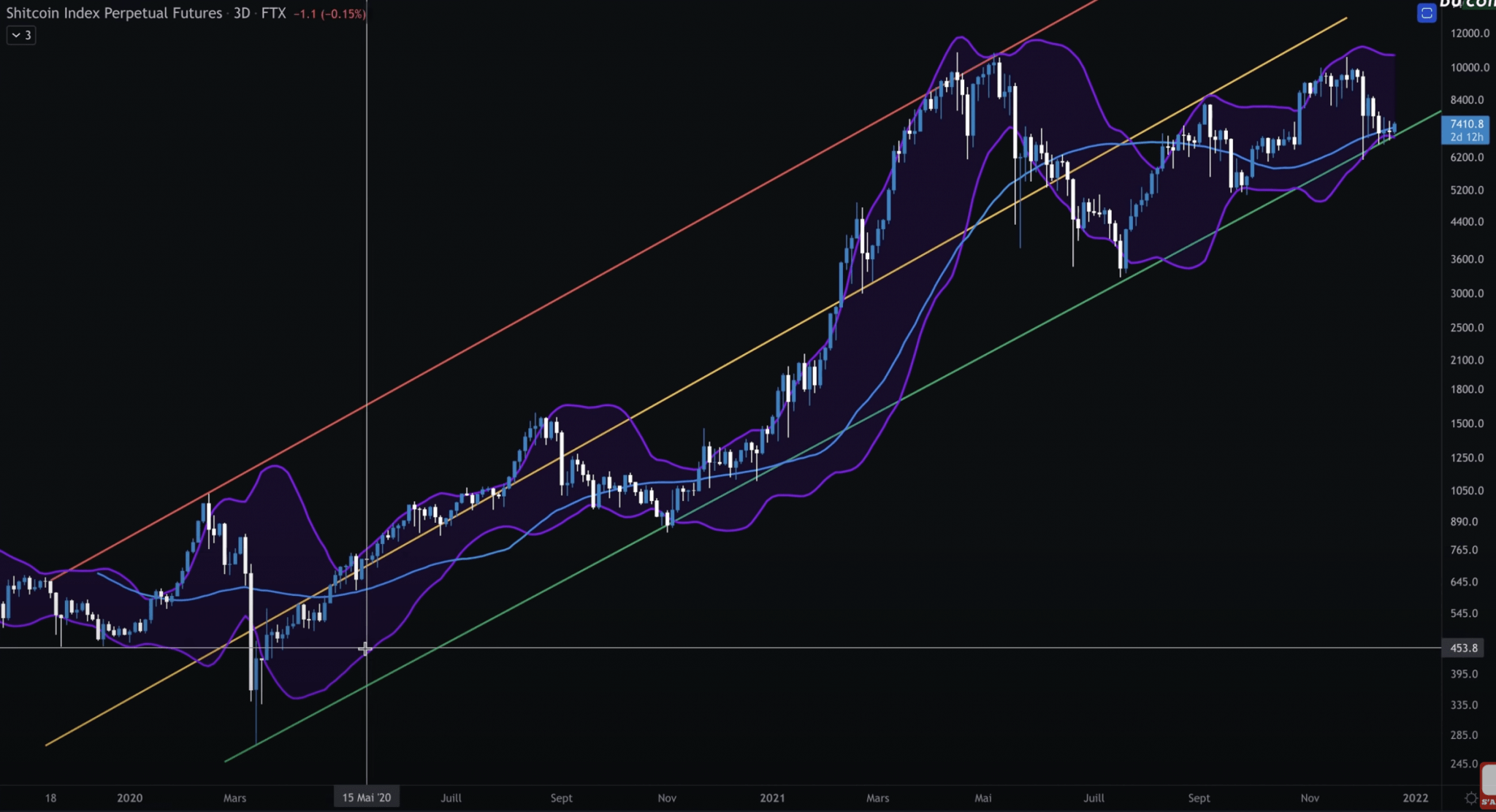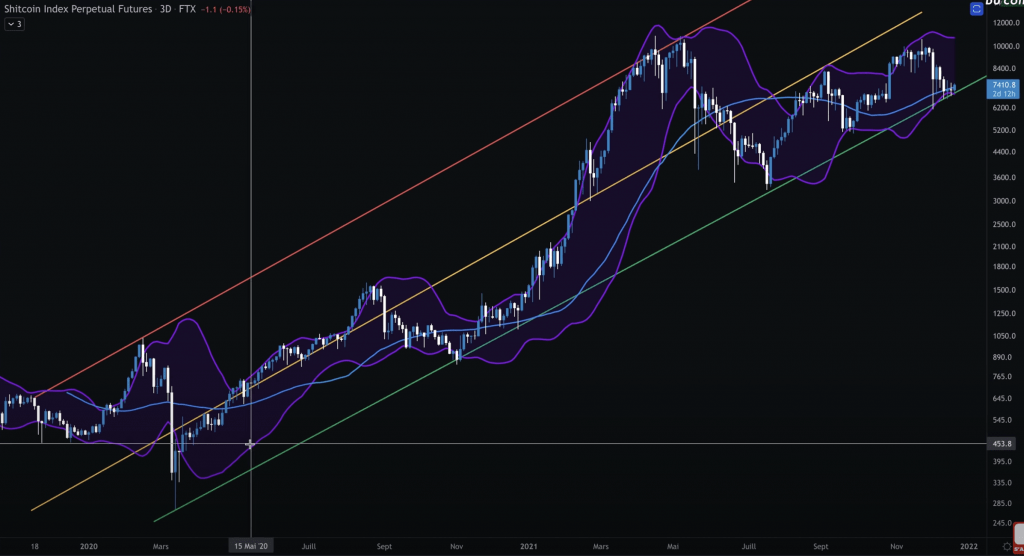 The latter currently positioned at the lower limit of the Bollinger Bands. But also close to its 50 SMA and especially at the support line of this bullish channel (green). A very interesting buying level, in this current configuration. And especially after an important consolidation that began several months ago.
In the current state of the cryptocurrency market, the trend should not be one of panic. Because according to the different graphs observed in this analysis, everything indicates that current prices represent very good entry points. In particular with a view to long-term investment. And never forgetting to always secure your positions to avoid unpleasant surprises.
Do you want to invest in the cryptocurrency sector? The current period is particularly suitable to do so, supported by Coin Trading and its 100% automated algorithmic trading tool. Because all positions have now been switched to stablecoins for a few weeks, to secure funds against market uncertainty. But the turn up that seems to be starting could be the signal to buy with some very lucrative new investments by 2022. So don't hesitate too long …
Cryptocurrency trading carries a high level of risk and may not be suitable for everyone. It is recommended that you are fully aware of the associated risks and only invest the amounts that you can afford to lose.
The content offered on the CryptoActu.com site is for educational and informational purposes only. They do not in any way constitute recommendations and cannot be assimilated to an incentive to market financial instruments.
The CryptoActu.com site does not guarantee the results or performance of the financial instruments presented. Consequently, we decline all responsibility for the use that may be made of this information and the consequences that may arise from it.
Rank Math Seo Pro Weadown, Wordfence Premium Nulled, Yoast Nulled, PHP Script, Fs Poster Plugin Nulled, Astra Pro Nulled,Woodmart Theme Nulled, Wpml Nulled, Avada 7.4 Nulled, Woodmart Theme Nulled, PW WooCommerce Gift Cards Pro Nulled, Elementor Pro Weadown, Newspaper – News & WooCommerce WordPress Theme, Nulledfire, Slider Revolution Nulled, Elementor Pro Weadown, Jnews 8.1.0 Nulled, WeaPlay, Business Consulting Nulled, WP Reset Pro, Newspaper 11.2, Flatsome Nulled, Woocommerce Custom Product Ad, Premium Addons for Elementor, Jannah Nulled, Consulting 6.1.4 Nulled, Plugins, WordPress Theme, Dokan Pro Nulled