Last February, Square Enix introduced the PS5 version of Final Fantasy VII Remake called Intergrade during a state of play. On the sidelines of this event, the Japanese publisher announced two other mobile games in the world of FF7. In addition to a solo title called Ever Crisis, First Soldier is a battle royale that takes place decades before the events of the PS1 game. Beyond the amazement of discovering a multiplayer shooter in the world of FF, does First Solider have enough to win in BR's ultra-competitive mobile market?
On the occasion of the 15th anniversary of the release of Final Fantasy VII on PS1, Square Enix announced in 2003 the Final Fantasy VII Compilation that includes various creations that take place within this same universe. Thus, there are both video games (Before Crisis: Final Fantasy VII on mobiles, Dirge of Cerberus: Final Fantasy VII on PS2, Crisis Core: Final Fantasy VII on PSP …) and film (Final Fantasy VII: Advent Children) or an OAV (Last Order: Final Fantasy VII). More recently, it is especially the release of Final Fantasy VII Remake (FFVIIR) on PS4 and PS5 that has revived public interest in this cult episode of Square Enix's flagship saga. To wait before the release of the second part of the remake, the Japanese publisher offers players to explore this universe from a new angle with First Soldier.
Clashes in Midgar
In this free third-person Battle Royale available on iOS and Android, you play as a candidate for the SOLDIER, the elite fighting force of the megacorporation that controls everything in the world of FF7, the Shinra. Logically, therefore, you must eliminate your competitors to secure your place. As a multiplayer game, this scenario is of course a pretext, but it still has the merit of being consistent with the universe of the original game. In its course, First Soldier remains a very classic BR. At the beginning of the game, the player controls a helicopter to get as close as possible to the area where he wants to land. Once on the ground, the goal is to collect as much powerful gear as possible to face your opponents and be the last one alive. As usual, to favor confrontations, the playing area is reduced throughout the game until it reaches a miniscule size.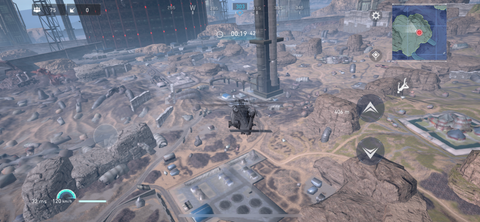 After this classic development, it is in its specificities where First Soldier demonstrates its affiliation to Final Fantasy VII, or even more to Final Fantasy VII Remake. Before starting the game, players can choose a play style that is reminiscent of the characters from the original game: the Warrior and his sword look like Cloud, the Wizard like Aerith with his staff, the Ninja like Yuffie with his shuriken, the Monk in Tifa as he defends himself with his fists etc … Each one has melee attacks that are specific to him and reminiscent of FFVIIR in their animations. In addition, each class has its own active and passive abilities that differentiate it from the others (shields, radars, invisibility, running …). Also, the more you play with a job, the more you progress in its mastery to unlock new skills.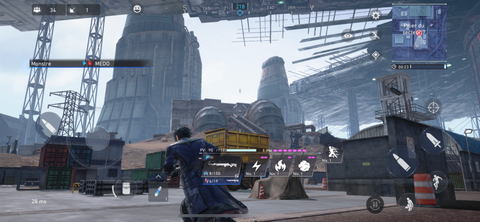 In addition to weapons, we find in the field of Matters, these famous magic pearls characteristic of FF7. Therefore, each spell is cast in a different way: if fire is a flame being cast, ice is a static ball that shoots spikes while lightning is an area attack. More rarely, you can even find invocations like Shiva and Ifrit. During your exploration of the map, you will also come across the path of more or less resistant monsters. Also, we come across well-known mobs like the Guardian Scorpion, the first boss from the original game. When defeated, they give the dispensers to buy items or upgrade weapons, as well as experience. The latter allows you to level up to have more life in particular. Finally, by searching the chests, you can get equipment that will give you passive bonuses or contracts that, once completed, give you EXP.
Optimized for mobile devices, but with shortcomings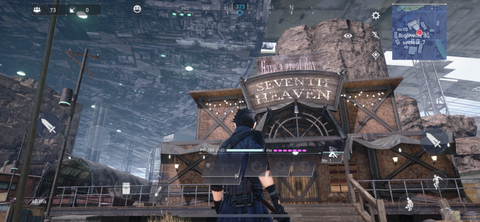 Without too many surprises, Midgar is the map of this first season. Thus, we go through iconic settings such as the shanty town of Sector 7 and Seventh Heaven, the Tifa bar, the flowery church of Aerith, the Manoir de Cornéo, the Quartier des Plaisirs, the Train Cemetery … places of worship that have Players. I have been able to explore in FF7 or more recently in FFVIIR. To go faster, the game offers vehicles such as a helicopter, Cloud's motorcycle, or even Chocobos. In addition, it is possible to advance your mount thanks to the chocobos farm that you can access from the main menu.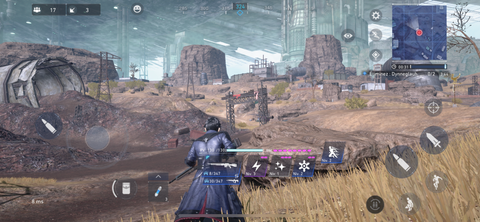 Technically, First Soldier holds up for a mobile game. However, if the game manages to stay fluid throughout a game, it is in particular thanks to its fairly simple implementation. Even in an elevated setting, the buildings are still quite sketchy, which is consistent with the poor and desolate side of Midgar's slums. If iconic places are more loaded with elements than other areas, the textures are still pretty simple no matter what. We can welcome in passing the few graphic options that allow you to adapt the quality of the images to run the title on less powerful media, even if these are less numerous than in other mobile games like Marvel Future Revolution, for example.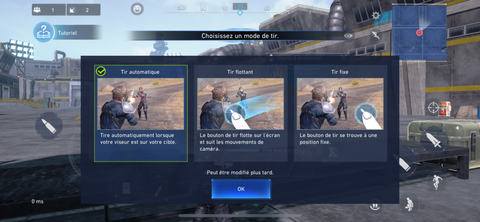 Driving side, First Soldier offers to play with both touch and controller controls. For those who prefer to play directly on their device, know that the title has many parameters to adjust the controls to everyone's wishes. Thus, there are many parameters for the camera, different shooting modes, different options for automatic shooting or the shutter button, the same for vehicle control etc … If thanks to all these options the title is still playable in the mobile, the experience becomes much more pleasant with the joystick in hand. Also, we can only thank the fact that the latter can be used natively from the launch of the game, however, certain key combinations are not always very natural, particularly those for casting spells. Finally, during our test session, it happened that some buttons on the controller no longer work as before for an unknown reason. It is difficult to know if the problem comes from our device, but these types of incidents occurred with both an Xbox controller and a Dualshock 4.
conclusion

Strengths
A complete Battle Royale in its mechanics inspired by the competition.
Technically fluent throughout a game.
Final Fantasy VII fan service galore
Native driver support
Many options to personalize the experience
Weak points
Simple graphic design
Basic interface loaded with elements
Key combination not always obvious on controller
Drivers don't always respond very well
Beyond its amazing concept vis-à-vis its license, Final Fantasy VII: First Soldier is a classic mobile Battle Royale but effective in many ways. Graphically simple yet fluid, playable on both touchscreen and controller, Square Enix's title takes different ideas from the competition for a BR experience that is accessible and comprehensive. Finally, despite all its qualities, First Soldier's greatest interest is knowing who it really is for, among Final Fantasy fans unaccustomed to these types of games and BR's overloaded mobile market.
eleven
What readers say (1)

Read reader reviewsGive your opinion on the game!

Through TheXsable, Journalist jeuxvideo.com
MP
Astra Pro Nulled, Woocommerce Custom Product Ad, Nulledfire, Yoast Nulled, Slider Revolution Nulled,Woodmart Theme Nulled, Wpml Nulled, Rank Math Seo Pro Weadown, Wordfence Premium Nulled, Newspaper 11.2, Fs Poster Plugin Nulled, Plugins, Elementor Pro Weadown, Consulting 6.1.4 Nulled, Avada 7.4 Nulled, WordPress Theme, Elementor Pro Weadown, WP Reset Pro, WeaPlay, Business Consulting Nulled, Woodmart Theme Nulled, PW WooCommerce Gift Cards Pro Nulled, Newspaper – News & WooCommerce WordPress Theme, Flatsome Nulled, Jnews 8.1.0 Nulled, Premium Addons for Elementor, Dokan Pro Nulled, Jannah Nulled, PHP Script