With the release of its first Ryzen 6000 mobile processors earlier this year, AMD has boosted the performance of lighter laptops. In the past, you had to look at five or six pound laptops to get the power available now at three and a half pounds.
But this release featured more powerful AMD H-class processors, chips with TDPs of 35W and higher, designed for gaming, content creation, and other heavy production workloads. Now comes the next round of laptop processors, designed for thinner laptops weighing less than three pounds. These U-series processors have a variable TDP from 15W to 28W, with the Ryzen 7 6800U as the main processor.
The video above includes an unboxing and a broader look at the laptop we used for testing, as well as a deeper dive into this chip's performance in key benchmarks. Here we will discuss five key takeaways from the Ryzen 7 6800U that you need to know.
1) It is quite powerful in multi-threaded tasks.
Let's take a look at the raw benchmarks for multi-threaded performance tasks and then dive into the data.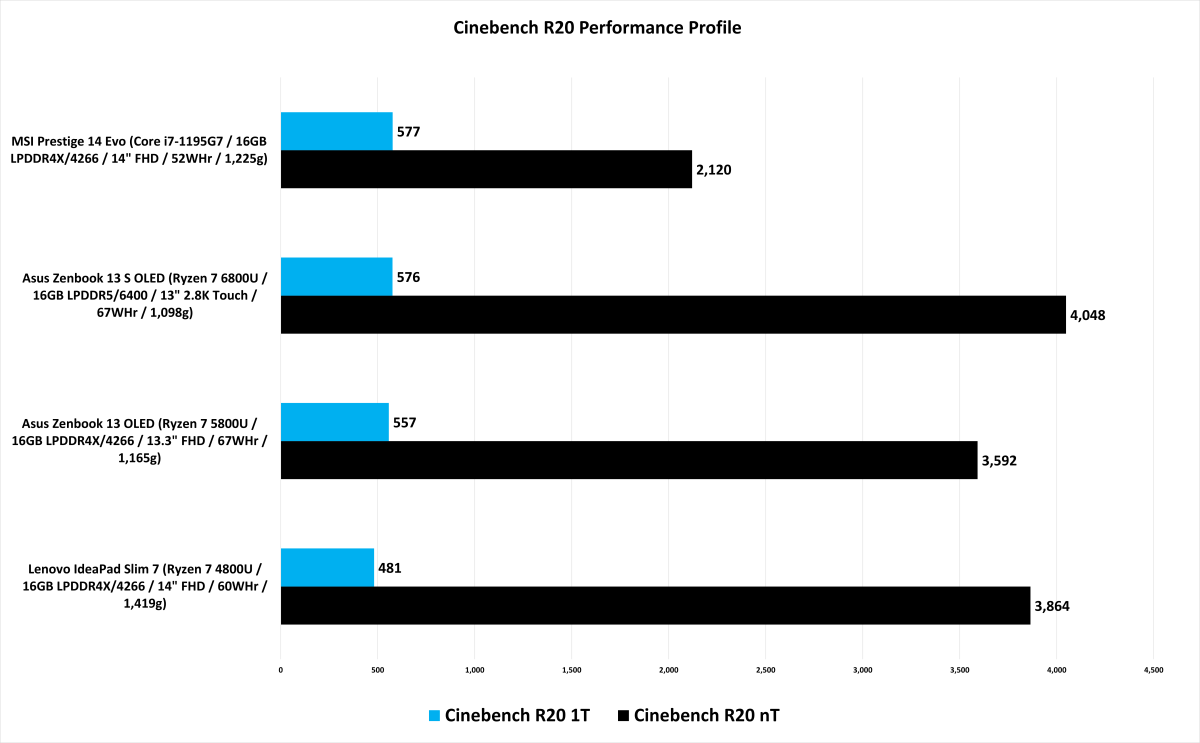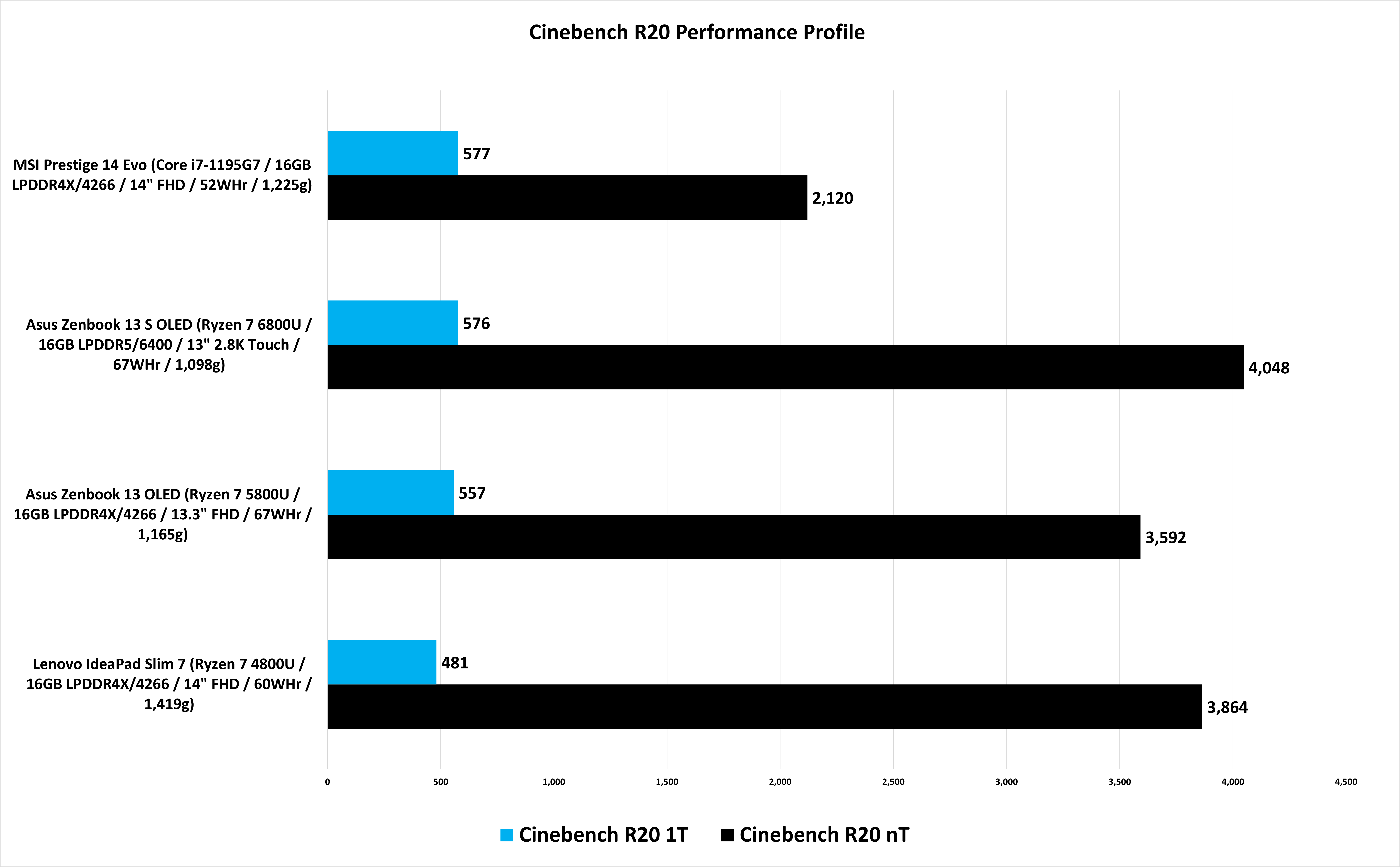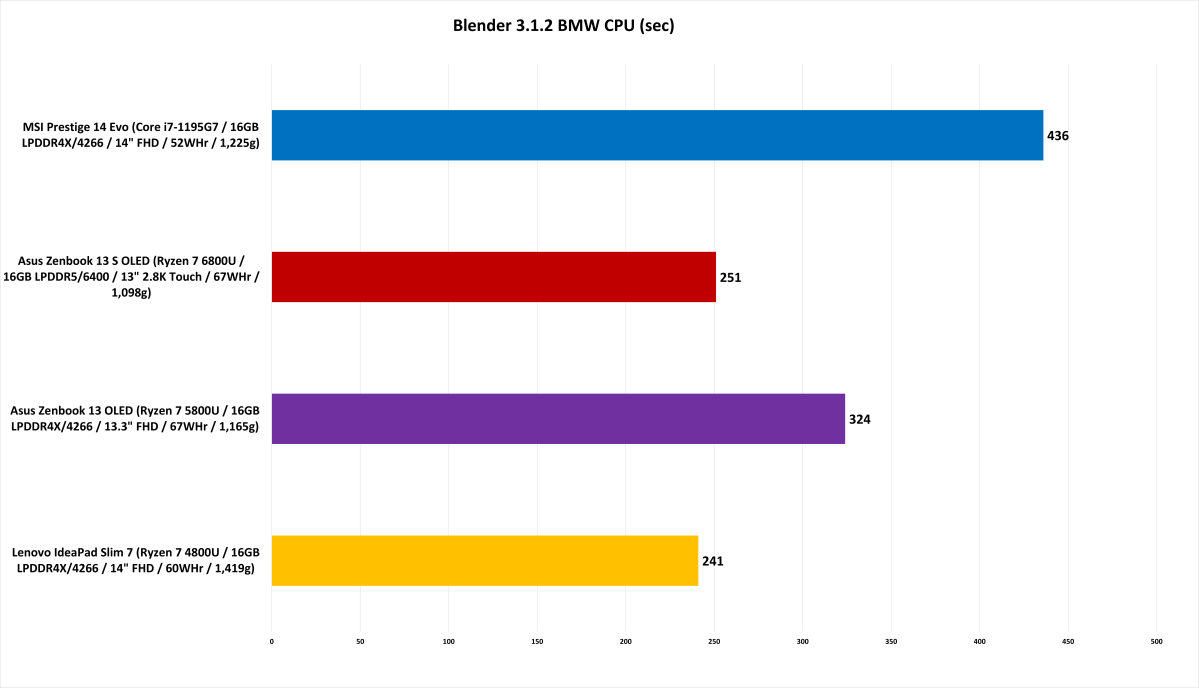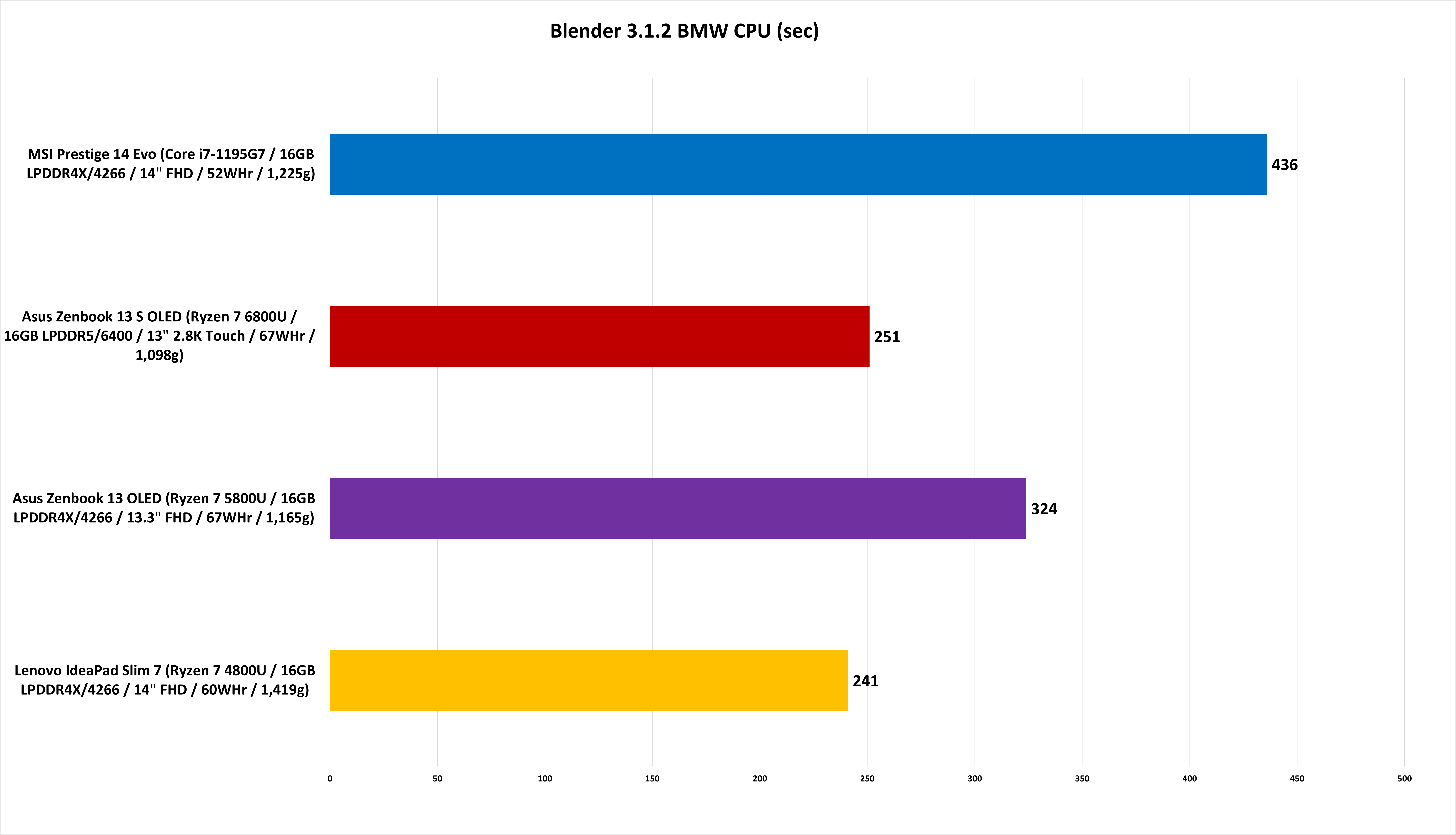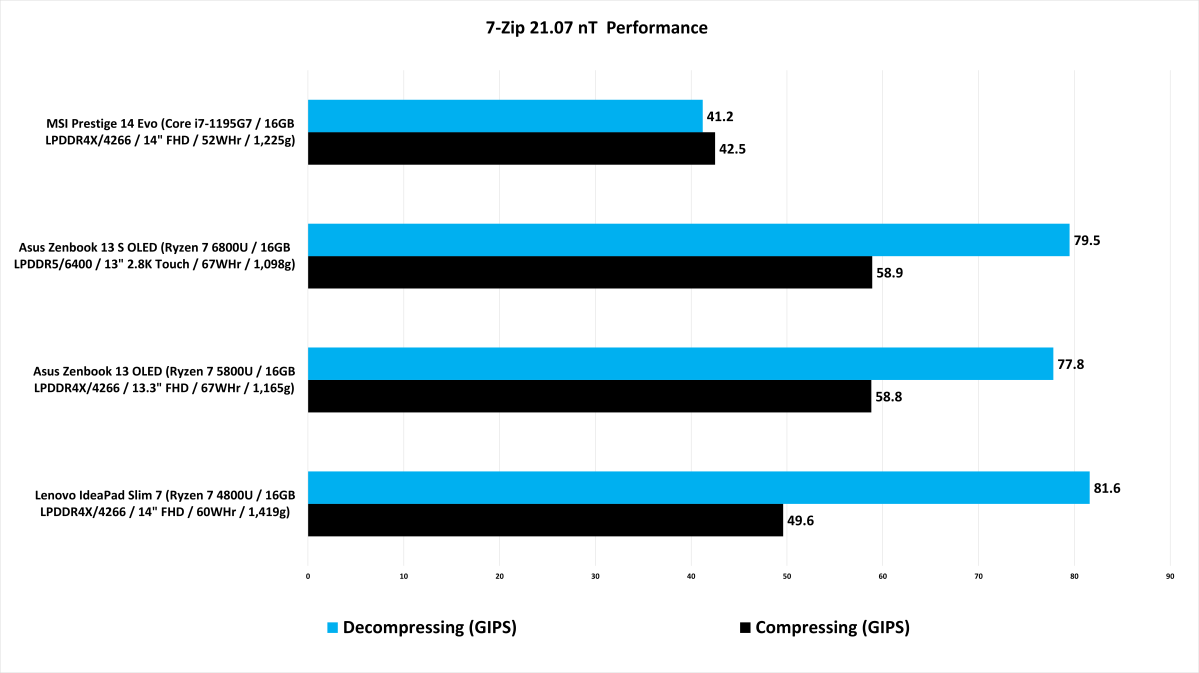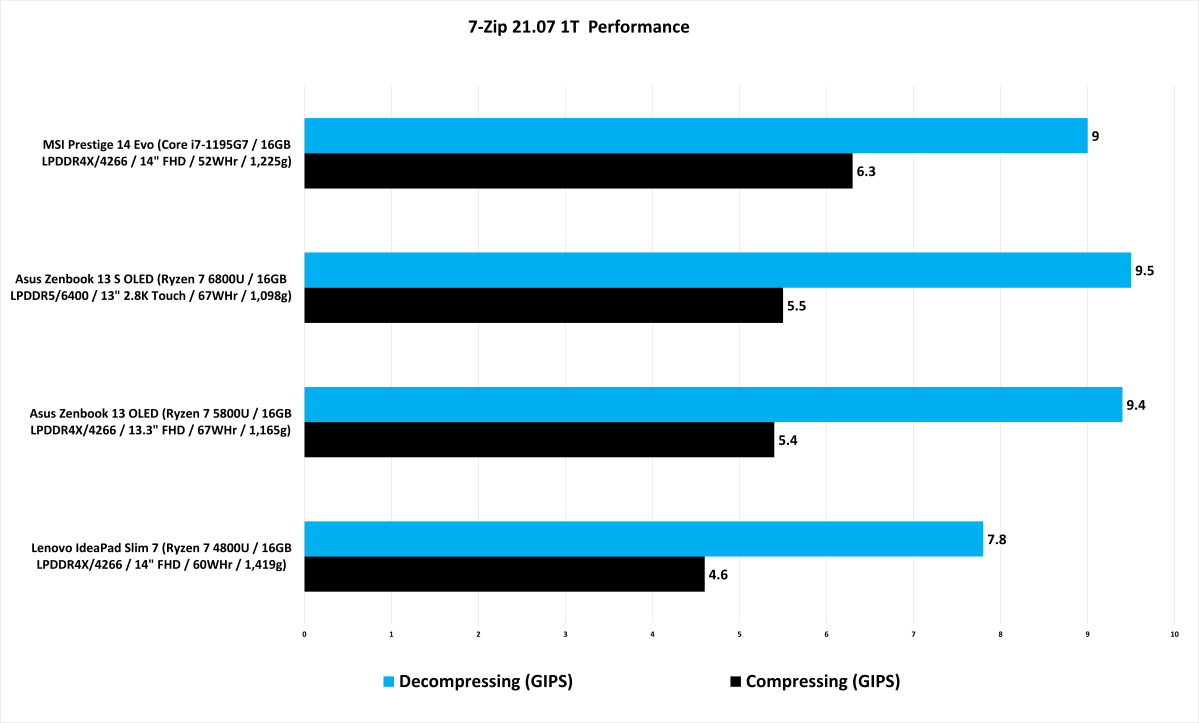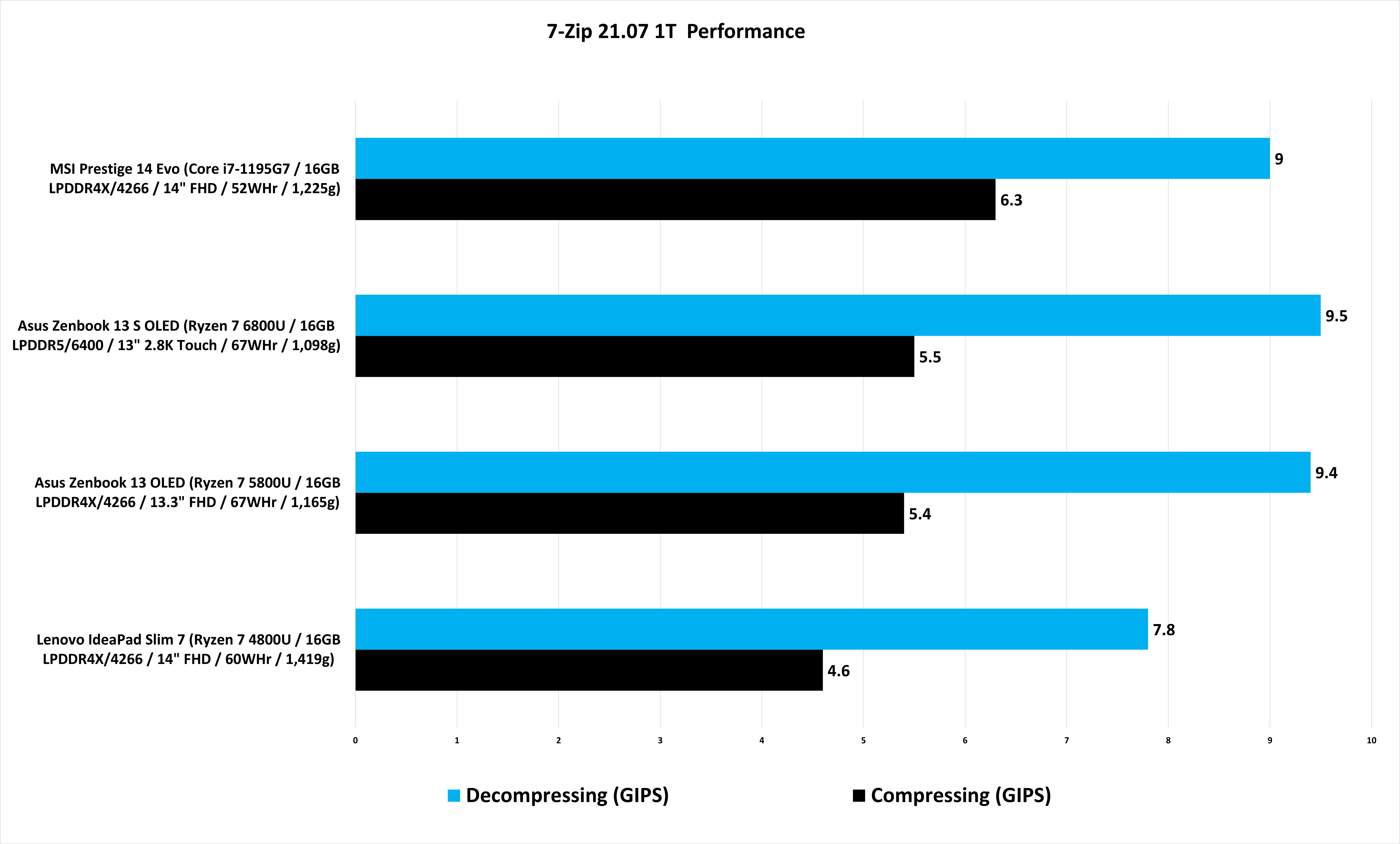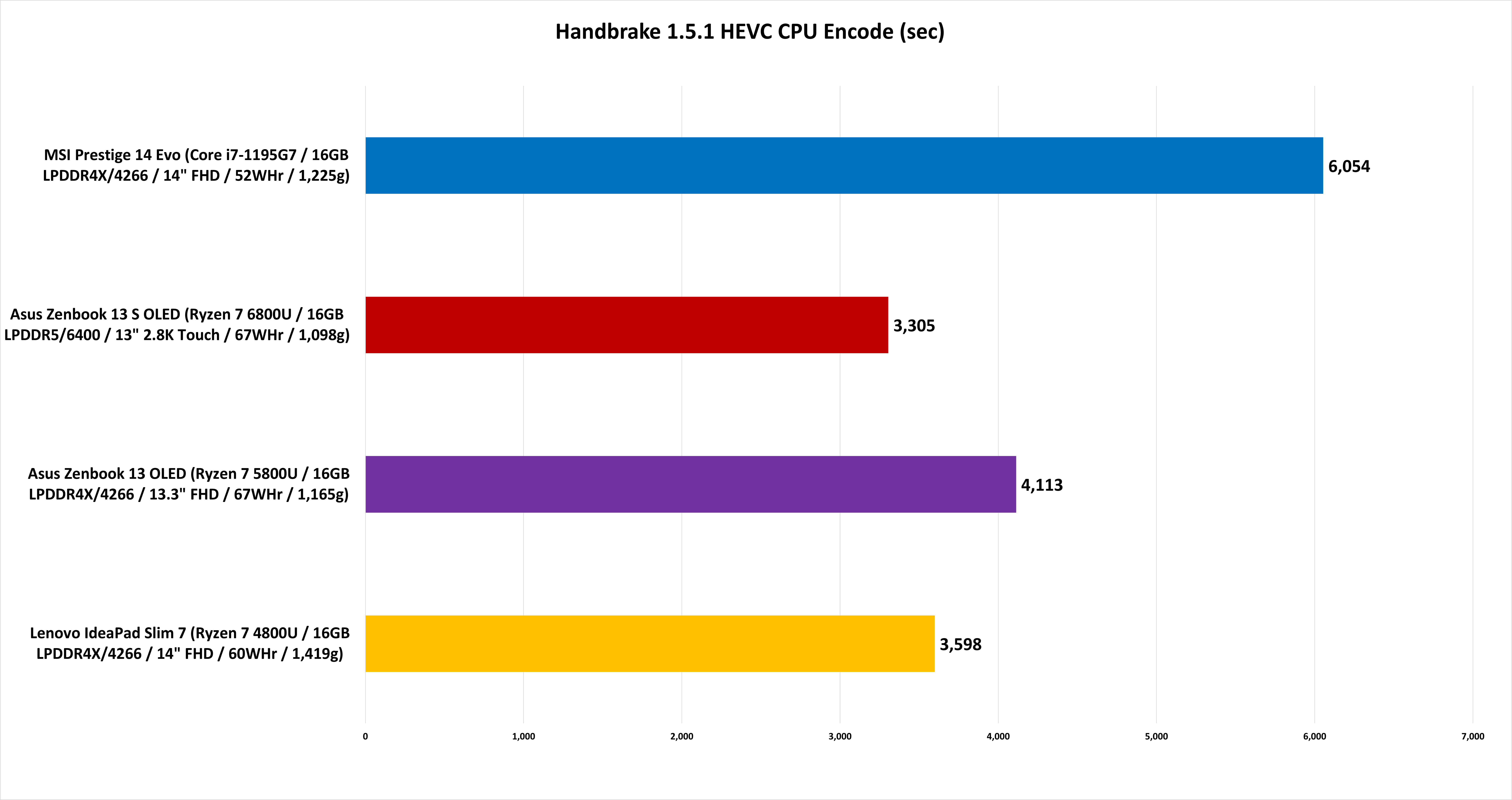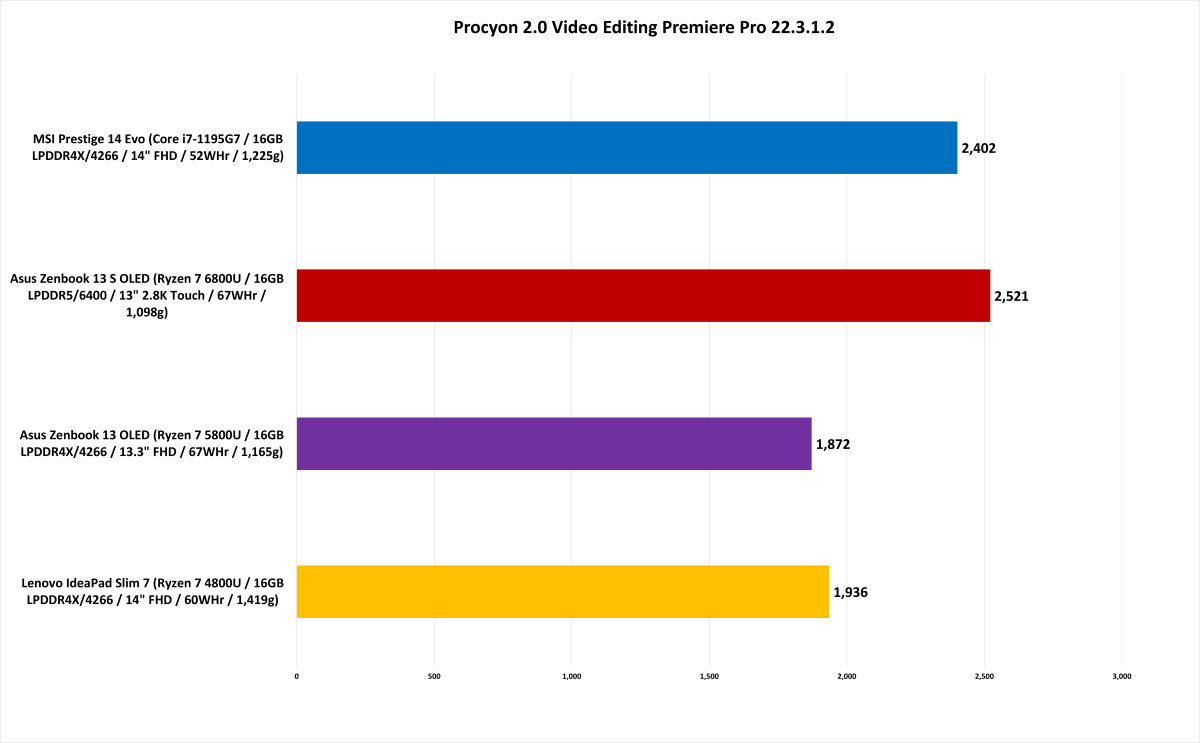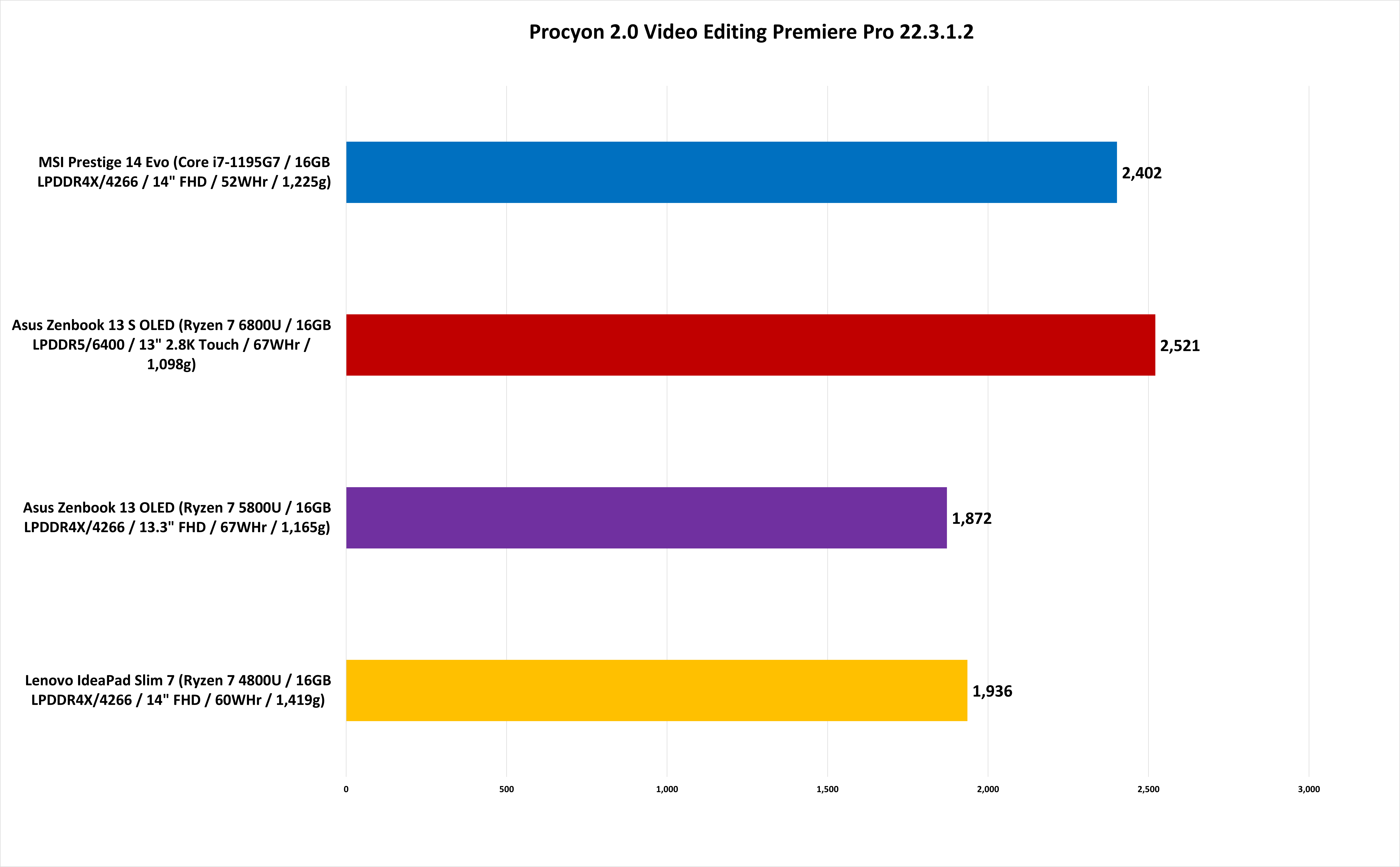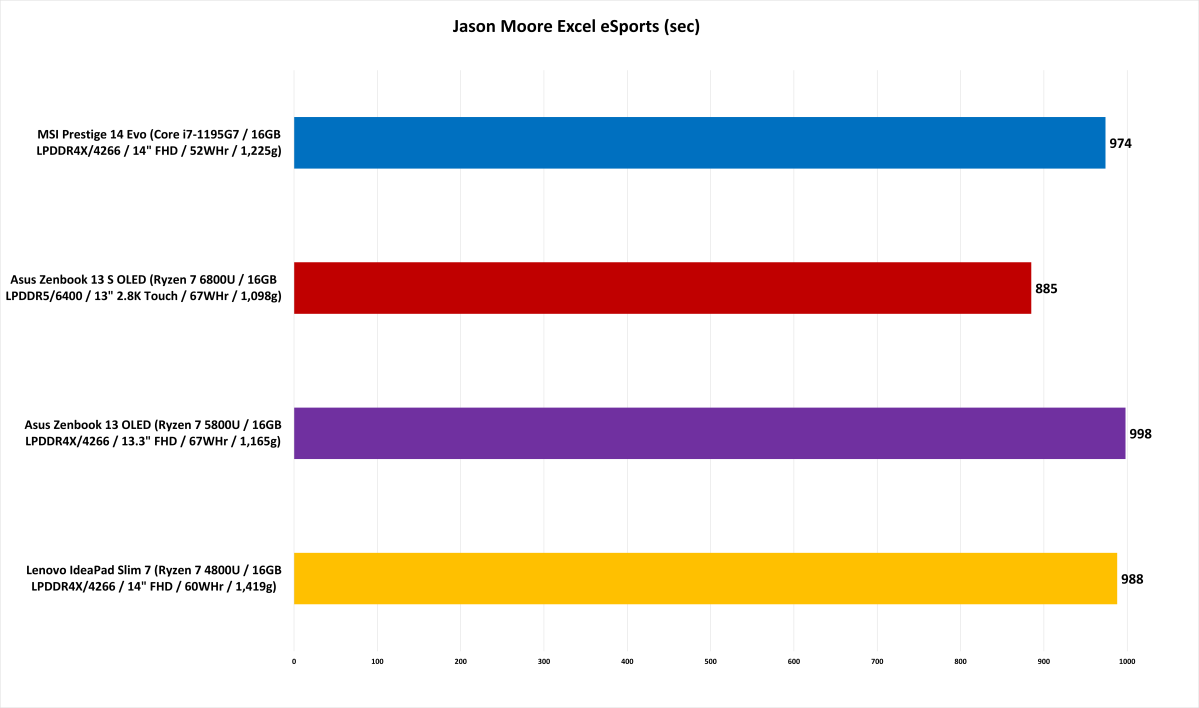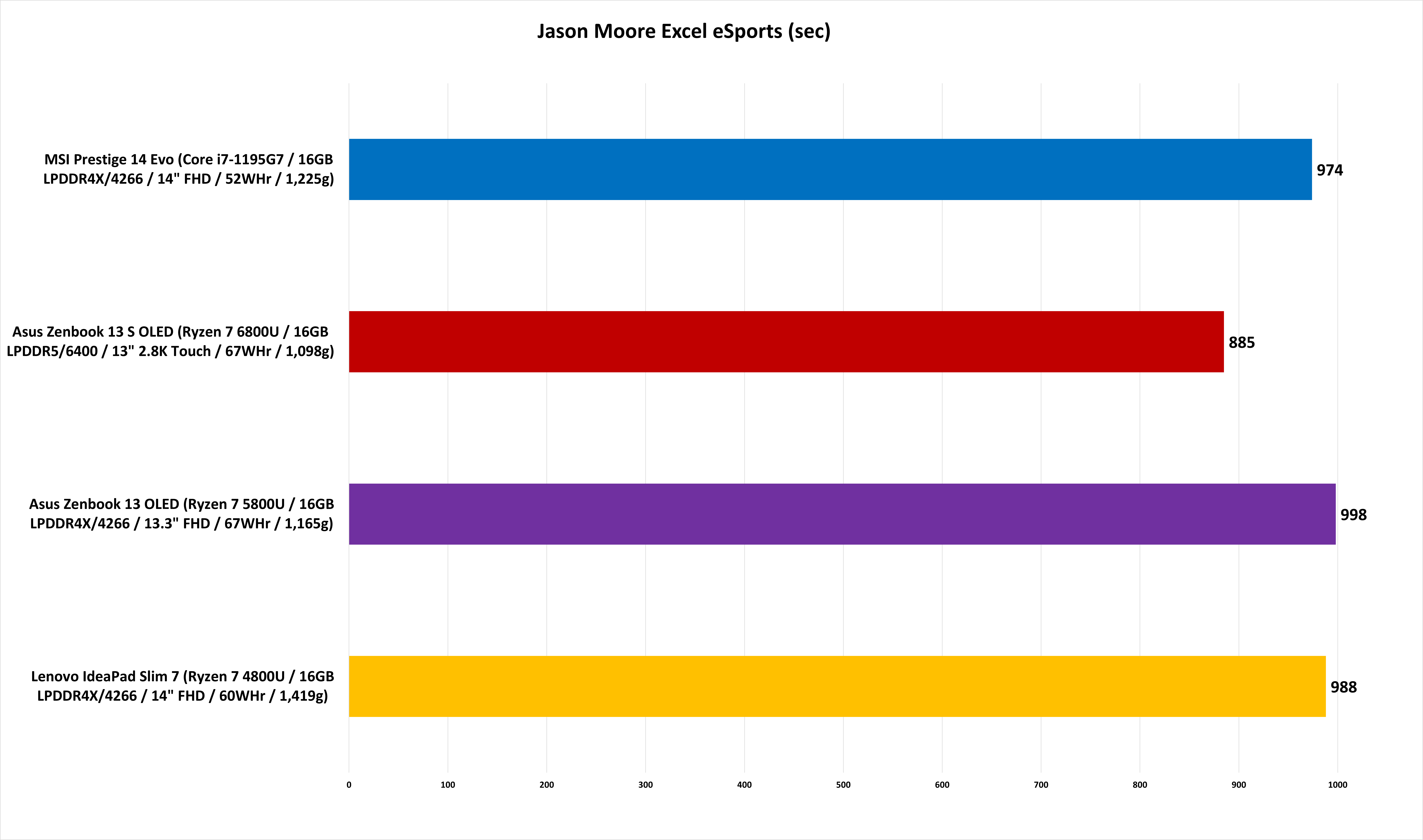 When you look at tests that use multiple cores and threads, such as those focused on rendering or encoding, the Ryzen 7 6800U can show good numbers. The results of our tests show a decent (and even significant) double-digit increase compared to previous generations of processors. While we're not talking about a dramatic performance boost here, the numbers tell us that this latest Ryzen processor is no fool. You don't compromise by choosing a chip designed for thin and light laptops.
Of course, switching to the Ryzen 9 6900HS will give you a significant performance boost – for example, by 55% in the Cinebench R23 multi-threaded test. But you will also put on an extra pound or so (0.54 kg). Our 14-inch 6900HS review laptop weighed 3.6 pounds (1.6 kg); our 13-inch 6800U review laptop weighs 2.4 pounds (1.1 kg) and will be closer to two pounds (1 kg) without a touchscreen. This weight matters when your main goal is to keep your backpack or briefcase lightweight and you don't have to work hard with large files. The 6800U is excellent for its size. In fact, that's not far from the 6900HS's predecessor, the 4900HS – just 2.9 percent lower in Cinebench R23.
The same applies to competitors such as the Apple M1 Max MacBook Pro. For example, it outperforms the 6800U by about 16 percent in Cinebench R23, but the 14-inch version weighs 3.5 pounds (1.6 kg). The real competition will likely be the 12th Gen Intel Alder Lake laptops. Based on our look at Intel's flagship Alder Lake H-class mobile processor (aka the top chip in a more powerful line of processors used in powerful, performance-oriented laptops), we expect the top Intel Alder Lake U-class processor to offer close fight too, but these chips are not yet available.
2) But games are where he shines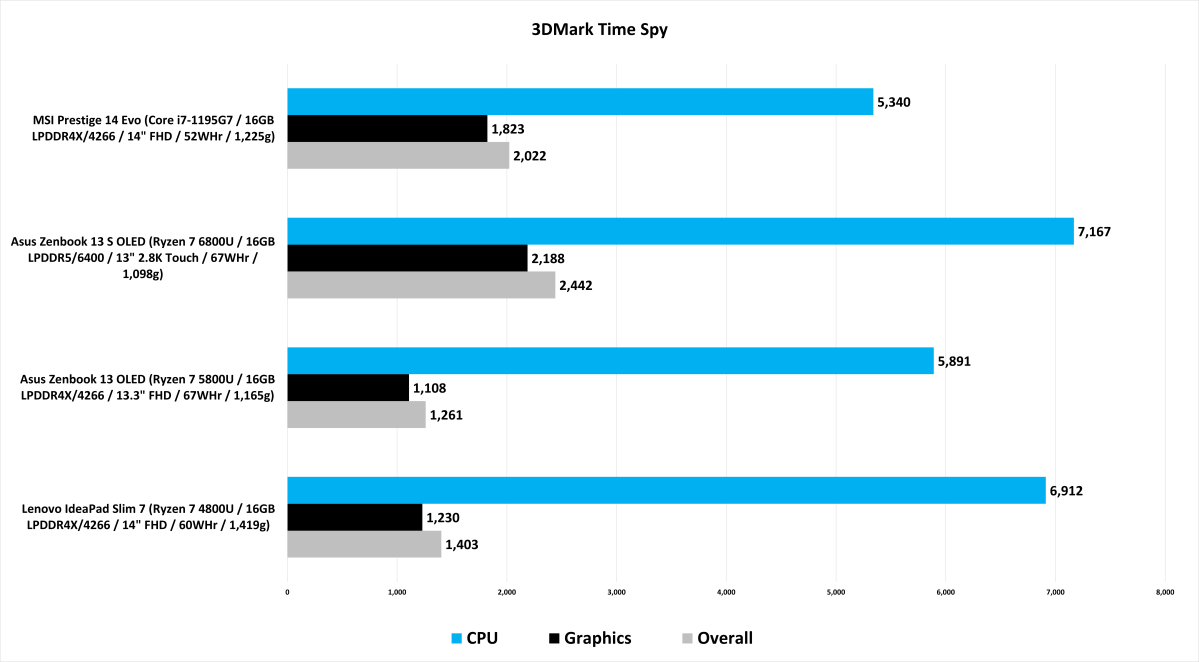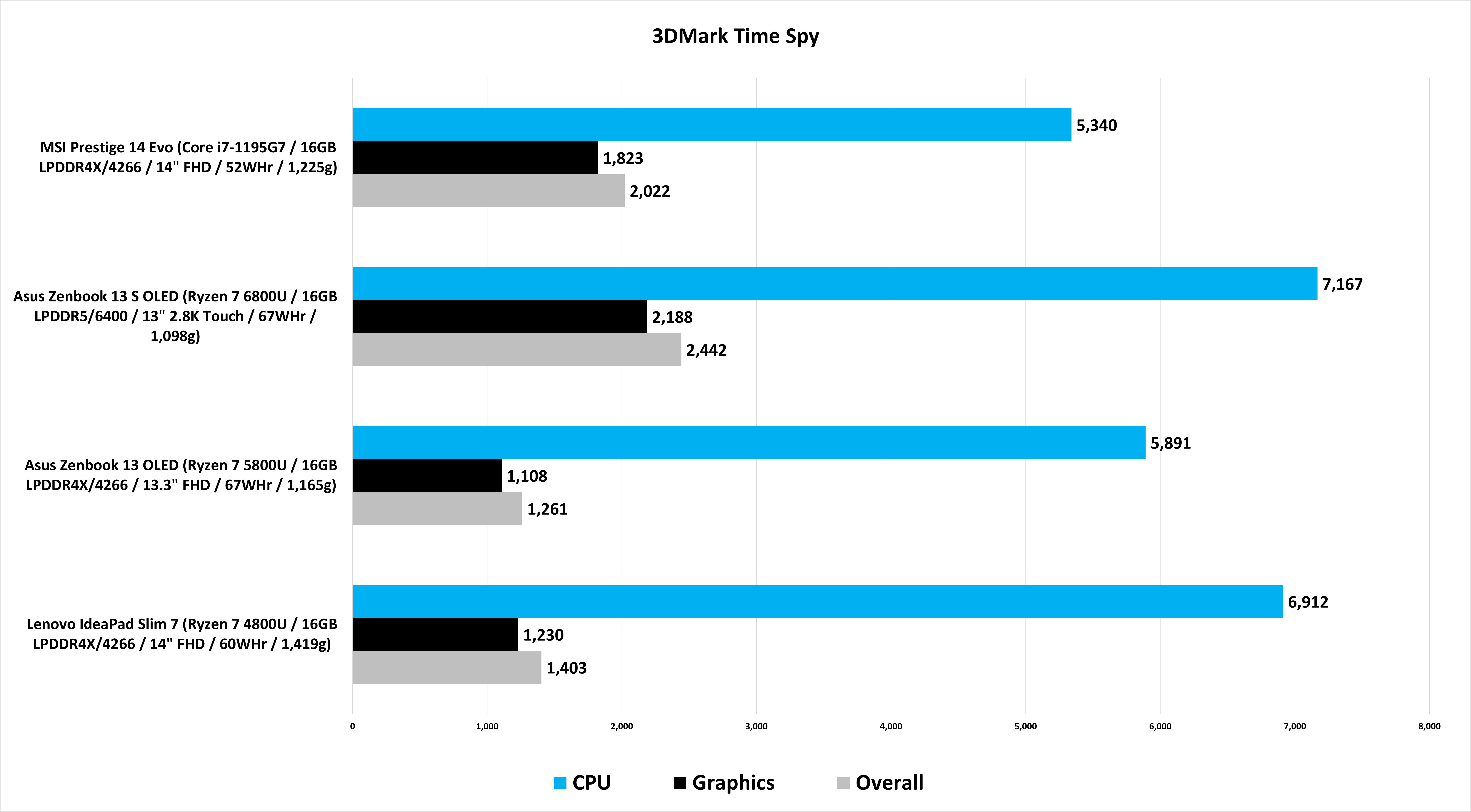 Longer bars indicate better performance.
We already know that RDNA 2-based integrated graphics in Ryzen 6000 mobile processors are powerful. The Ryzen 9 6900HS outperformed the Core i9-12900HK's integrated graphics. Using the same technology found in AMD's Radeon RX 6000 graphics cards is a winning formula.
But the same ability of the Ryzen 7 6800U to play games at 1080p at acceptable frame rates has a much bigger impact in the real world. Yes, even if you have medium or low graphics settings.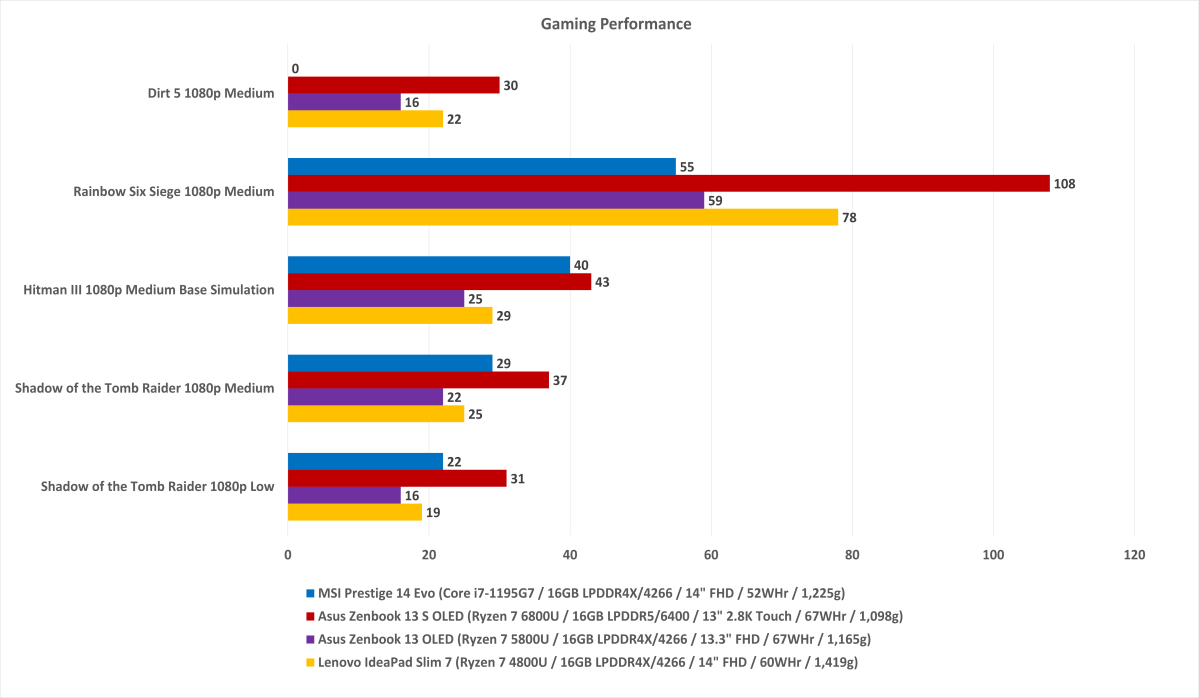 Longer bars indicate better performance. Note that for the Dirt 5 test, our sample laptop refused to cooperate.
As mentioned in our 6900HS review, discussing top-notch integrated graphics performance in this high-end chip, or even other H-class processors, is an intellectual exercise. They are almost always paired with discrete graphics. Not so with thin and light laptops. But with the Ryzen 7 6800U laptop, you don't need a dedicated GPU. By installing one of these in a two-pound performance laptop, you also turn it into a lightweight gaming machine. You may have to lower the resolution to 720p in some games and you won't be able to make the most of the visual options, but you can still play them locally on your PC instead of relying on cloud streaming services like GeForce. Now or Xbox Cloud Gaming. Just a few years ago, gaming on a thin and light laptop was nothing special.
3) It's good, but not good for basic performance.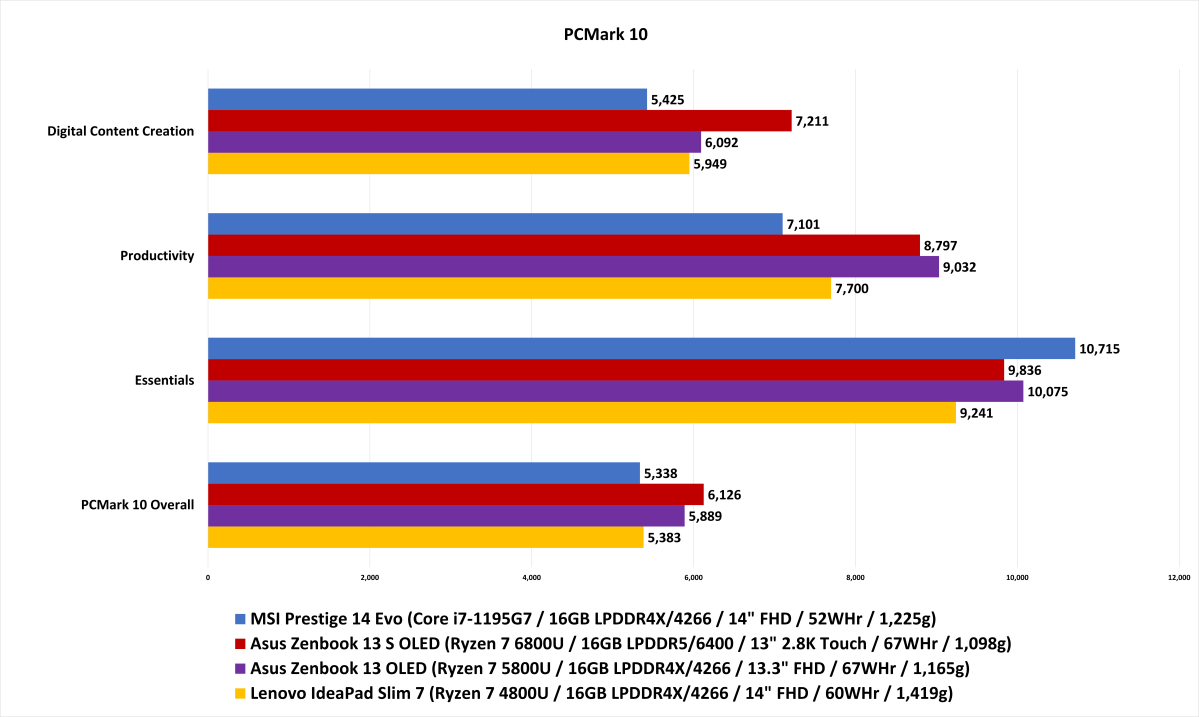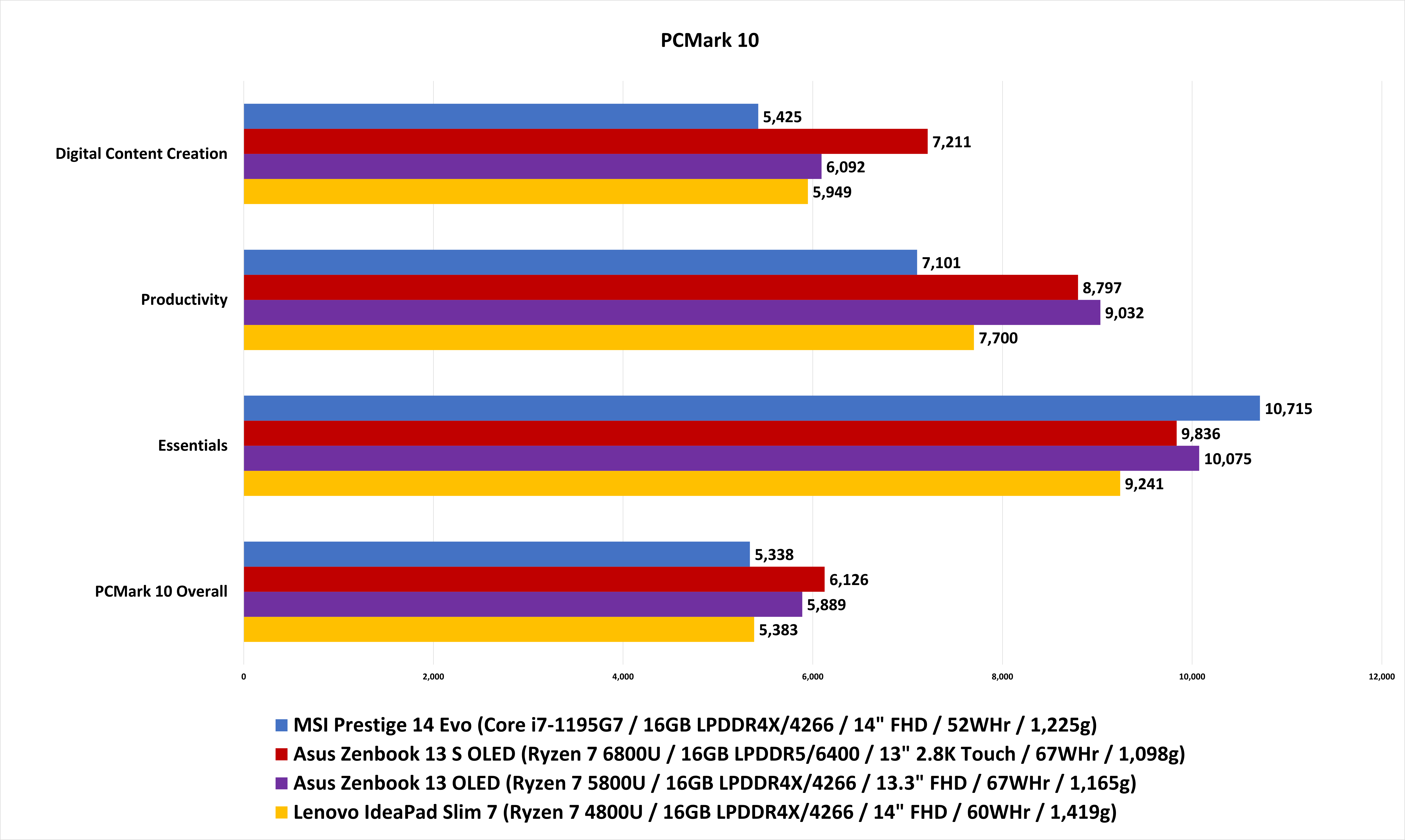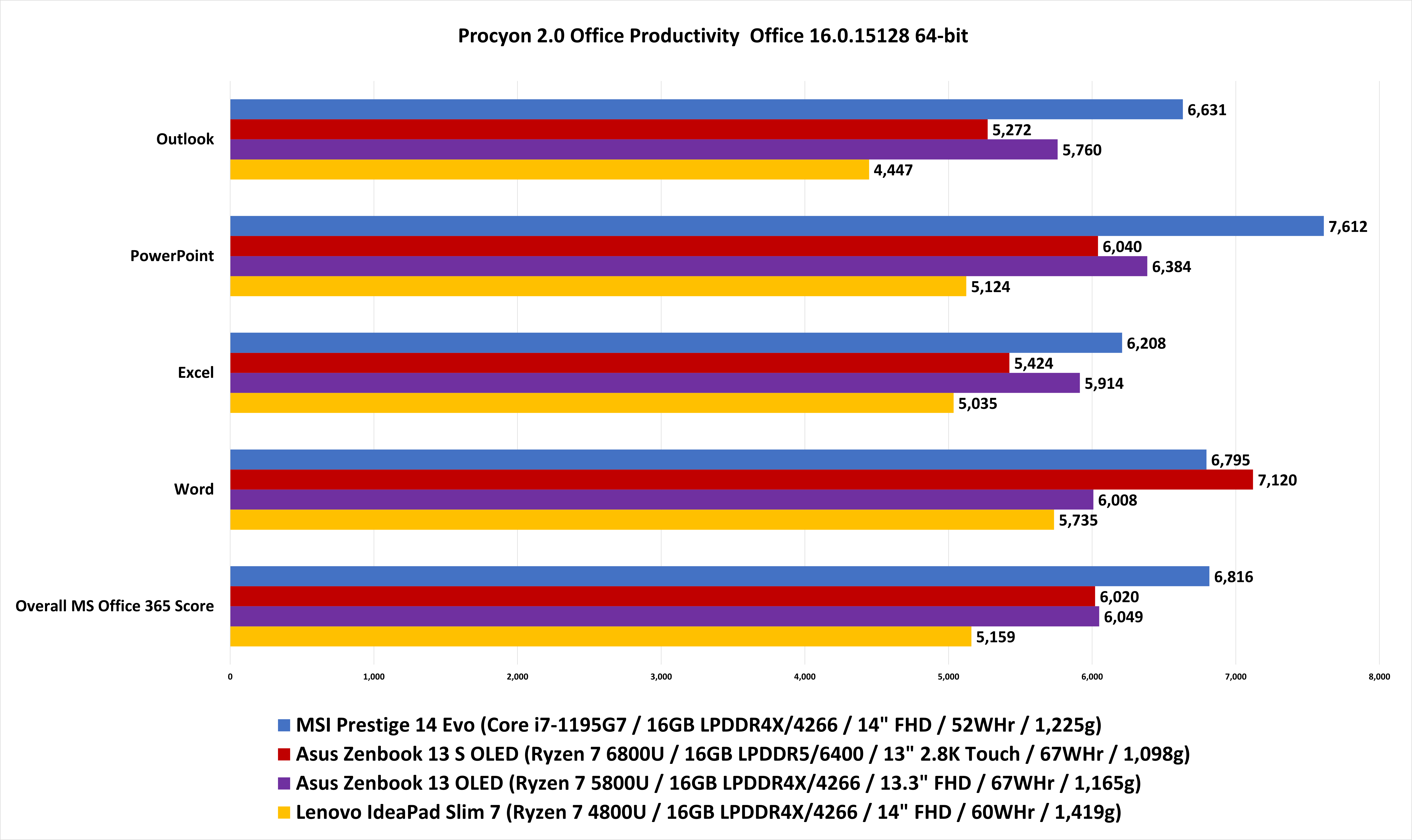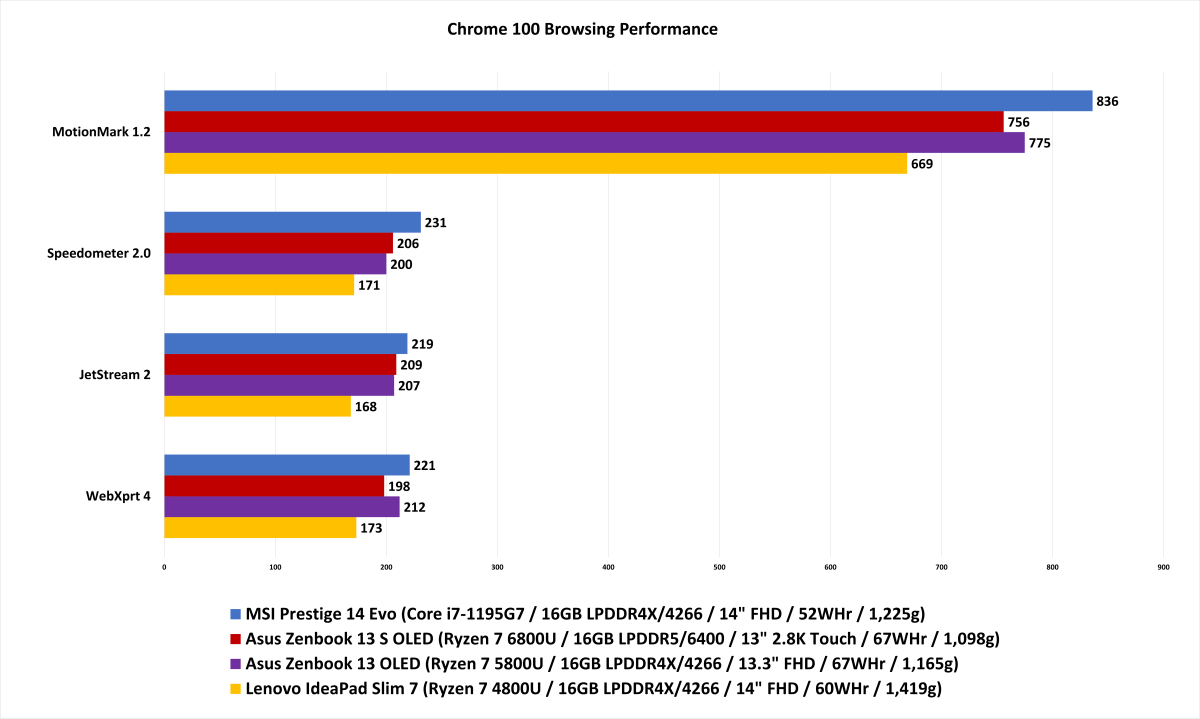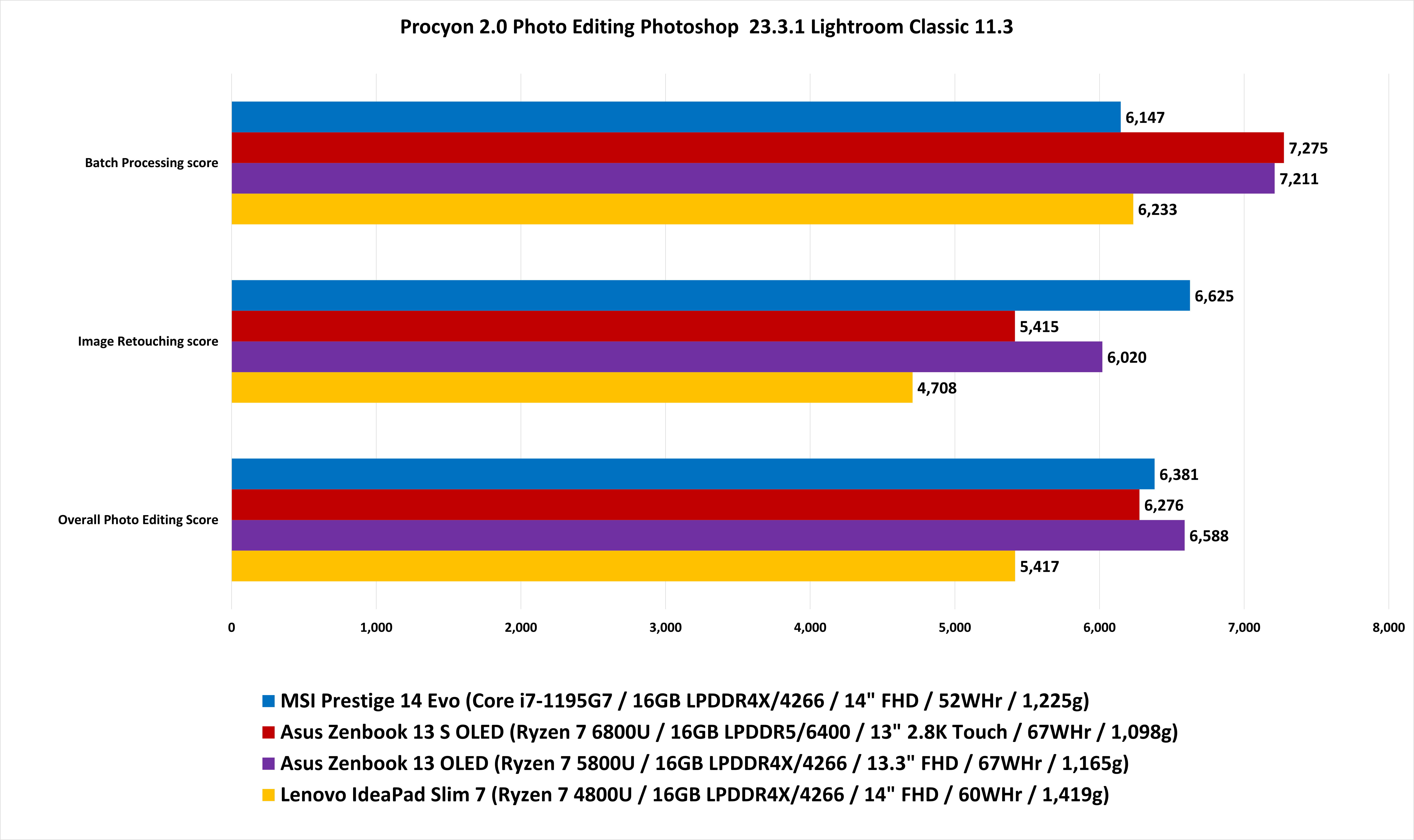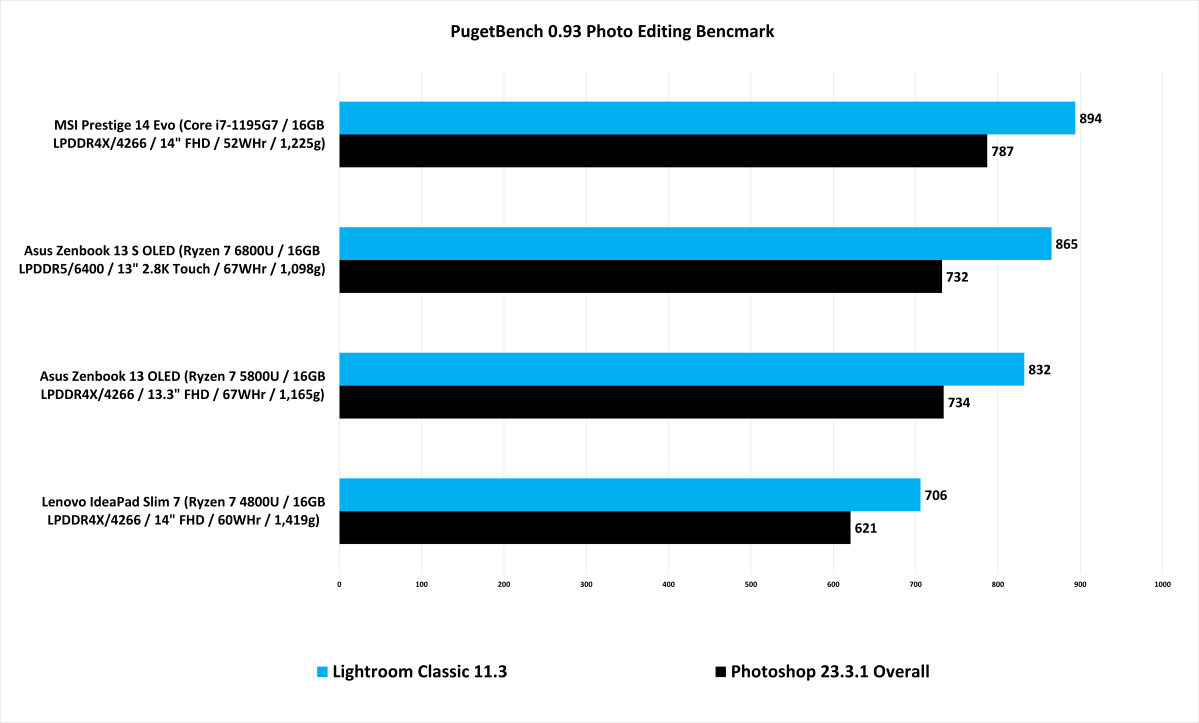 Most people don't think much about finding the best laptop processor for office work. But if you spend your time in Outlook or PowerPoint, almost to the exclusion of everything else, you really should pay attention to the tests for these programs. At the very least, you should if you're choosing between a high-performance U-class Ryzen 6000 chip and other modern options.
When you look at the results of comparing the Ryzen 7 6800U with older chips, you will see some improvements, but you will also see that it does not always outperform the Intel Core i7-1195G7 or Ryzen 7 5800U. The Ryzen 7 6800U is great for day-to-day productivity tasks, but you can find another Ryzen U-series chip that better suits your needs and budget. On the other hand, if you can't afford to slow down when sending email or compiling slides, or can't stand anything other than ultra-fast web browsing, you might be better off picking up an Intel laptop instead.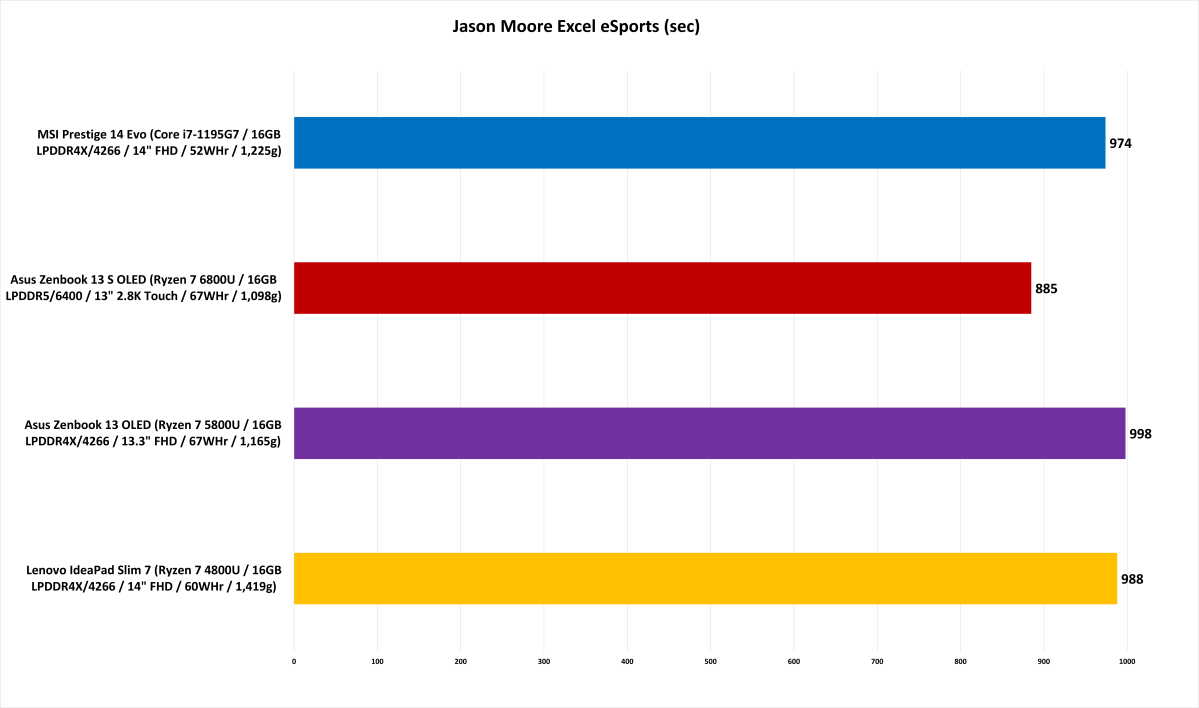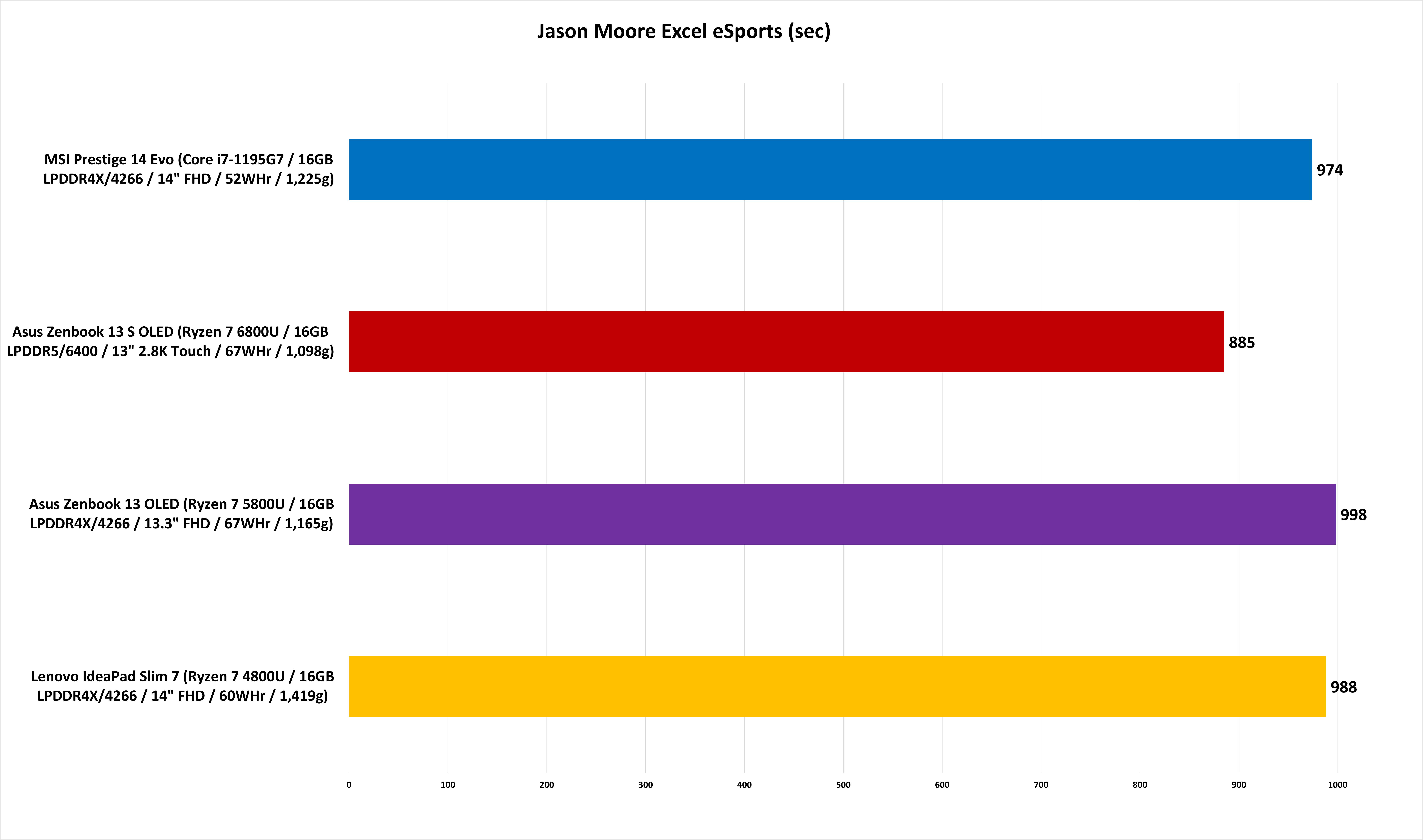 Shorter bars indicate better performance.
Incidentally, avid Excel users should not consider their needs as falling under baseline performance. Calculating numbers at the level of rival Excel eSports hits the CPU pretty hard, as you can see in the chart above.
4) It provides speed in all directions
You'll get more than just a faster processor if you opt for the Ryzen 6000 chip.
AMD
You may already remember this information from the launch of the Ryzen 9 6900HS, but in case you forgot, the Ryzen 6000 processors also come with platform updates. So when you're looking at Ryzen 7 6800U laptops, you need to weigh more than just benchmark scores.
Ryzen 6000 series processors support PCIe 4.0, USB 4, DDR5 memory, Wi-Fi 6e, and Bluetooth Low Energy 5.2. For a laptop with a U-class processor like the 6800U, this allows for fast storage and memory, as well as faster data transfers with USB devices and wireless connections. The USB 4 ports also support DisplayPort 2 and charging, reducing the amount of cabling required. These are features that people might not immediately think of when comparing modern laptops to older models, but they can make a big difference in your day-to-day experience, especially as a laptop ages.
5) Battery life is great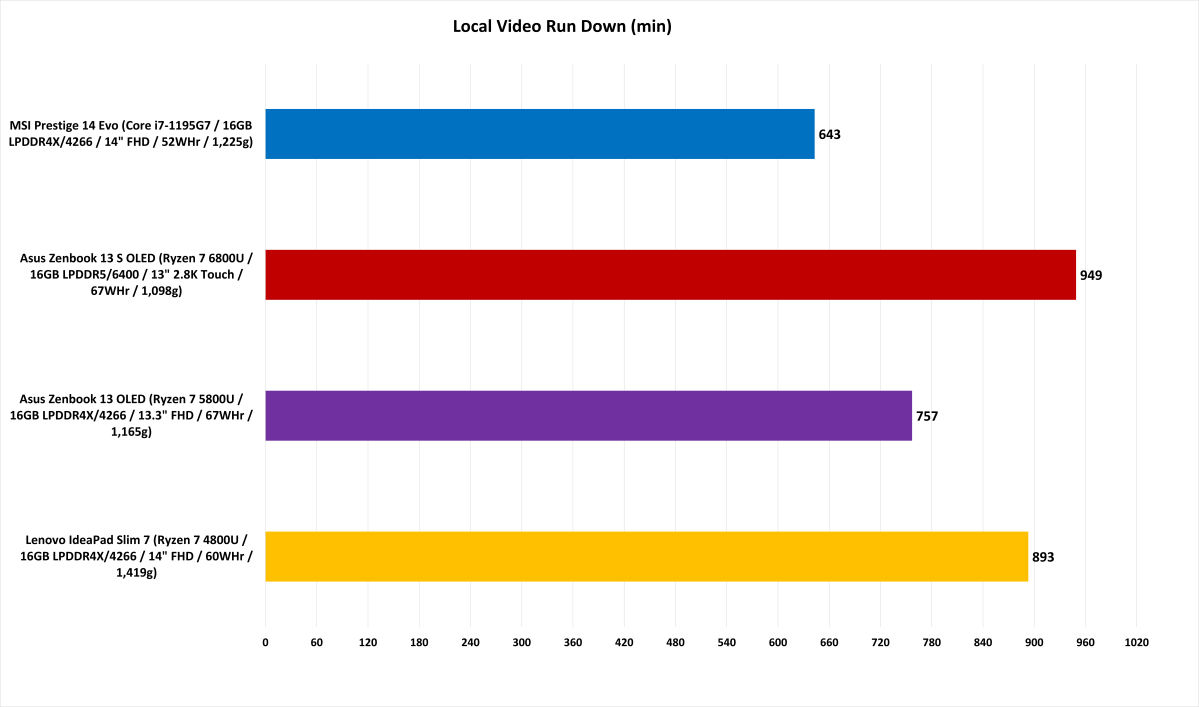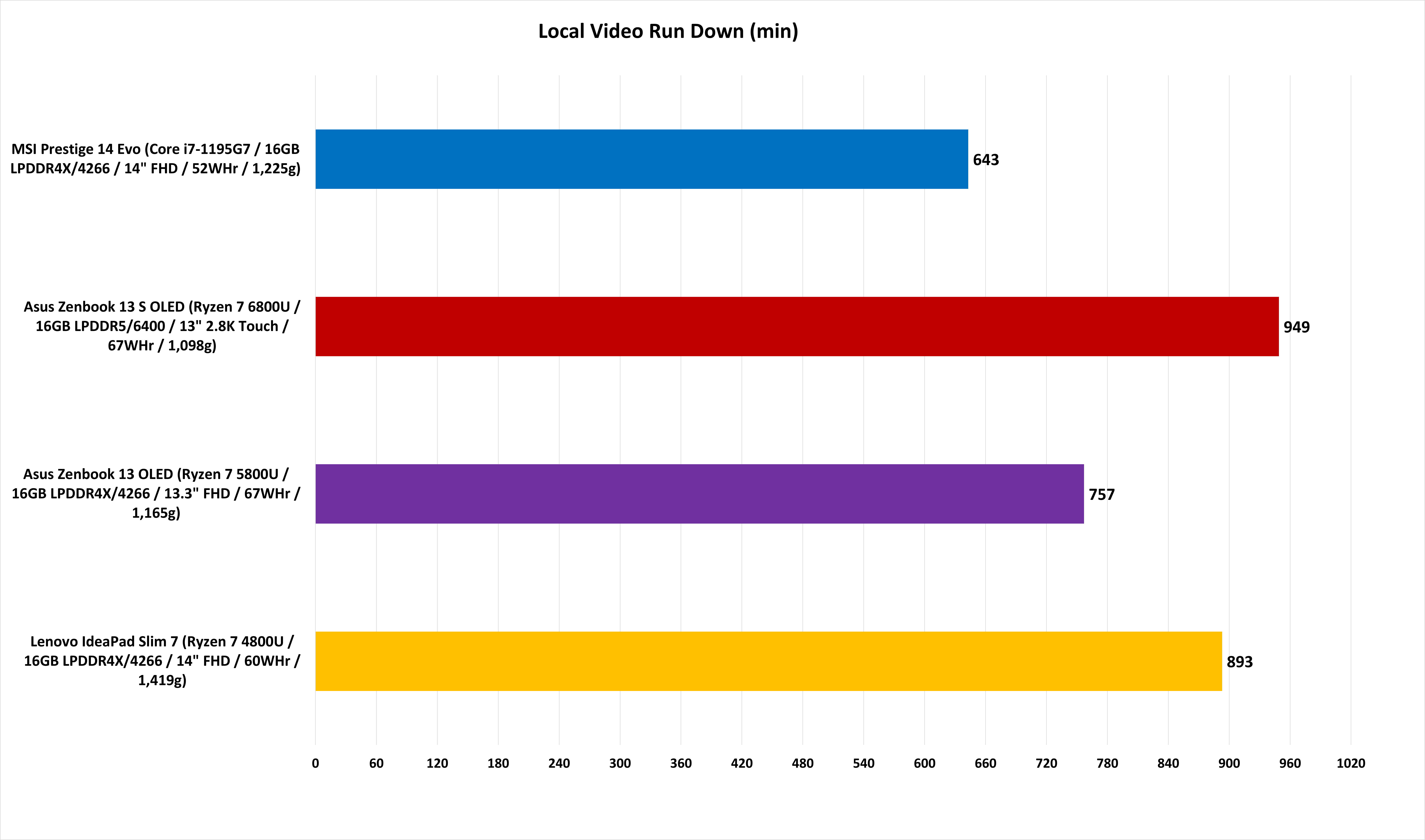 The Ryzen 7 6800U offers a significant increase in battery life over its predecessor.
PC world
Unlike desktop PCs, laptop design diversity affects performance. Two laptops can have the same processor but differ markedly in benchmark results.
Battery life is not immune to this effect. The duration of a single charge depends not only on the processor, but also on the size of the battery and the power consumption of the display. However, the battery test helps determine which chips provide particularly good or poor performance, even if it's just a simple video test.
Our usual test involves playing a Tears of Steel 4K video in an Airplane mode loop, with headphones plugged in at 50% volume and screen brightness set to a relatively bright level of 250 to 260 nits. Our 6800U lasted almost 16 hours on this task. This is a great amount of time, especially given the size of the laptop.
AMD has stated that Ryzen 6000 processors can last up to 24 hours on battery, but their testing methodology uses a dimmer, more power-efficient screen brightness of 150 nits. For lack of an apples-to-apples comparison, what matters here is how the Asus Zenbook 13 with 6800U compares to the same model with 5800U – you get a 25 percent increase in battery life. The extra three hours is a sizable increase and confirms Ryzen 6000's idea of ​​better battery life than previous generations. In the end, this is the main thing.
Editor's Note: This article was originally published on 05/19/22 but was updated on 05/20/22 to include our practice test video.