The final episode of Obi-Wan Kenobi is an epic epilogue for the Jedi Master. As well as a symbolic reading of the struggle between the Light and Dark sides that is played out between Anakin Skywalker and Darth Vader.
The final episode of Obi-Wan Kenobi aired June 22 on Disney+, but there's still time for comment and analysis. Since then, fans have shared their views, satisfied, touched, puzzled or dissatisfied. It's also an episode that encourages interpretation of some of the key scenes – theories have surfaced in recent hours, of course.
If you haven't seen the final episode of the series yet, we suggest you move on because this article contains big spoilers!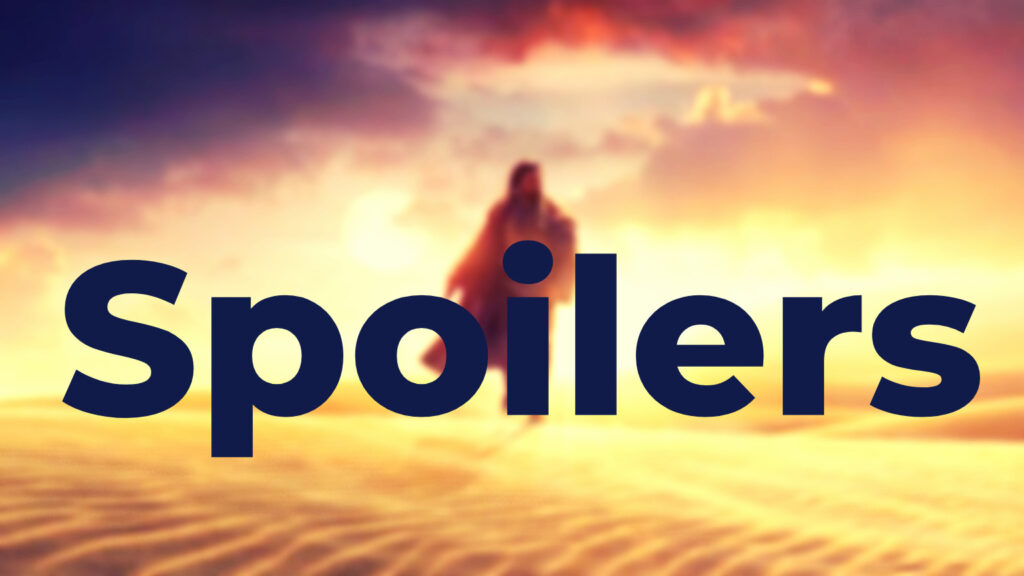 They say ! Source: Disney
There's always good in Anakin Skywalker
One of the highlights of this sixth and final episode of the series is none other than the confrontation between Obi-Wan Kenobi, once again at the height of his Jedi power, and Darth Vader, still consumed by hatred for his former master.
Obviously, and for those familiar with the films, we knew that the two main characters couldn't die, as they appear in the continuation of Luke and Leia's adventures.
Fans wondered how the clash would end. After an emotional lightsaber fight, Darth Vader manages to bury Obi-Wan Kenobi under rocks. But he breaks out of it and comes back with revenge. Using the power of the Force, he sends a cloud of stones at his former student, throws him away and finally stabs him with a saber, cutting off part of his black helmet and exposing Anakin Skywalker's charred face.
This is followed by a terrible skirmish between the two men. "I'm sorry, Anakin, for everything that happened," Obi-Wan says, his face full of regret. "I'm not your loser, Obi-Wan. You didn't kill Anakin Skywalker. It's me. Vader argues.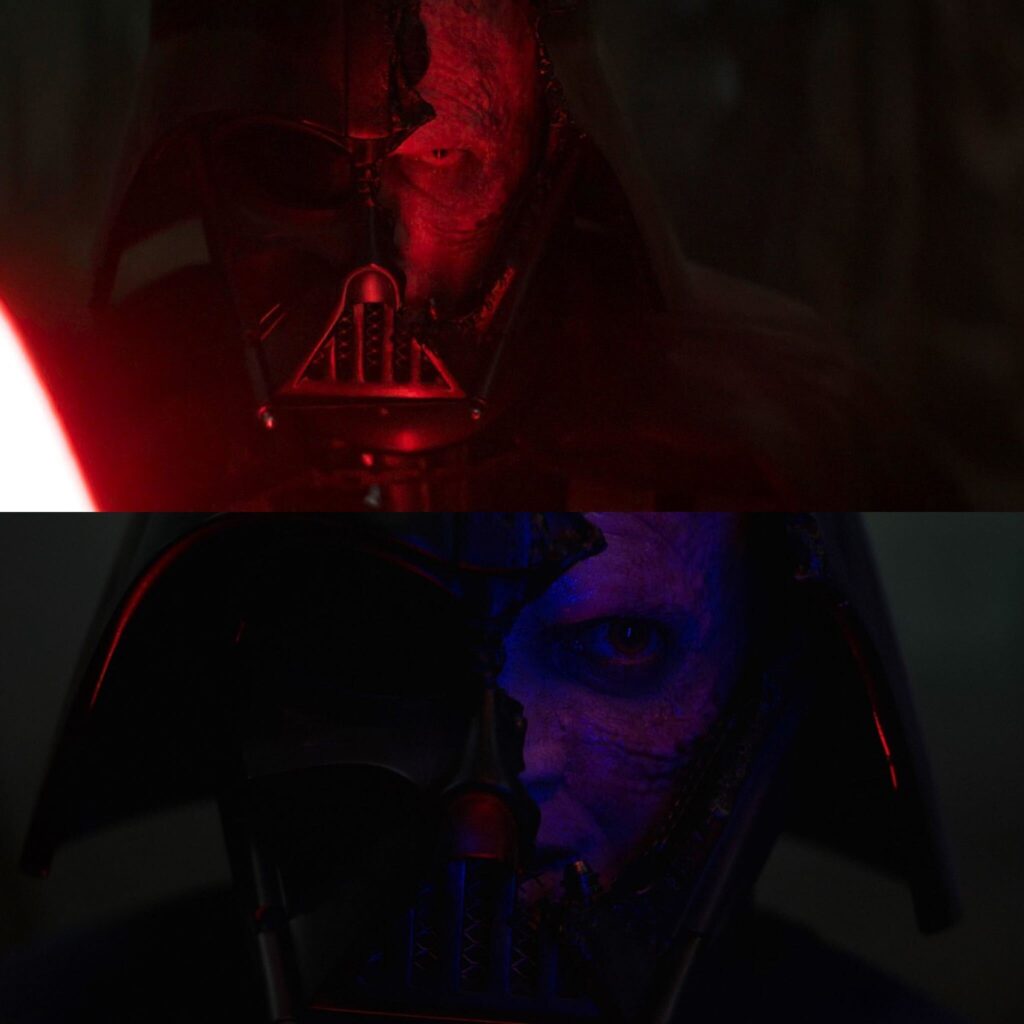 The play of colors on the face symbolically tells who is who: Darth Vader in red and Anakin Skywalker in blue. // Source: Numerama edit
Colors that have a symbolic charge
The dialogue suggests the hypothesis that at this time, perhaps Darth Vader had not yet taken final superiority over Anakin Skywalker. That the ancient Jedi have yet to fully turn to the dark side of the Force. Therefore, the faces of the fallen Jedi use quite an interesting use of colors to show this duality.
Those red and blue lights bouncing off Darth Vader's face are obviously coming from his lightsaber. Red for Vader, blue for Obi-Wan Kenobi. But in Star Wars, those colors matter: red is the usual color for sabers used by the Sith, while among the Jedi we prefer blue and green—with a few rare exceptions.
There is practically no other source of light on the planet, which is the scene of the final showdown between the two men. And Deborah Chow, the director who directed all six episodes, can't ignore the sense of color that comes with Anakin Skywalker/Darth Vader's features. They serve as a figurative reflection of the internal struggle between Good and Evil.
This suggestion is supported by the fact that Obi-Wan's face, for its part, does not color the two sabers so brightly. It is very shrouded in blue or relative penumbra. Red is weak. Other Internet users also share this analysis, interpreting the change in color as a change in who is speaking.
In short, blue light comes from Anakin when he speaks against Obi-Wan Kenobi, and conversely, red light comes from Darth Vader when he speaks to his opponent. This is a sign that the former Jedi's transition to the dark side has not been completed. This Palpatine didn't win the bet. Return of the Jedi will confirm that Anakin hasn't completely disappeared.
Anakin Skywalker's fiancée, Padmé, understood this reality before anyone else. In Star Wars: Revenge of the Sith, Padmé tells Obi-Wan Kenobi that Anakin Skywalker is not yet gone, and Obi-Wan dares not tell her that he was left for dead. It also echoes what Luke Skywalker, his son, will say in Episode VI (there's still some good left in him).
At the end of the film, Darth Vader will tell his son that he was right. All of this could also explain why Obi-Wan couldn't bring himself, even if he had the opportunity, to kill someone he once considered a brother in the final episode. This is despite his numerous murders since the start of Order 66.