4K resolution is becoming mainstream even among PC monitors. Delivering four times the pixel count of a 1080p display, 4K delivers a significant and obvious improvement in image quality. This is useful not only in games and movies, but also when editing documents or browsing the web. The extra pixels make text crisp and clear.
Here are the best 4K monitors available today. If you're after more options, we also have roundups of the best overall monitors and the best gaming monitors.
1. Dell U3223QE is the best 4K monitor
Also at the top of our list of the best monitors overall, the Dell U3223QE is a great 4K monitor for professionals and casual users looking for superior picture quality.
Technology is what sets this monitor apart. It has a new IPS Black panel that delivers about twice the contrast ratio of computer monitors with older IPS panels. This provides a richer image with a better sense of depth and darker black levels in dark scenes. The U3223QE also has high maximum and excellent color performance with high color brightness accuracy. The images are bright and realistic.
Yet the Dell U3223QE is about more than image quality. It's also an all-in-one USB-C monitor hub with up to 90W of power. The built-in hub has multiple USB-A ports, Ethernet, and even a DisplayPort output.
This is a 32″ 4K monitor which might be too big for some desks. Dell also has a 27-inch 4K U2723QE model with the same IPS Black panel. We have not tested this model, but expect it to provide similar performance.
Read our full Dell U3223QE review
2. Asus ProArt PA279CV is the best budget 4K creative monitor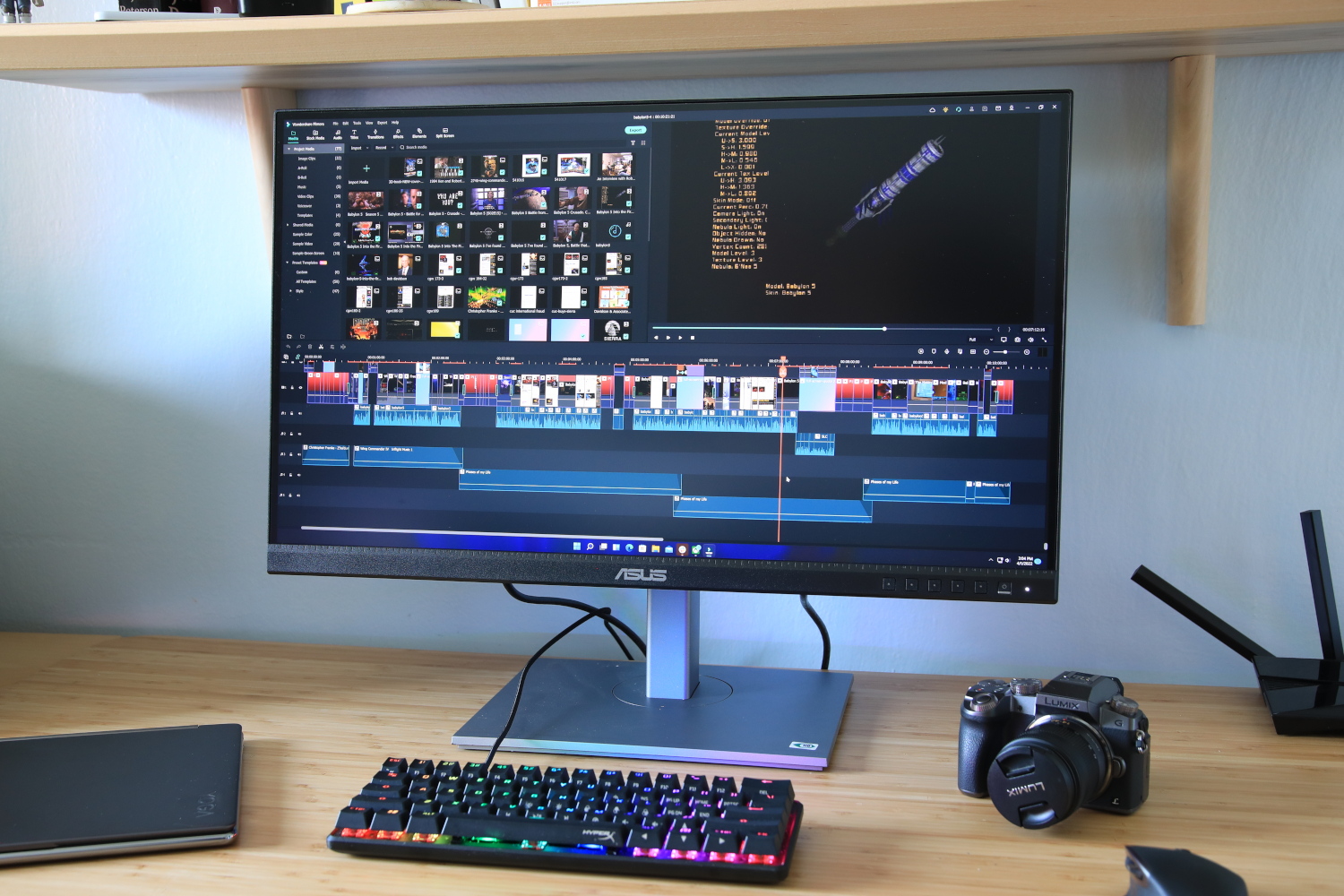 Want a great 4K monitor but need to spend less than $500? The Asus ProArt PA279CV is a great choice.
The ProArt PA279CV is a 27″ 4K monitor designed for entry-level professional use. It has excellent color accuracy, high maximum brightness, and a good contrast ratio for an IPS monitor.
This monitor also supports USB-C connection. It's not the best USB-C hub as it only has a couple of USB-A ports, but it offers 65W of power to charge a connected laptop or tablet.
Asus is adding adaptive sync support compatible with AMD and Nvidia graphics cards. This prevents screen tearing and ensures smooth motion in 3D games. The monitor has a maximum refresh rate of 60Hz.
The ProArt PA279CV's MSRP is around $500, but that price can drop significantly when retailers run sales. We recommend waiting for a discount if possible.
Read our full Asus ProArt PA279CV review
3. Dell G3223Q is the best 4K 144Hz monitor
Want a high refresh rate 4K monitor for smooth gaming? The Dell G3223Q is a great option.
The G3223Q is a 32-inch 4K monitor with a maximum refresh rate of 144Hz and support for AMD FreeSync Premium Pro (Nvidia G-Sync also works unofficially). You can play games at high refresh rates without screen tearing and smooth frame rates.
On the back, you'll find two HDMI 2.1 ports. They are great for connecting your PlayStation 5 and Xbox Series X game console as you can play at the maximum resolution and refresh rate of each console. There is also a DisplayPort input for connecting a PC.
None of this would matter if the G3223Q's image quality wasn't excellent, but it is. The monitor features excellent color reproduction, high brightness, good contrast ratio and incredibly sharp images thanks to 4K resolution.
This is also a good price. The G3223Q is near the bottom of the price for a 32-inch 4K, 144Hz monitor, but doesn't sacrifice features or build quality to that end.
Read our full Dell G3223Q review
4. Asus ROG Swift PG32UQX is the best 4K HDR monitor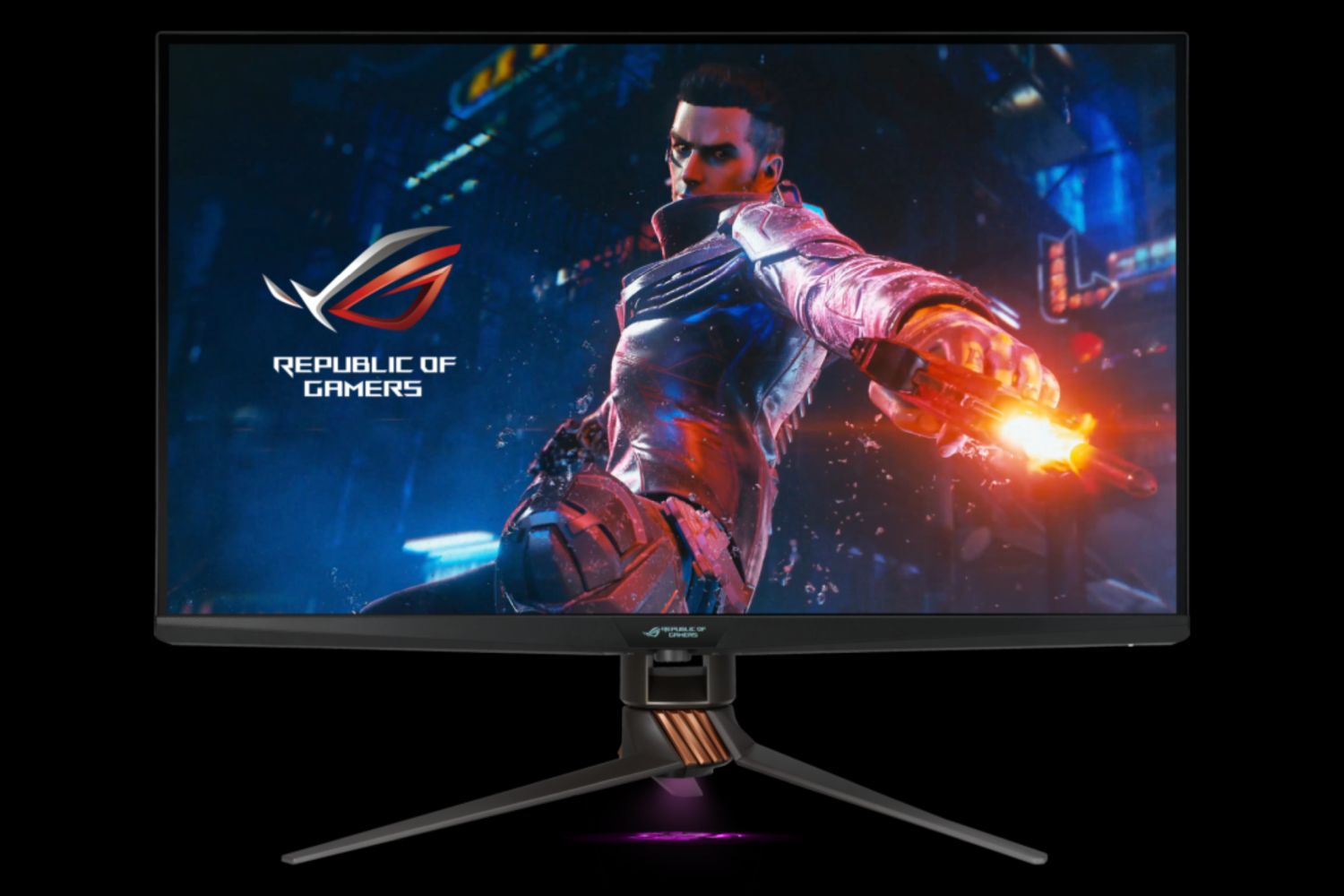 Want the last word in high-definition gaming and entertainment? You need a fantastic HDR monitor like the Asus ROG Swift PG32UQX.
This monitor features a Mini-LED backlight with 1152 independent backlight zones. The backlight greatly improves the monitor's contrast ratio and provides blinding brightness in small areas of the display. The maximum supported brightness of the monitor is also exceptionally high.
As a result, the PG32UQX delivers excellent detail in bright areas of the screen while maintaining good contrast and black levels in darker scenes. It also has exceptional color, further contributing to the excellent HDR experience. Overall HDR performance rivals the best HDTVs and outperforms most HDR monitors.
It's also a 4K 144Hz monitor with Nvidia G-Sync Ultimate support. There is no HDMI 2.1, but Xbox Series X|S consoles can reach 4K 120Hz via HDMI 2.0 in chroma subsampling mode.
The only problem? You can expect to pay up to $3,000 for this monitor. Viewsonic's XG321UG is a less expensive alternative with similar specs, though it doesn't have 4K 120Hz support on the Xbox Series X|S.
Read our full Asus ROG Swift PG32UQX review
5. Samsung M8 Smart Monitor is the best 4K monitor for entertainment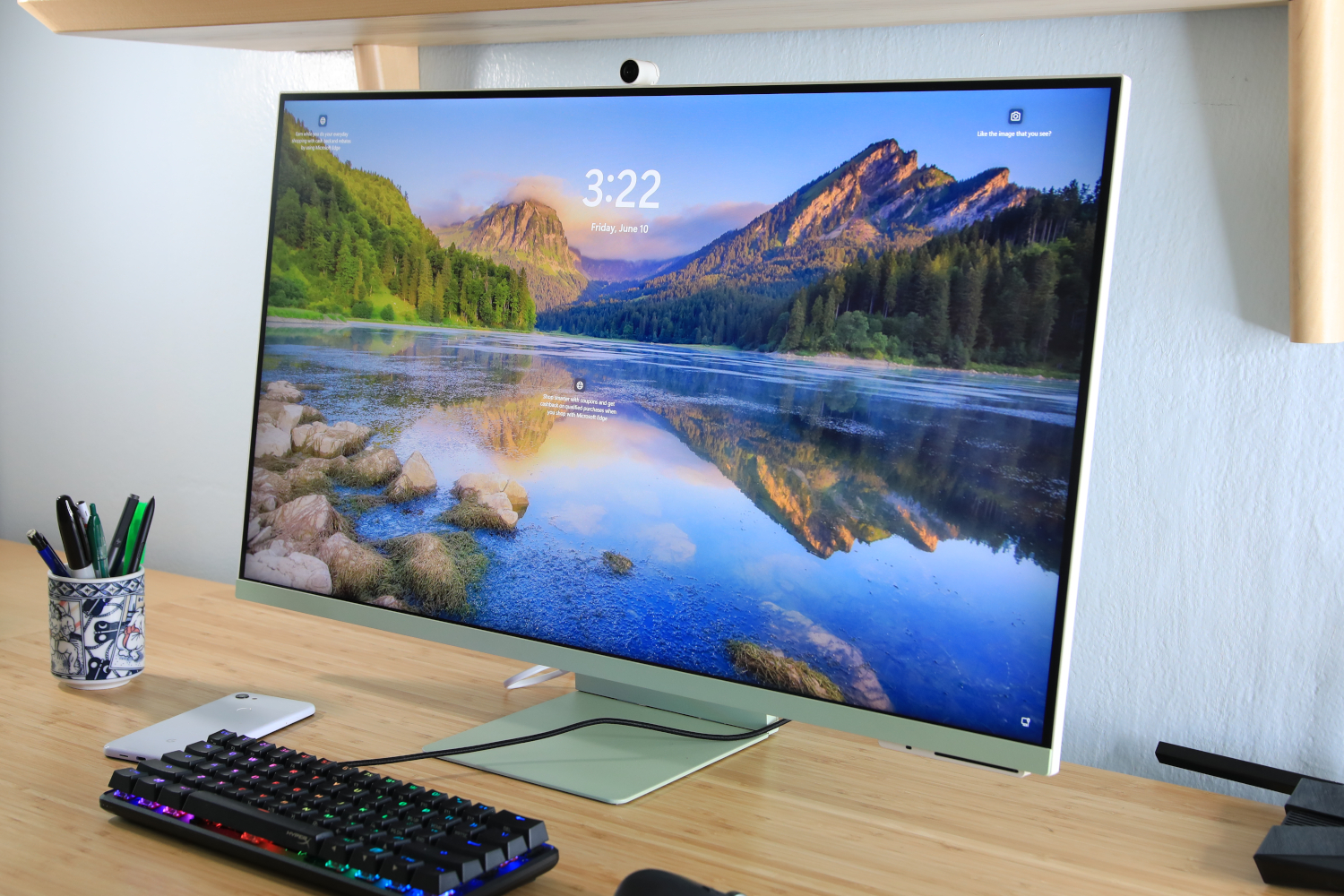 A 32-inch 4K monitor is great for everyday PC tasks like web browsing and editing documents, but it could be more. Monitors in this category are ideal TV replacements for small, mixed-use spaces such as a studio apartment, rented room, or dorm.
The Samsung M8 Smart Monitor builds on this by combining smart TV features with a traditional 32-inch 4K monitor. The monitor comes with a remote control and runs the Samsung Tizen operating system. You can access streaming content like Netflix or Hulu directly from your monitor.
However, it's still a great PC monitor. A connected PC or other external device can be used by switching the input source like on a TV. Image quality is stable, with excellent sharpness, top-level contrast, high brightness, and attractive color reproduction.
The monitor also comes in a range of attractive stand and bezel colors, with a detachable webcam, and a USB-C port with up to 65W of power. It also supports Bluetooth 4.2 and Wi-Fi 5.
Read our full review of the Samsung M8 Smart Monitor.
What to look for in a 4K monitor
4K monitors are more expensive than other monitors, so they come with a lot of features and a quality display panel. A typical 4K monitor will have features that are optional on a 1080p monitor. However, there are a few details you should be aware of before buying a 4K monitor.
USB-C
USB-C is a great choice for connecting a 4K monitor to a modern laptop with USB-C or Thunderbolt. USB-C can combine power delivery and DisplayPort Alternate Mode, which means the monitor can charge a connected device while it outputs video to the monitor. Some monitors, such as the Dell U3223QE, are USB-C hubs that extend the connectivity of a connected device.
Update frequency
Most 4K monitors have a 60Hz refresh rate. Those beyond 60Hz can only support increased refresh rates on a specific port, so be sure to check the specs. The monitor must support HDMI 2.1 or DisplayPort 1.4 for 4K processing at up to 144Hz.
HDR
Many 4K monitors support HDR, but most offer poor HDR performance. HDR will work and may look better than SDR, but it won't come close to the quality of a good HDTV. If you want quality HDR, look for at least VESA DisplayHDR 1000 (or VESA DisplayHDR True Black) certification.
How we test 4K monitors
We test 4K monitors with the DataColor SpyderXElite color calibration tool. It provides objective measurements of contrast, brightness, black levels, color gamut, color accuracy and gamma, and more. These objective results can be compared to other monitors to see how each performs compared to the competition.
These objective image results are complemented by our subjective evaluation of the monitor. We evaluate image quality out of the box by sampling all types of content, from games to movies. Let's look at the feature set. We pay close attention to details such as the monitor's OSD menu, ergonomic stand (or lack thereof), and overall build quality.