Last Wednesday, the cryptosphere eagerly awaited the bill that the Paraguayan deputy, Carlos rejala, had to present to the National Assembly of his country. In the wake of the news that Bitcoin was being adopted as legal tender in El Salvador, most observers believed Paraguay would perhaps create a large-scale rallying movement behind Bitcoin in Latin America. Sadly, crypto supporters were disappointed when details of the bill surfaced hours before its official presentation.
Mr. Rejala had undertaken a massive media campaign on Twitter, adopting the codes of the crypto community, for example adding red "laser" eyes to his profile picture and using the hashtag #bitcoin at the slightest opportunity. The previous week, he had announced that his bill had won the support of a senior official in the Paraguayan senate, Fernando Silva Facetti. All of this foreshadowed that the expected "big news" would be another significant breakthrough for Bitcoin and the crypto industry.
For observers, the now public bill is nothing new in comparison to cryptocurrency regulations elsewhere in the world. Unlike the Salvadoran bill, which will make BTC legal tender just like the dollar, Rejala's bill proposes to place cryptocurrencies under the umbrella of property law, as is already the case in countries such as United States and United Kingdom.
The bill mainly concerns cryptocurrency mining without directly mentioning BTC or any other cryptocurrency. He proposes to introduce a registration system which would make it possible to tax minors and sanction non-compliant companies. The daily La Nación claimed that the bill was introduced as part of an effort to "take advantage of the excess energy" generated by the Itaipú and Yaciretá hydropower plants – an interesting point for supporters of a cleaner mining industry. Rejala, meanwhile, was very clear, saying:
"This law provides a clear regulatory framework for the cryptocurrency mining industry, in order to attract foreign investment to Paraguay."
The adoption of Bitcoin in Paraguay will therefore not take place immediately. Besides, some like Joaquin fiorio, founder of CryptoPy, expressed their doubts about the possibility of Paraguay becoming a Bitcoin nation. Fiorio told Decrypt that the situation in Paraguay is completely different from that of El Salvador. According to him, Paraguay has "one of the most stable fiat currencies in the Latin American region and inflation is very low." In addition, the country's commercial banks are very conservative and have no interest in introducing a disruptive element into the system.
 
And unlike El Salvador or Venezuela, where the adoption of cryptocurrencies is arguably a necessity from a geopolitical point of view, Paraguay occupies a comfortable position on the world stage. There is no danger of unilateral sanctions affecting its economy, and its president does not appear to be a problem for the United States and its plans for regional influence.
Fiorio also questioned the influence Rejala has in the lower house: according to him, the young deputy, whose Hagamos party has only two seats, does not have the necessary support to pass this law. Under the current circumstances, this law is unlikely to be passed.
However, all is not dark for Bitcoin in this country: the volume of commercial transactions on peer-to-peer platforms (such as Paxful and LocalBitcoin) has exploded in recent months and communities active around cryptocurrency seem very dynamic. Also, with low energy, Paraguay might not be a bad territory for miners looking for new places to settle.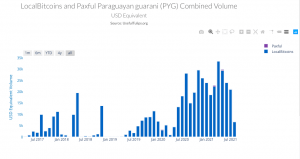 ________
Follow our affiliate links:
To buy cryptocurrencies in the SEPA Zone, Europe and French citizens, visit Coinhouse
To buy cryptocurrency in Canada, visit Bitbuy
To generate interest with your bitcoins, go to the BlockFi website
To secure or store your cryptocurrencies, get the Ledger or Trezor wallets
To transact your cryptos anonymously, install the NordVPN app
To invest in mining or masternodes:
To accumulate crypto while playing:
In poker on the CoinPoker gaming platform
To world fantasy football on the Sorare platform
If you want to learn more about Bitcoin and cryptocurrency investing, here are two perfect books: "Understanding Bitcoin in 2hrs" and "Investing in Bitcoin".
Watch the last video "The 5 crypto news of the week":
________________
Here are the sources of information we offer:
Our free weekly newsletter: https://www.getrevue.co/profile/CryptonewsFR
Our audio podcast: https://www.buzzsprout.com/1111262
Our YouTube channel: https://www.youtube.com/channel/UCEu7E2wqP3t3QzAWTWF9weg
Twitter: https://twitter.com/cryptonews_FR
Instagram: https://www.instagram.com/fr_cryptonews
Facebook: https://www.facebook.com/cryptonewsFR
Telegram: https://t.me/cryptonews_FR
_________