Game news The Last of Us Part 1: the remake is much more beautiful than the main game, the new video is proof of that!
Published on 05/08/2022 at 15:02
After a long video two weeks ago and in anticipation of its release in September, The Last of Us Part 1 continues to reveal itself little by little. As a new flavor, Naughty Studio has just released another PS4 comparison | PS5. Once again, the remake promises to be solid.
As we told you in a recent article, The Last of Us Part 1, a remake of the original 2013 The Last of Us (PS3), is a game that inspires as much excitement as misunderstanding. On the one hand, many players doubt the interest in such a project, when the adventure of Joel and Ellie is not even ten years old, and it has already been remastered on PlayStation 4 in 2014. On the other hand, it's impossible to doubt the technical gap that separates the base version from its modern equivalent, while this one comes close to – almost surpasses – The Last of Us Part 2. To add a dose, the Naughty Dog team just released a new comparison video.
Get ready to walk the dusty trail on a beautiful and perilous journey across America in The Last of Us Part I! — Studio Naughty Dog on Twitter.
Ride in 4K/60fps
After Tess's ultra-realistic face on the PS5, the tarmac of the United States is now the focus of attention on social media. In less than fifteen seconds, Naughty Dog invites us to rediscover the scene where Joel and his brother Tommy are trying to find Ellie, who disappeared on horseback after a tough discussion. The moment that comes right before the famous duo flies to the University of Eastern Colorado, the iconic area!
So it's technically clear that The Last of Us Part 1 is taking giant leaps from its PS3 counterpart. American vegetation is much more detailed on the PS5, as are the lighting effects, while not forgetting the hues that become more realistic. In addition, there is a new set of animations on horseback, very quickly reminiscent of The Last of Us Part 2. As Naughty Dog explained, The Last of Us Part 1 is a remake "rebuilt from the ground up".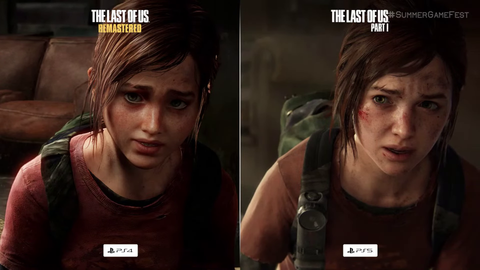 Beyond the visual argument
Of course, the PlayStation studio project will keep its promises on a technical level, but there is still much to be clarified on other points. Particularly the gameplay. During a lengthy presentation last July, Naughty Dog made no mention of the dodge and prone phases, two important points in The Last of Us Part 2 gameplay! The issue of level design of individual areas remains unresolved. Reply when The Last of Us Part 1 releases September 2, 2022 on PS5 (and later on PC).