⇧ [VIDÉO] You may also like this affiliate content (after ads)
The pandemic has been accompanied by a marked increase in the practice of remote work in companies – at least for positions that can be filled remotely. But some employers did not want (and still) did not give such an opportunity, fearing some "relaxation" of their employees. A recent study by scientists from the Texas A&M University School of Public Health may finally convince them that, according to them, remote work does not negatively affect the productivity of employees.
The context for this study was not a pandemic, but Hurricane Harvey; Between August 17 and September 2, 2017, this Category 4 hurricane devastated the Houston area, affecting more than 13 million people in Texas and Louisiana and causing approximately $160 billion in damage. Following the flood, several businesses were forced to close; others are encouraging remote work to save their business. The researchers took this opportunity to evaluate the impact of this change on employee productivity.
The group focused on a large oil and gas company in Houston, which has more than 15,000 employees in the region. After the hurricane, this company was forced to close its headquarters for seven months – many employees were forced to work from home (or another accessible place) during the entire period thanks to computer-based remote work tools. As of April 1, 2018, all office spaces were open and employees were able to return to the premises. The researchers studied the performance of 264 randomly selected employees before, during, and after the storm.
Performance quickly returns to normal
Prior to the disaster, the company installed RSIGuard® software on employees' computers, which were used locally or remotely. This software is designed to reduce the risk of musculoskeletal injuries (mostly due to poor posture) based on data collected about computer-related productivity (hours of use, number of words typed per day, number of mouse operations) . clicks, etc.); for example, he encourages employees to take regular breaks and stretching exercises.
The researchers were able to use the same data to evaluate employee productivity over different time periods. Specifically, their study is based on five daily measurements recorded by the software: total hours worked, total active time, keyboard usage per active minute, mouse usage per active minute, words typed per hour, and typos per word. scored.
Total and active daily working hours (per employee) in a Texas company during and after the employee's move from January 2017 to December 2018. Total hours were defined as the time elapsed between the first and last use of a computer during the day; active hours correspond to active use of the computer (via keyboard or mouse). © K. Sarnosky et al.
Although overall computer active time decreased during the storm, the data shows that nearly all employees in the study returned to the same level of productivity they had before the storm before they fully returned to face-to-face communication. In other words, the employee move was accompanied by a transitional period of slowdown, but productivity quickly returned to normal. "This is an important message for employers right now as we have a national debate about whether employees should be able to work remotely or on hybrid schedules," said Mark Benden, author of the study.
Remote health monitoring of employees
Of the employees included in the study, 68% worked in engineering, 9% in finance and commerce, and 23% in HR and corporate operations. On average, over the entire study period, employees spent 11.1 hours a day at work, including 3.4 hours of active computer work. During the reporting period (January 1 to August 23, 2017), employees worked 3.4 hours a day.
During the hurricane, the researchers did not observe a change in total hours worked, but a significant decrease in the number of "active" hours. At the same time, they noticed a significant increase in keyboard usage and words typed per hour, as well as a decrease in mouse usage. The rest of the time employees worked from home, they noted an increase in both total working time and the number of active hours.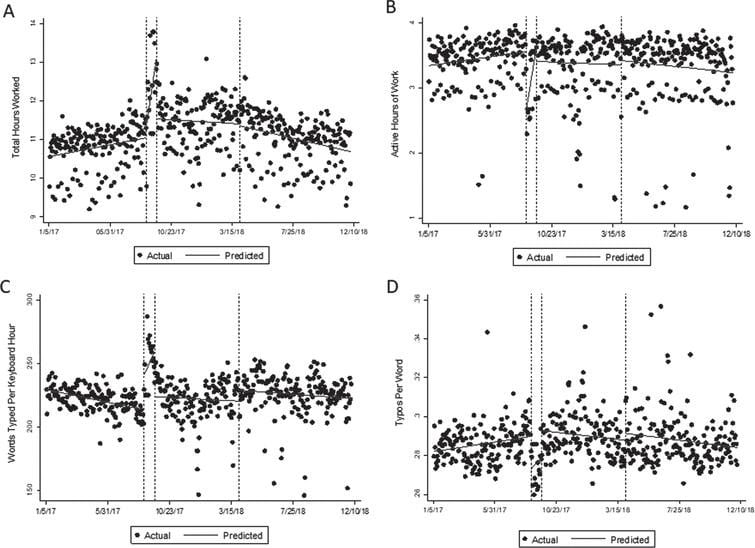 Performance measures before, during and after employee travel: a) time spent at work, b) active time at work, c) words typed per hour, and d) typographical errors per word. © K. Sarnosky et al.
In conclusion, remote work had a significant but temporary impact on productivity – probably due to the necessary adaptation time – which quickly returned to its original level. This study not only assessed the productivity of employees, but also collected data regarding the health of information workers who are prone to various diseases of the musculoskeletal system, such as carpal tunnel syndrome.
The researchers believe that their results can contribute to healthy employee behavior (using a software tool). "People who took the recommended breaks were generally more productive," Benden said. They also believe that tracking this kind of data could help companies identify and address the health problems of their remote workers, including stress, depression and substance abuse.
K. Sarnosky et al., IOS Press.