News Hardware This Windows 11 feature could change gamers' lives
Posted on 10/03/2021 4:05 PM
Among the new features in Windows 11, there is one that could make gamers' lives much more enjoyable. Direct Storage promises to take advantage of the ultra-short load times already found on the Xbox series. but how does it work? Explanations
Windows 11 will be available on October 5, 2021 and should bring some new features on the gaming side. At the head of the gondola: Direct Storage. Important note: Until recently, direct storage was supposed to be exclusive to Windows 11, but Microsoft has announced that it will also be available in Windows 10. However, direct storage in Windows 11 should be a bit more efficient, because it is better. optimized.
Too long a circuit at the origin
To understand how direct storage works, it is first necessary to explain the path taken between game files stored on an SSD or hard drive and when the image is modeled on the screen. By default, compressed data (textures, character models, sounds, etc.) is sent to RAM, then to the processor (CPU) which decompresses it, and then sends it back to RAM. Finally, the last step: the unzipped files are sent to the memory of the graphics card (VRAM) to be processed and displayed on the screen.
The data road, without Direct Storage
Direct storage shortens the distance traveled by data
However, this method, used by all video game developers, is quite restrictive, because it does not require a lot of CPU for "not much", since its function here is to decompress and send it back to RAM. So much time wasted that it could be used for other tasks, like managing AI. Direct Storage offers the ability to simply bypass the CPU, to place more demands on the GPU. With this feature, the compressed game data is sent to RAM, which will then send it to the GPU's VRAM, which will decompress everything and process it directly. In fact, the GPU is much faster than the CPU to handle decompression, and with the data "in place", display on the screen is much faster.
With Direct Storage, data gets to the GPU faster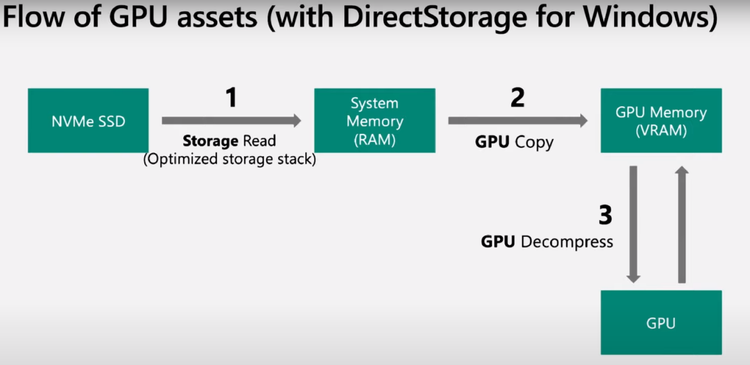 Therefore, Direct Storage is an API (programming interface) that developers can use to shorten the processing of their game data, but also to take advantage of the transfer speed of NVMe SSDs. Because yes, Direct Storage has been designed primarily to work with very fast SSDs, capable of delivering several gigabytes per second. Unlike the old storage APIs, which were designed in the days when hard drives offered much lower speeds. In short, to really take advantage of a feature like Direct Storage, you need the fastest SSD possible. We understand, therefore, why Microsoft and Sony, with their Xbox Series and PS5, rely so much on this aspect.
Which SSD to choose to take advantage of direct storage in Windows 11?
To take full advantage of a feature like direct storage in Windows 11, you need the fastest SSD possible, ideally an NVMe type model, and if possible PCIe 4 compliant if your motherboard allows it. It will be in M.2 format and therefore it will be fixed in a dedicated port on the motherboard. Additionally, Microsoft specifies that the minimum storage should be 1 TB, a logical figure given the increasing size of the latest AAA productions. Here are 3 models that have our preference.
Faster: Samsung 980 Pro

If you're looking for ultra-fast, high-end transfer speeds, choosing the Samsung 980 Pro is a good idea. This NVMe SSD is PCIe 4 compliant and offers speeds of up to 7.1 Gb / s read and 5.2 Gb / s write. Please note that this model is not equipped with a heat sink, but rather with a back plate. The latter provides optimal thermal control for the entire SSD. The latter contains in particular nickel which dissipates heat to ensure the reliability of the set, even during your gaming sessions.
Buy the Samsung 980 Pro SSD
The price / quality ratio: Samsung 970 EVO
Samsung's EVO SSD range is a safe bet, with powerful and reliable models sold at the right price. The 970 EVO is a very fast NVMe SSD, capable of 3.5 Gb / s read speeds and 3.3 Gb / s write speeds. It is very versatile and suitable for a wide variety of uses. The 970 Evo is also known for its toughness. If it gets a little hotter than average, using a heatsink will solve the problem.
Buy the 1TB Samsung 970 Evo SSD
Cheapest: WD Blue SN550 1TB

For less than € 100, this 1TB Western Digital SSD model is highly recommended. It offers 2.4 Gb / s read speeds and 1.7 Gb / s write speeds. In M.2 format, it is easily installed on a tower or fixed PC and has the advantage of a 5-year warranty. We also appreciate the fact that it does not heat up very well and is very durable.
Buy the 1TB WD Blue SN550 SSD
This page contains affiliate links to certain products that JV has selected for you. Each purchase you make by clicking one of these links will cost you no more, but the e-merchant will pay us a commission.
More information.

Through jiikaa, Journalist jeuxvideo.com
MP