All experts will tell you: crypto trading is as profitable as it is risky. Luckily, there are trading signals (or trading signals for our Anglo-Saxon friends) that provide us with valuable information about when to buy, sell or HODL a cryptocurrency.
So what is a trading signal? What is it used for ? And how to use it in your cryptocurrency trading activities? Explanations from A to Z.
What is a trading signal?
Simply put, a cryptocurrency trading signal is a trading advice given by an analyst or a group of analysts. It is usually based on a combination of technical and fundamental analysis, which determines the most profitable trades in the market.
In other words, a trading signal gives you precise indications of when to open or close a position, what types of orders you can issue, etc. Thus, it is a valuable decision-making tool.
So where to find the best trading signals? You can receive them via email or join groups on Discord or Telegram to access live trading signals.
Contrary to what one might think, reading a trading signal requires some understanding of the basics of technical analysis. To make it easier for you, here are the steps to decipher cryptocurrency trading signals.
Look for an entry price: Most trading signals include an entry price (the recommended price to buy or sell a cryptocurrency).
Check your stop loss price: The stop loss price is the price you should close your position at when the market moves against you. It is a risk management tool that helps you limit your losses.
Look at the take profit price: that is, the price at which you must exit the market in order to cash out your profit. The take profit price is usually higher than the entry price.
Analyze market sentiment: A trading signal is often accompanied by market analysis explaining why and how a trade is made. Reading and understanding this analysis is important for making an informed decision.
Deciphering technical analysis: Cryptocurrency trading signals are often based on technical analysis, which includes the study of charts and market movements. If technical analysis is giving you a headache, this guide is for you.
Monitor your position: Once your cryptocurrency trading position is open, it is important to keep a close eye on it to make sure you exit at the right time. Watch the market and be ready to close your position if the market moves against you.
Trading signals are not a guaranteed way to make a profit. Therefore, it is important to do your own research and make your own decisions. However, cryptocurrency trading signals can be very useful if you are new to trading or want to spend less time analyzing the market.
Where to find the best trading signals?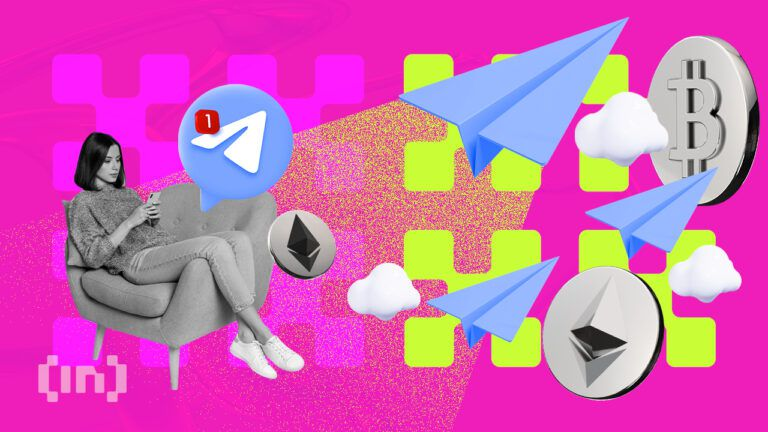 So, which Telegram group is best for finding trading signals? It all depends on your preferences. However, be aware that free or paid trading signals can be found on Twitter accounts, Discord channels, and crypto forums (such as TradingView).
It should also be noted that not all sources of trading signals are the same. Therefore, we advise you to do your own research, start with small amounts and always limit your risks by setting stop-loss orders.
To help you get started, we have selected some of the best groups of paid and free trading signals for you.
1. BeInCrypto Premium Channel: Live Trading Signals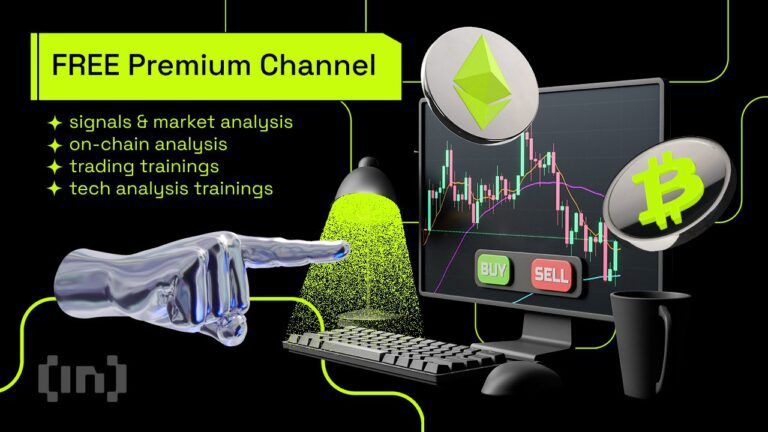 Finding reliable trading signals can be tricky, but we've got you covered! Our team of professional traders regularly share free trading signals on our French Telegram group. Indeed, in January 2023, our signals performed very well, with an overall performance of +183.28%!
An example of a trading signal:
Signal trading BIC
How to join the BeInCrypto Premium channel?
To encourage our readers to improve their knowledge of the crypto market, we are offering free access to our Premium channel. To join our French Telegram channel, click the button below and follow the required steps.
2. Trade view
TradingView is a popular technical analysis tool used by traders. Through partnerships with top crypto exchanges, TradingView has become the platform of choice for analyzing cryptocurrencies.
By opening a free account on the platform, you will have access to professional tools, but with a limit of three technical indicators and chart overlays. This is a great option for beginners taking their first steps in technical analysis.
Most importantly, TradingView gives you access to trading signals from multiple crypto analysts. On the platform's 100% crypto forum, these experts provide charting technical analysis, trading signals, and even forecasts. Thus, TradingView combines several instruments in one place.
New User Bonus: Get $10 bonus for monthly subscription and $30 for annual subscription (bonus will be given to you after first payment).
1- Register on TradingView using THIS LINK and get up to $30 off your first purchase.
2- On the main page of the TradingView website, go to "Community" > "Scripts" > "Indicators".
3- Scroll down to find posts containing trading signals.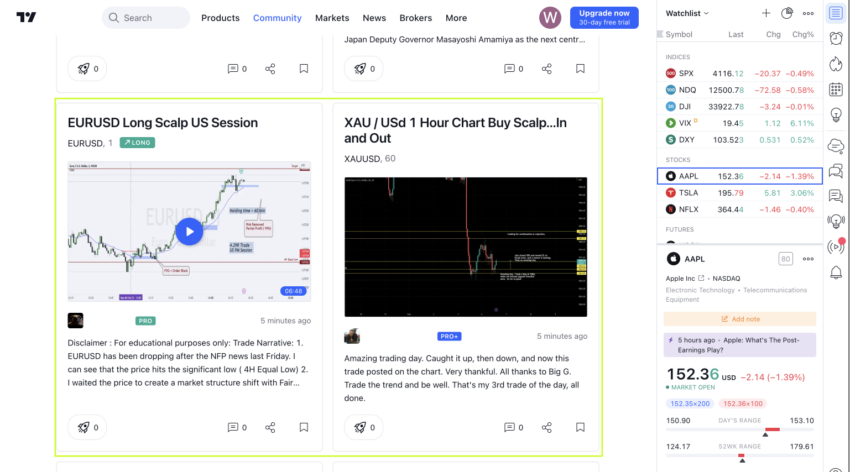 4- Select the trading signal you are interested in and click on it. In the post, you will usually find a TradingView chart along with some comments. Similarly, you can click on hashtags that will redirect you to related posts, exchanges, tokens, and strategies. Don't forget to check the posting time and make sure you are not following the old cryptocurrency trading signals.
5- If you find a good trading signal, you can move on to the next step.
To use trading signals, you need to register on a crypto exchange. Here is our pick of the best exchanges right now:
kraken
Over 210 cryptocurrencies.
Low fees on Kraken Pro (from 0% to 0.26% per transaction).
Up to 5x leverage for your margin trading.
Minimum deposit $10
eToro
Demo account for $100,000.
Copy trade: copy the strategies of the best traders with just one click.
No commission on deposits.
Sign up, deposit at least $100 and win $10.
OKX
100% return on staking certain tokens.
More than 300 cryptocurrencies are available.
Integrated trading bot with seven different strategies.
Giveaway up to $10,000 for any deposit over $50.
Trading signal: a valuable tool to use in moderation
As you understand, cryptocurrency trading signals can help you take advantage of market fluctuations. However, keep in mind that even if you follow the trading signal exactly, you are not guaranteed to win. Therefore, we advise you to do your own research and never rule out the possibility of losing your money.
Frequently Asked Questions (FAQ)
Cryptocurrency trading signals can be reliable and profitable. However, their success depends on several factors, including the accuracy of the information, market conditions, and the strategy of the trader. Similarly, trading signals are not for everyone. Therefore, it is important to carefully study and evaluate all signals before using them and always use caution.
Trading signals are offers or warnings to buy, sell or hold cryptocurrencies. These signals are based on technical analysis and algorithmic trading tools and are often transmitted by experienced traders or trading robots via Telegram channels, trading platforms or social networks.
There are several ways to get free cryptocurrency trading signals. There The first is to join the crypto community in Telegram. Indeed, there are French Telegram channels that provide free real-time trading signals.
The second way to get free trading signals is to register on a technical analysis platform. Some technical analysis platforms, such as TradingView, offer free access to trading signals, but with some limitations.
There are several websites and Telegram channels that provide free cryptocurrency trading signals, including TradingView. (platform offering technical analysis tools, trading ideas and charts) and the French Telegram channel BeInCrypto.
Denial of responsibility
All information contained on our website is published in good faith and for general informational purposes only. Any action taken by the reader based on the information on our site is carried out strictly at his own risk.
In the Learning section, our priority is to provide high quality information. We take the time to find, research and create educational content that will be useful to our readers.
To maintain this level of quality and continue to create valuable content, our partners may pay us a commission for being featured on our articles. However, these commissions do not affect our processes for creating unbiased, honest, and up-to-date content.