Private generators have become, since the civil war forty years ago, a way for the Lebanese to compensate for the government's inability to guarantee direct current in the country.
Since the civil war (1975-1990), private generators have become the intimate accessories of a (very) large part of the Lebanese. Almost everyone has one at home. Its mission is to compensate for decades the inability of the State to provide electricity 24 hours a day, because during the war the electrical infrastructures were damaged, even destroyed. And they have never been rebuilt. This situation gave rise to the birth of a new parallel trade: that of generators. The Lebanese call the managers of this business: the "generating mafia."
When the state's electricity (called "dawlé" by the Lebanese) is turned off, several times a day, the generator runs for a time, until the dawlé returns. But installing a generator ends up being expensive as there are two bills to pay at the end of the month. One for state electricity and one for the generator.
Generators, whether residential (private or neighborhood) or commercial, have grown in importance over the years. To the point of having become, as the daily L'Orient-Le Jour recalls, "the main source of electricity for the Lebanese, even in Beirut, while the capital has long enjoyed the 'privilege' of not being subjected to those two three hours of blackouts a day. "According to a study published by the World Bank in 2020, almost 40% of the energy supplied in 2019 came from generators, compared to 22% in 2008, a ratio that was supposed to exceed the mark 50% between 2022 and 2023 in a pessimistic scenario that implied that no investment was made in the meantime.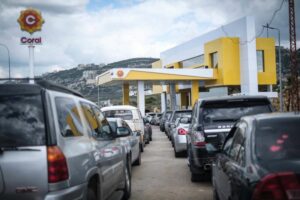 A dependent "mob"
But the socioeconomic crisis that hit the country in 2019 has changed that. These generators run on oil. And with the crisis, the country of Cedar is experiencing fuel oil shortages. Proof of this are the endless lines in front of gas stations. Result: Lebanese today live on a maximum of 2 to 3 hours of electricity a day. Television, washing machine, refrigerators, air conditioning, all appliances are affected. People have to throw things away because of the broken cold chain.
Managers of the private generator business were not spared from the crisis. "Before this (new) crisis, there was already an electricity 'generator mafia' that flourished on the crisis of the lack of electricity," explains Alex Issa, a doctor associated with the international research center Sciences-Po Paris, quoted by the newspaper La Croix. He adds that now "this mafia depends on another new mafia: the fuel one."
In Lebanon, electricity for more than 3 hours a day is now a luxury.
In Lebanon, something new with something very old!
Kamel Mohanna: "Half of the Lebanese below the poverty line".