Without a doubt, the United States of America is not the first country that comes to mind when we talk about labor laws, worker protection, and unionization. However, the American video game industry is experiencing an unprecedented wave of unionization for the benefit of not only employees but also gamers.
We remember the high-profile strike of actors and stunt doubles from 2016 to 2017, initiated by the almighty SAG-AFTRA: after a failed contract renegotiation with the country's main studios, the union launched a strike with several goals: to establish full transparency during contract negotiations in order to spare stunt doubles from too long sessions recordings, obtain security guarantees for the teams working on filming scenes, and provide actors and stunt doubles with financial compensation corresponding to the sales of games in which they achieve performance. . This move was symbolic; the win was even more significant in a country where video game studios are a stronghold of wage inequality.
The Activision-Blizzard group is particularly notable for its maneuvers to avoid unionization among its employees.
In March 2022, the Raven Studios staff responsible for testing Call of Duty: Warzone announced their own alliance, a first for the Activision-Blizzard group. This new alliance of about thirty employees called the Game Workers Alliance and entered into negotiations with management after the latter tried to make the situation of testers more precarious. In response, Activision-Blizzard has increased hourly wages, converted these positions to full-time positions, and expanded access to bonuses that employees are eligible for… Excluding new union workers from these new working conditions! A sneaky maneuver that looks like a retaliatory measure…
In December 2022, it was the turn of the Q&A staff (testers) at Blizzard Albany, the studio behind the Activision-Blizzard group responsible for the Diablo series, to form a union. Twenty employees named it the Albany Game Workers Alliance. Although the studio attempted to interrupt the process by asking for a postponement of the union vote so that the entire studio could vote in it, the federal agency National Labor Relations Board, charged with protecting the right to organize and investigating illegal corporate practices, prevented him from doing so. A union spokesperson said in a statement that they have been inspired by their colleagues at Raven Studio and in turn want to inspire other employees by encouraging them to form new unions.
On January 5, 2023, Microsoft-owned Zenimax Medias Q&A staff announced the creation of their 300-member Zenimax Workers United, part of the influential Communication Workers of America (CWA).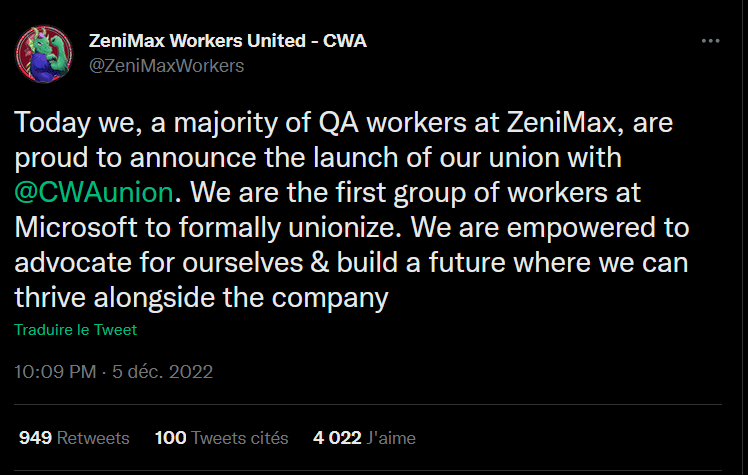 Finally, on January 6, 2023, the employees of the Proletariat studio, also owned by Activision-Blizzard, must announce the formation of a union. The studio's employees working on World of Warcraft are now organized into a union called the Proletariat Works Alliance and are also affiliated with the CWA there. This time around, it's about negotiating paid leave agreements, as well as working on telecommuting options for certain positions. In 2022, CWA stood out by filing numerous complaints with the National Labor Relations Board about Activision-Blizzard and its anti-union practices.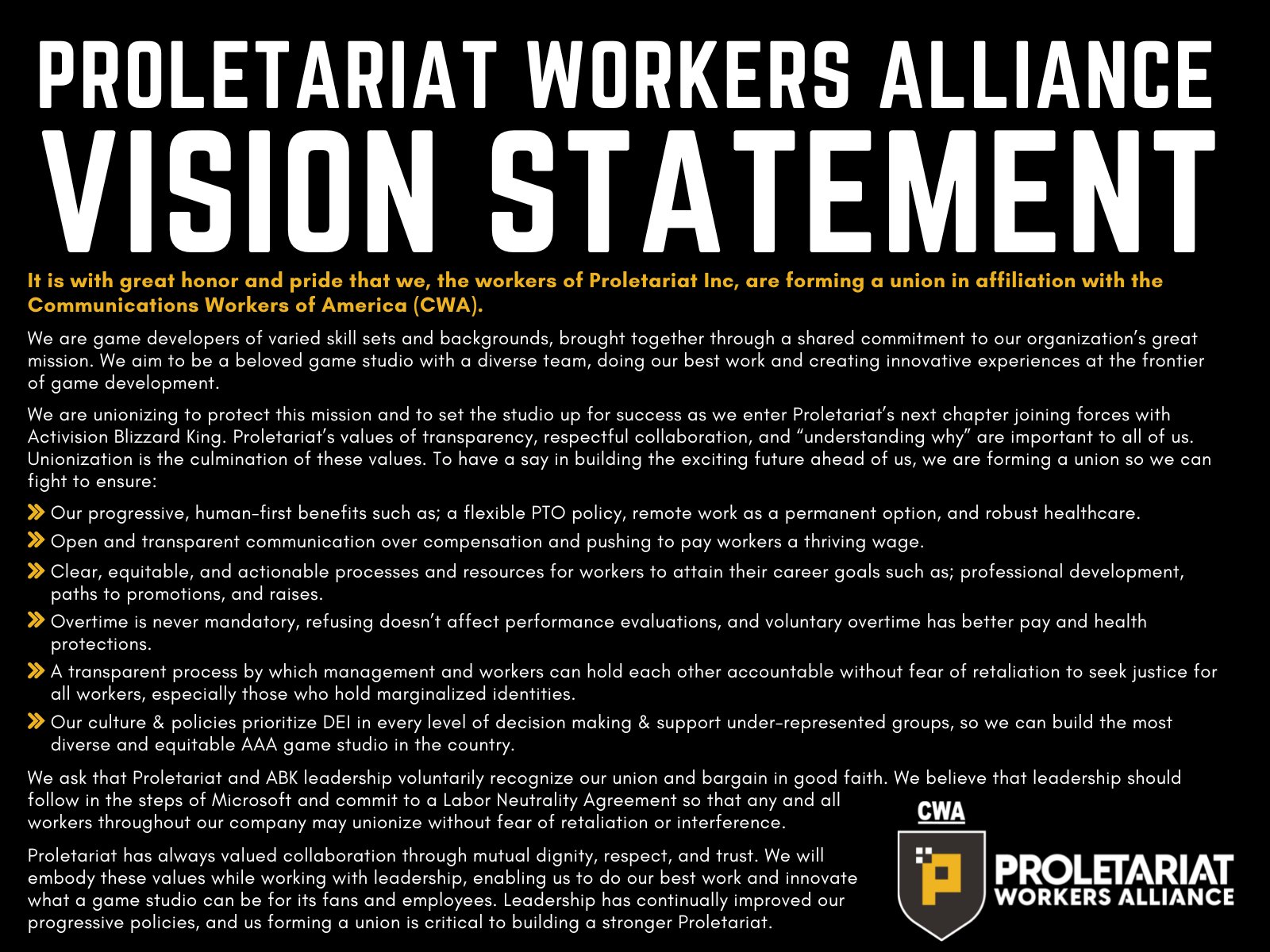 Although the goal of unions is to protect the interests of employees in general, we note that very often it is about protecting workplaces related to tests, which, in particular, ensure that games can be played, they are optimized and do not contain errors. However, these are often poorly paid positions that impose heavy workloads for short periods of time (especially as they are often unreliable contracts) and do not qualify for the same bonuses as other employees.
After the Q&A disasters of recent games such as Cyberpunk 2077 or the recent Saints Row, where poor optimization and many bugs are part of the overall game experience, we can only rejoice at these social achievements in the United States, both for the employees themselves and for the quality of future games.