The planet Venus is the undisputed star in the night sky this year.
Venus, now in our southwestern sky about two hours after sunset, almost like a sequined star dancer, is currently starring in her brilliant performance. In the evening twilight, this planet seems dazzlingly bright to the naked eye and even more so through binoculars.
For those who watch it week after week through telescopes, it is constantly changing and always mesmerizing. More on this a little later.
On the subject: Venus: the scorching second planet from the Sun
Summits with other worlds
A fairly close conjunction between Venus and the ringed planet Saturn will occur on Sunday (January 22).
Then, on the evening of March 1, Venus and Jupiter will have another celestial rendezvous, appearing only half a degree apart. They will appear side by side, with Venus shining to the right of Jupiter. At magnitude -4.0, Venus will be about six times brighter than its yellow neighbor.
Less than a week before, the 2.5-day crescent Moon will form a narrow and striking isosceles triangle, with Jupiter and the Moon only 1.5 degrees apart, with Venus 7 degrees below both. Here's a challenge for amateur photographers: try to capture two planets, a narrow strip of a crescent (only 9% of the sunlit), perhaps with a little terrestrial light in its unlit part, and any residual twilight glow delineating the western horizon. .
More: What time on Sunday (January 22) will the conjunction of Venus and Saturn occur?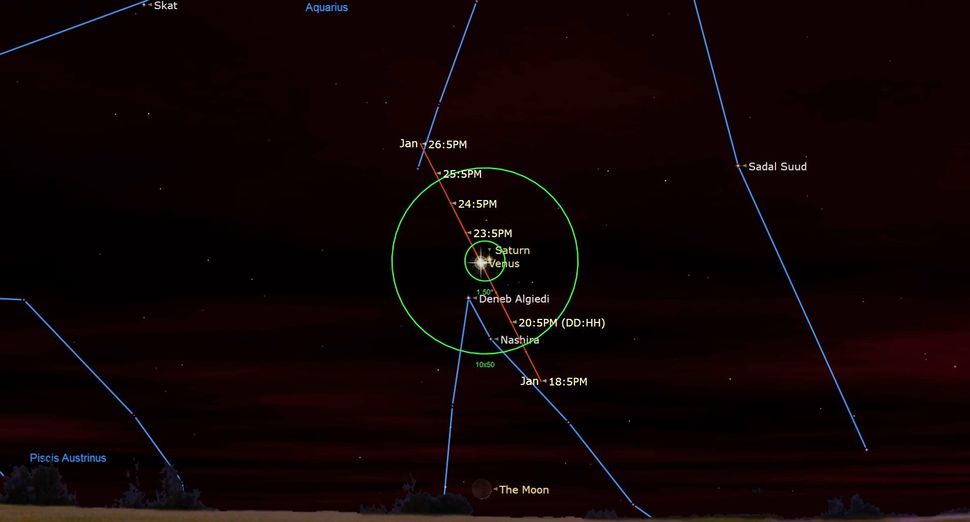 January night sky illustration. 22 shows the conjunction of Venus and Saturn. (Image credit: Starry Night Software)
Staying up late with Venus
This will develop into an exceptional Venus evening appearance. Let's go back to Jan. 13, the planet set about 90 minutes after sunset and – for the first time – just after the end of evening twilight in a completely dark sky. From now on, those who watch it night after night over the following weeks and months will notice that it makes an unusual journey far into the deep night sky, setting about 3.5 hours after sunrise by the third week of May.
Many astronomy books often say that Venus usually disappears from view around midnight, making it much harder to believe that Venus will be awake until 11:45 pm DST during the upcoming mid-May period. . It will be after midnight for those who live in Pittsburgh, Atlanta, Des Moines and Salt Lake City. In the most extreme cases, this can be after 00:30 DST in some cities that are far west of their standard time meridians, such as Boise, Bismarck, Indianapolis, and Flint.
The show continues until early summer
On May 21, look for Venus shining under the "twin stars" in the constellation of Gemini, Castor and Pollux. Mars shines to the upper left of Gemini, and far below to the right of Venus will be a skinny crescent. The next night the Moon will approach Venus.
On June 4, it reaches its greatest eastern elongation. Then it will be 45 degrees from the sun, one-eighth of the way around the ecliptic. At magnitude -4.3, the planet will certainly attract attention, almost twice as bright as it seems to us now.
Just after sunset on June 21 – the first day of summer – look west-northwest for the beautiful crescent, accompanied by Venus, on the lower left.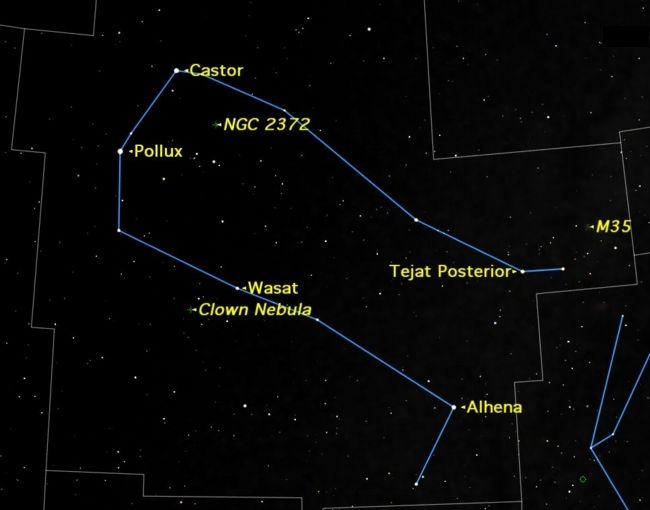 Gemini is a constellation high in the winter sky that contains a number of interesting objects to observe. (Image credit: Starry Night Software)
Between now and July, a re-observation of Venus with a small telescope will show the full range of its phases and disk sizes. The planet is currently a tiny, dazzling gibbu disk (93% illuminance). By mid-spring, it will become noticeably less humpbacked.
In early June, Venus reaches a dichotomy (takes the form of a "crescent"). Then, until the end of spring and the beginning of summer, it shows an increasingly large crescent as it approaches the Earth. Indeed, telescope users will note that as the distance from Earth to Venus decreases, the apparent size of the disk of Venus will grow, doubling its current size by May 27. the shape should be clearly visible even with a constantly held 7x binoculars.
Passage into the predawn sky
The time when Venus reaches the peak of its magnificence is halfway between its greatest elongation and conjunction with the Sun – July 7 – when it reaches a stunning magnitude of -4.7. With this burst of glory, Venus will then quickly slide into sunshine, setting just 2 hours after sunrise and shortly before the end of that night's evening twilight.
However, by the end of July, it will set only 25 minutes after sunset and will cease to be a noticeable evening object.
But The Venus Show will not end, because in mid-August, a repeat performance will begin, this time in the morning sky and with a reverse sequence of events, which will again peak in brightness on September 19, shining like a beacon in the sky. predawn eastern sky.
Don't forget to set your alarm for 5am on November 9th and then step outside to a place with an unobstructed east-northeast view to see the most spectacular pairing of Venus and the Moon in 2023. Finally, on Christmas morning, those attending early morning services will see Venus shining like a bright "star in the east," rising nearly three hours before sunrise.
This is indeed the year of Venus!
If you don't have everything you need to see Venus this year, our guides to the best telescopes and best binoculars are a great place to start. If you want to photograph Venus or anything else in the night sky, check out our guides to the best cameras for astrophotography and the best lenses for astrophotography.
Editor's Note: If you take a great picture of Venus this year and would like to share it with Space.com readers, please send your photos, comments, name and location to spacephotos@.
Joe Rao is an instructor and guest lecturer at the Hayden Planetarium in New York. He writes about astronomy for Natural History, Farmers' Almanac, and other publications. Follow us @Spacedotcom (will open in a new tab)or on Facebook (will open in a new tab) and instagram (will open in a new tab).