Last year, video games were reported to again be the top sellers of music and films in the UK, for the 11th consecutive year.
READ MORE: 12 upcoming games in 2023 that will delight you
Gaming accounted for 42.1% of total entertainment revenue in 2022, representing more than £4.6bn, according to the UK-based Digital Entertainment and Retail Association (ERA).
The report takes into account physical software sales, digital console and mobile game downloads, and "many other subscription and token-based game mechanics."
ERA CEO Kim Bailey said: "Games often go unnoticed as a leader in the entertainment market. While the 2.3% growth was lower than video or music, its scale is massive and in terms of innovation and excitement, it continues to set the tone for the entire entertainment industry. »
The report says physical gaming software sales fell 4.5% last year, just 10% of the industry, while console downloads rose 12.2% to £724 million.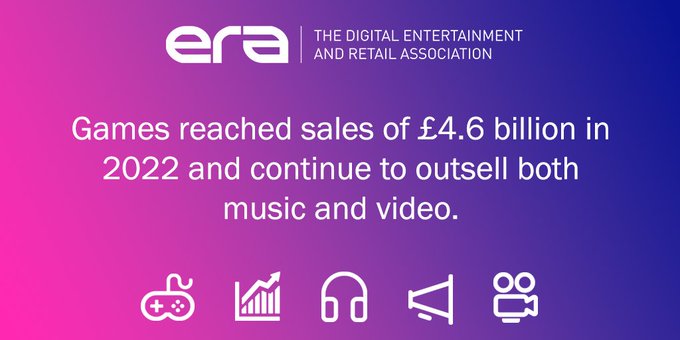 Meanwhile, movie revenues are up over 14% in 2022 thanks to streaming. According to the ERA, subscription video grew by 17.6% compared to 2021 and now represents 87% of the video market with a gross revenue of £3.9bn.
DVD sales fell again, this time by 22%, but sales of "premium formats such as Blu-ray and 4K UHD" rose 7% to £91m.
"Video has faced a double whammy due to the lack of new releases caused by the Covid lockdown in addition to the physical-to-digital structural transition, but in 2022 the sector hit a new all-time high and well ahead of its physical peak. in the amount of 2.8 billion pounds. The success of Top Gun: Maverick and Spider-Man: No Homecoming 2 shows that new releases are central to driving the video market buzz," Bailey said.
In music, total revenue rose 3% to nearly £2bn, driven primarily by streaming services, which increased revenue by 5% to bring in £1.6bn.
Physical sales may have fallen 3.8%, but for the first time in 35 years, vinyl has surpassed CD sales in the UK.
In other news, it should be noted that the American McGee, a game developer who worked on various id Software projects in the 90s, repaid a loan to the founder of the studio, John Carmack, 25 years later.