A week marked by the announcement of the Steam Deck console. We also have release dates for Pokemon Unite, Dice Legacy, among others. We can also point out the availability of Within The Blade.
Steam Deck
Here it is, Valve Software has just announced its first portable console: the Steam Deck. It is a mini-PC that is offered to us here. Here are the technical specifications:

As you can see, it is quite impressive. They say she will be able to run all the games in the Steam catalog without a problem. If we look at the controls, we have something classic with a few original things: two touchpads and haptic feedback for use as a computer mouse, capacitive sticks which therefore detect the presence of the thumb and gyroscopic capacities.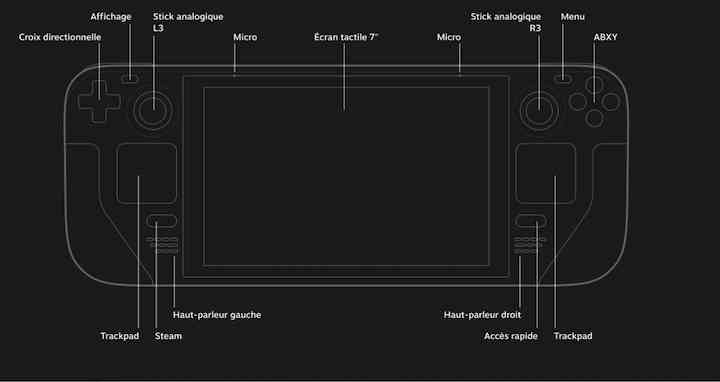 Side of the offers, you can see below that it is not really given.

It's true that it's a bit expensive, but if it allows you to have a PC to play on Steam, why not. Well, obviously, it's not just Steam in life but Valve announces, "You can also install and use PC programs, of course. Surf the web, stream videos, use your regular productivity apps, set up other online gaming stores, whatever you like. ". It's good news. Note that there will be a deck (sold separately) to be able to put on a screen and connect USB peripherals. Not bad that. I have a small problem with the battery, we are told between 2h and 8h depending on the game, not much 2h anyway. You can already reserve your copy. They say they want to deliver the first copies in December 2021. Everything is there.
It's available
Within The Blade (Action, Platforms – Switch, PS4, PS5, Xbox One, Xbox Series, PC – Ratalaika Games – Ametist Studio) is now available on consoles, it was already available on PC.
Space Punks (Action, Hack'n slash, RPG, Shooter – PC, PS5, Xbox Series – Jagex Partners), the isometric action-RPG (ARPG) game developed by Krakow-based Flying Wild Hog studio and published by Jagex Partners is available in Early Access exclusively on the Epic Games Store.
Coming soon
The Pokémon Company International and TiMi Studio Group have announced the release of Pokémon UNITE (MOBA – Switch, Android, iOS – The Pokémon Company International – TiMi Studio Group) on Nintendo Switch on July 21, 2021. The game will be available on mobiles in September. It is free like many MOBAs.
Ravenscourt and DESTINYbit announce that Dice Legacy (Dice Legacy – PC, Switch – Ravenscourt – DESTINYbit) will be released on September 9, 2021. This city-building survival game where every action is done with dice will be available on Steam, GOG, Epic Games Store and Nintendo Switch.
NIS America Announces Release Date for The Caligula Effect 2 (RPG – PS4, Switch – NIS America). The game will be released in physical version on PlayStation 4 and Nintendo Switch on October 22, 2021 in France.
Cotton Reboot (Shoot'em up – Switch, PS4 – ININ Games) will be available on July 20.
Developer Dark Lord and publisher Daedalic Entertainment announce that Glitchpunk (Action – PC – Daedalic – Dark Lord), a cyberpunk-themed game will be released in Early Access on Steam on August 11, 2021.
.