Clotilde Chenevoy | Monday 16 January 2023 | Store Marketing
Discover the first Solana store to open in New York City at Hudson Yards. His role? Discover all the possibilities of using this technology with a very exciting course. Reportage.
Solana opened its first boutique in New York 6 months ago. – © Republik Retail / CC
In the very chic Hudson Yards mall in New York, above a Louis Vuitton store and close to Neiman Marcus, the Solana blockchain opened its first store 6 months ago. An amazing investment, but with a very specific goal: to get people to discover this technology and its differences.
Glass walls allow you to see the entire store from the outside, and Solana's name rises above the checkout. On the left side we can see different frames on the walls with different designs like Ape Bored Yatch. Opposite, a giant screen wall displays other graphics that also resemble the Web3 world and provide some guidance to mall visitors. But to encourage them to come back, Solana promises them $10 in the first place after they find the store.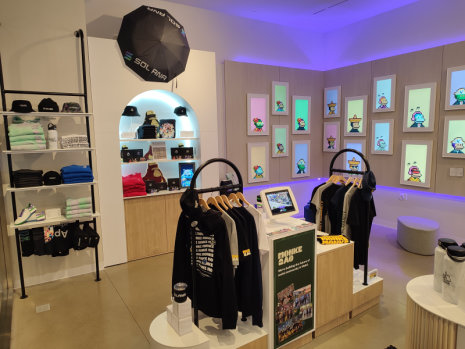 The store sells Solana brand products. – © Republic of Retail
10 stops for 10 different uses of Solana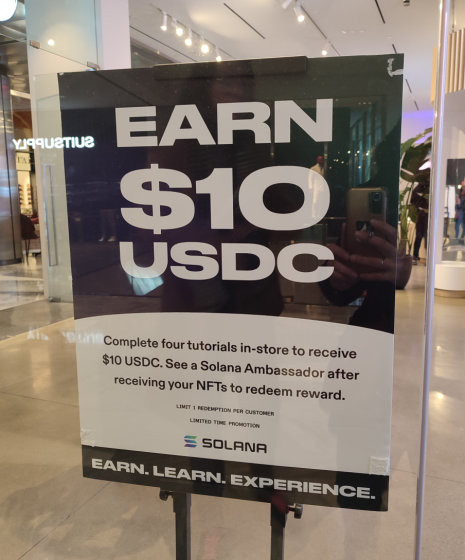 The poster indicates the concept of the store and entices the customer with a $10 reward if they give in to the temptation. – © Republic of Retail
An employee, or rather an ambassador, greets each visitor who enters the store with an area of ​​one hundred square meters. Thus, it measures the degree of knowledge of the blockchain while explaining the concept.
The space is organized around 10 zones and each stop allows you to discover 10 ways to use Solana in a very fun way. But before embarking on this discovery, the visitor must have a Phantom wallet on their smartphone. QRCode must be flashed to make it easier to download. During this operation, Solana's ambassador points out the importance of the password – a series of auto-attributed words – that must not be lost. "If you lose it, you will no longer be able to access your wallet, you will have to recreate another one," he insists. Solana has provided a small booth so that visitors can carry out this operation in complete privacy, and small cardboard sheets are available to write down the password.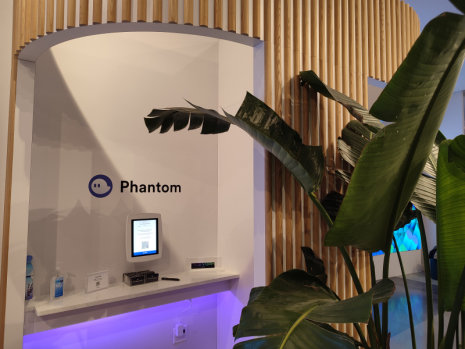 Cabin to create a wallet in complete privacy. – © Republic of Retail
After completing this step, you can move between different areas from the Phantom wallet. Everyone has a tablet with the topic being discussed and will display a QR code that needs to be scanned with the Phantom wallet. This manipulation then triggers an animation, whether it's discovering Solana Pay, Solana Mobile, or how to make a transaction or even get paid in crypto… Videos, short text, images, sometimes with an MCQ quiz, formats for promoting content. varied. Each stop lasts approximately 3 minutes and a reward is given at the end of each scenario.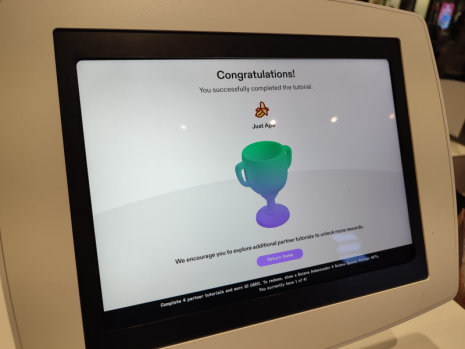 At each stage, the visitor receives a badge confirming that he followed the instructions. – © Republic of Retail
$10 in crypto offered as a reward
After completing at least 4 steps, the visitor is invited to show their badges to the ambassador in order to return the 10 dollars promised in the window received in the Solana cryptocurrency. This move demonstrates the speed of crypto operations. The visitor then has the option to immediately use that money by purchasing items in Solana colors (a pair of socks, key chains, or even stickers) or by saving their cryptocurrency. Of course, it is also possible to get NFTs to prove that you have visited the store…
New York was the first address for Solana, who opened a similar boutique in Miami two months ago. One might wonder about the sustainability and especially the profitability of the concept, but the bet to make the topic of blockchain accessible has been made.