After having already released two games (New World, Lost Ark), creative studios and a publisher, Amazon struck in December by announcing the upcoming arrival of the next Tomb Raider under its banner.
While Microsoft and Sony PlayStation are trying to figure out if Call of Duty will be under joint custody or Activision Blizzard King will fall into the American fold, the video game sector continues to evolve.
Owner of WeChat and its related services, among others, Tencent has become the world's leading video game publisher by buying up many small established studios (Riot Games, Supercell, Sumo Digital, Timi, Funcom, etc.) and acquiring shares in larger ones. (Ubisoft, Epic Games, Paradox, Don't Nod, Activision…). But Amazon also harbors some hopes of success, in turn investing heavily in the video game industry.
The Seattle-based group even announced in mid-December that they would publish the next installment in the Tomb Raider franchise after reaching an agreement with developer Crystal Dynamics. It will be a cross-platform single-player narrative game set in the adventures of the Lara Croft universe published by Amazon Games. A beautiful coup was a success for a beginner who is not alone in the end.
A project that builds serenely step by step
Because this passion for video games is not new to Amazon. For several years now, the e-commerce giant has been building its project little by little, even patiently. The speculation began a little over six years ago before taking a new turn and gaining momentum with the arrival of Christoph Hartmann in the summer of 2018 as vice president of Amazon Games Studios (now Amazon Games) and then president from March 2022.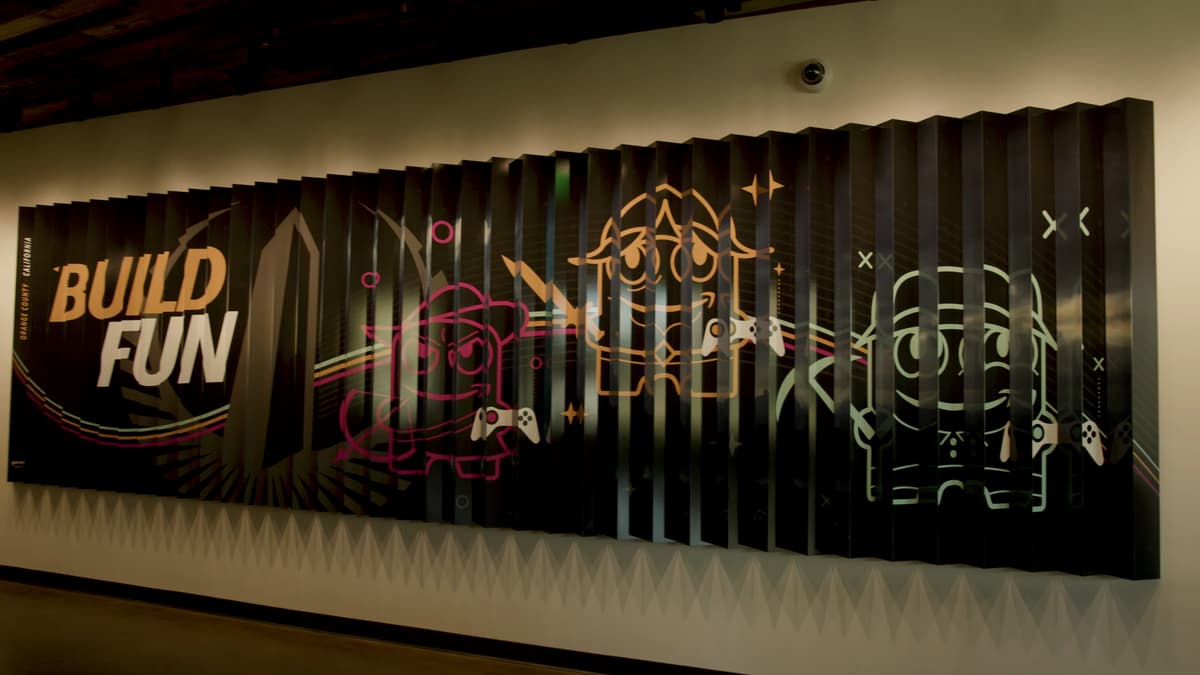 Amazon Games Orange County offices in Irvine, California. © Amazon
It must be said that this man presented himself with sufficient pedigree, helping to launch Grand Theft Auto, NBA 2K, or even Bioshock at 2K Games, the game publisher he was involved with. He was called upon to develop games as well as create studios and leave Amazon's footprint in the sector. "Both Amazon and Netflix see the video game industry as very interesting and very innovative," Roisin Doyle, global director of press relations at Amazon, explains to Tech&Co when we discuss Amazon's video game projects at the latest Gamescom. "This is a growing industry and we want to create the most compelling service possible."
Prior to this, Amazon lived in the midst of pixels, lacking inspiration or too much inspiration from other sources. His first two games in development, Breakaway (in the vein of Overwatch) and Crucible (inspired by battle royales like Fortnite), were abandoned before the first actually saw the light of day, the second a few months later. Since then, the group has revised its copy and shoots to its fullest.
First of all, relying on Twitch, bought with almost a billion dollars in 2014, to attract streamers very focused on live video games (bought on Amazon if possible). The first step on the long-awaited path. Twitch Prime then became Prime Gaming in 2020, complementing the free Prime subscription with exclusive content for popular games (bonuses, packages, hardware, etc.) and PC or smartphone games offered to subscribers. The service is even associated with prestigious video game events such as the Game Awards or Summer Game Fest.
While honing its little white pebbles on the road to success, Amazon is moving forward step by step. The American company created or bought four development studios (San Diego, Orange/Irvine County, Montreal and Relentless Studios in Seattle). Two PC games have boosted its ratings in recent years: New World, developed by Amazon Games Studios Orange County, and Lost Ark, a Smilegate game published by Amazon in Europe and the US.
Two parts are also his activities now. "Those are the two parts of our video game business," emphasizes Reusen Doyle. "There are our studios that make games, and our publishing arm for identifying and supporting independent studios to promote their work." As such, Amazon Games has already announced a distribution deal for Crystal Dynamics' next Tomb Raider, as well as Blue Protocol, Bandai Namco's multiplayer RPG, and a brand new license from Disruptive Games (Tony Hawk's Pro Skater 1+ 2). and Diablo II: Resurrected).
"We've had incredible success with New World and Lost Ark," says the Amazon Games manager. "These are the MMOs we've excelled at, but in the coming years we'll also look to diversify playstyles to build our reputation in the sector." And add mischievously: "2023 is going to be a good year, a very good year even. We will need to make many more announcements."
2023, when will Amazon hit the ground running?
Because Amazon Games has big ambitions and gives itself a gun. The service also gained a foothold in cloud gaming thanks to Amazon Luna, which launched to compete with the defunct Google Stadia in the US and outlived it with the power of AWS servers and better project preparation.
Thus, Amazon weaves its web to establish itself in all areas of video games. No extra noise. "We are not newbies, but we are a bit of a new player in the arena," we are told. "People got to know us through New World and Lost Ark. It will take a few more years and quite a few games to build our reputation. But this is a big challenge that we have set for ourselves."
Probably not without reason a few months ago his name was whispered as a potential buyer of Electronic Arts. The case is also not closed. A big fish that will then take its owner to another dimension and give a little more legitimacy to the overall project, which in recent years has known only one pitfall, the cancellation of the adaptation of the game from the Lord of the Rings universe in 2021, after a conflict with Tencent, the new owner of the studio in charge for development.
"This is an exciting time for games. The next five years will be interesting," Roizen Doyle predicts. "For now, we cannot say more, but we have a lot ahead of us. We'll talk about it in the summer and you won't be disappointed." The appointment is made to see if Amazon has really entered the game or not.