At a glance
Expert rating
pros
Impressive game library included with subscription
Functionality out of the box
Minuses
Video compression greatly affects image quality
Not all games remain in the game library
Our verdict
Xbox Cloud Gaming offers an impressive, ever-changing library of games. However, the harsh video compression and lack of mouse and keyboard support shows that it has some notable technical hurdles to overcome before it can truly shine.
Best Prices Today: Xbox Cloud Gaming
Microsoft is betting big on its Xbox Game Pass subscription service with an extensive library of game titles. The big benefit of a subscription is access to Xbox Cloud Gaming, which allows users to stream games directly from the cloud to their console or PC. However, cloud gaming already has serious competitors such as Google Stadia and Amazon Luna. So how does it hold up in a crowded market?
Xbox Cloud Gaming plans
Xbox Cloud Gaming is available exclusively with an Xbox Game Pass Ultimate membership that costs $14.99 per month. It's impossible to try the service without paying first, although there is a $1 offer for the first month at the time of writing. Since this price is tied to an Xbox Game Pass Ultimate subscription, we should also mention that it includes access to the Xbox and PC Game Pass service for consoles and PC, allowing users to also install the game library on the customer's eligible devices.
Since this is an online service, users will need a reliable internet connection to use it. Microsoft recommends a 20 Mbps Internet connection on a PC or console for best performance. Mobile devices require a 10 Mbps connection, while Wi-Fi requires a 5 GHz connection.
Xbox Cloud Gaming: Game Library
By and large, the biggest selling point of Xbox Cloud Gaming and Game Pass is the game library, which is quite large and filled with high-quality titles including DOOM, Halo, and Forza Horizon. An Xbox Game Pass Ultimate subscription also includes access to the EA Play subscription service, which gives you access to all EA games like Battlefield and Mass Effect. All games available in the Xbox Cloud Gaming library are included with the subscription – no other purchases or content subscriptions are required.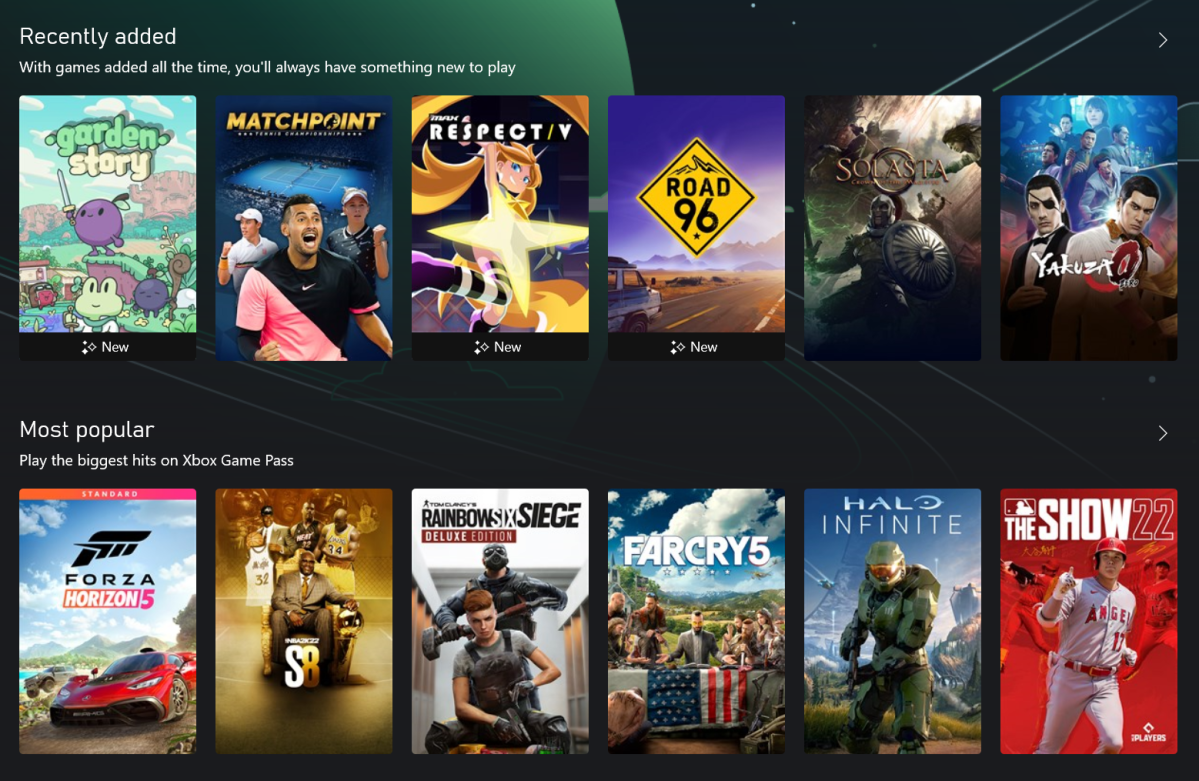 The Xbox Cloud Gaming library has a variety of striped games to choose from.
Kevin Kasper
In addition, Microsoft has been very vocal about wanting to include games from its own studios on the Game Pass service, and the company continues to advance its efforts to include third-party games on the list as close to the game's global release as possible. Games are regularly added to and removed from the Game Pass and Cloud Gaming library.
Xbox Cloud Gaming: UX/Interfaces
Xbox Cloud Gaming can be played in a web browser or through the Xbox app for Windows. Whether you're logged into an account or not, you can browse your entire game library through a web browser. If you're using the Xbox app for Windows, it will try to sign in with a Microsoft account that you may have connected to your Windows device.
To play games, and if you don't already have a Microsoft and/or Xbox account, you'll need to create one. If you have an active Xbox account, it should already be connected to a Microsoft account, but if you have an older Xbox account, you may need additional account management and connection steps if you want to connect it to this service.
In addition, you need to play games with a game controller. Although Microsoft has stated that mouse and keyboard support will be coming, there is no confirmed date for that support at the time of this writing. So if you are looking for a PC shooter experience, this is not the one for you.
The top menu of Xbox Cloud Gaming.
Kevin Kasper
The Xbox app interface includes everything about the wider Xbox Game Pass service, but we're only discussing the cloud gaming subsection here. At the top of the Cloud Gaming section of the Xbox app, there are several technical checks to verify your internet connection and locate your game controller. In our testing, Xbox and Playstation controllers connected to a PC worked without any setup. You can also access the app settings as well as a browser link to the Xbox support pages.
The interface of the game library for the web and the app is very similar, it provides you with many covers for different games and several options for searching and browsing genres. There are several recommendations based on your game history, popular games, new games, or games that will soon disappear from the service. You can click on any game to see more details about the game, the developer and some other links to share or buy the game directly.

Information about individual Xbox Cloud Gaming games.
Kevin Kasper
If you click "Play" on any of the games, the streaming service will launch either in full screen mode or in a browser, depending on which method you're using. In the game, you can play to your heart's content, and when you're done, you can exit the game or use your browser or the Xbox app's navigation menu to return.
Xbox Cloud Gaming: Game Performance
Microsoft seems to be keen to avoid making any guarantees or expectations when it comes to Xbox Cloud Gaming performance, for seemingly good reasons. Despite a connection speed of around 440 Mbps during testing, I experienced significant video compression in the games I streamed.
I did a little research and it turns out that the Xbox Cloud Gaming hardware is set to play 1080p at 60fps. Microsoft seems to be wrong when it comes to connection stability. While we had no functional issues connecting to games and felt our controls were responsive, visual quality seems to have been sacrificed for compression to make this happen. Our experience was closer to a stretched 720p resolution, but the video compression was unmistakable, especially when moving in games with a lot of camera movement.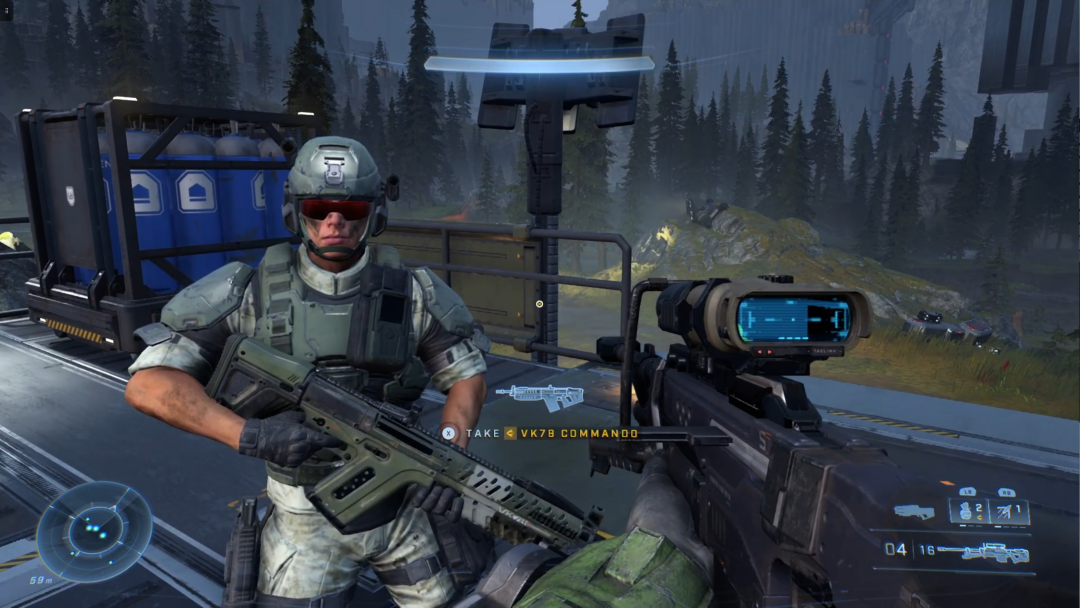 The compression makes Halo Infinite feel like an old-school Halo 2 game.
Kevin Kasper
Beyond that, however, the gameplay was very fluid. Streaming Halo Infinite to my PC and playing it with a Playstation 4 controller worked right out of the box, no special setup needed. It was no different from playing on a local device, except for the lack of mouse and keyboard support. Remarkably, we did not have a single case of crashes or similar errors in any of the games we tested. Everything just worked, but the video compression was often hard to ignore.
Xbox Cloud Gaming Recap
Many gamers are keen to point out that it's the games that make up the system, and Xbox Cloud Gaming includes a lot of incredible games on their service, and it absolutely needs to be noted here. However, the game library is constantly changing, and some of these big-budget titles are likely to be negatively impacted by hard video compression. In addition, the lack of mouse and keyboard support is bad for working with a PC.