Xbox Game Pass Ultimate is Microsoft's best video game offering to date. Now the firm wants to bolster its service with a family version that's easy to share.
Microsoft's Game Pass has become the focus of its video game strategy. Therefore, it is necessary to ensure that the subscription is armed against market transformations. Xbox Game Pass Ultimate was already quite plump and quickly became a staple for many gamers. Now it includes a catalog of games on PC, Xbox, in the cloud, as well as access to multiplayer games, access to the EA Play catalog and some additional benefits.
Unfortunately, we mostly benefit from Game Pass Ultimate alone. For example, if each family member has their own computer, it is not possible to use their subscription without connecting their own Microsoft account. It's a little frustrating when SVOD or music streaming services often offer family sharing subscriptions.
Microsoft is running a test of a new bundle that's more expensive than Game Pass Ultimate and available for sharing. Rumors about this idea circulated for several months. It is currently limited to Ireland and Colombia, but should roll out to other regions soon.
Share your Game Pass Ultimate with 4 people
Like Microsoft 365, this new subscription makes it easy to share your subscription with up to four other Microsoft accounts. Each of them will have the same benefits individually as if they only subscribed to Xbox Game Pass Ultimate. Enough that everyone can manage their game saves, their PC Game Pass, or their favorites list as they see fit. First of all, with cloud gaming available on phones and tablets, it's easy to imagine creating multiplayer sessions at home without the need for multiple Xboxes. Many multiplayer games do not offer split-screen local multiplayer for a single console. We're also thinking about competitive team games like Fall Guys, where a family can create their own team, even if the latter isn't offered on a Microsoft service.
New price
Since the service is available for testing in Ireland, you can get a first look at the price of this family plan. Microsoft is currently selling it for €21.99 per month, compared to €12.99 for the current Xbox Game Pass Ultimate. If you already have months of subscription saved in your account, Microsoft applies a simple proportion from old subscription to new one. Three months of Xbox Game Pass Ultimate for €12.99 per month will give you access to just under two months of the new family plan, for example.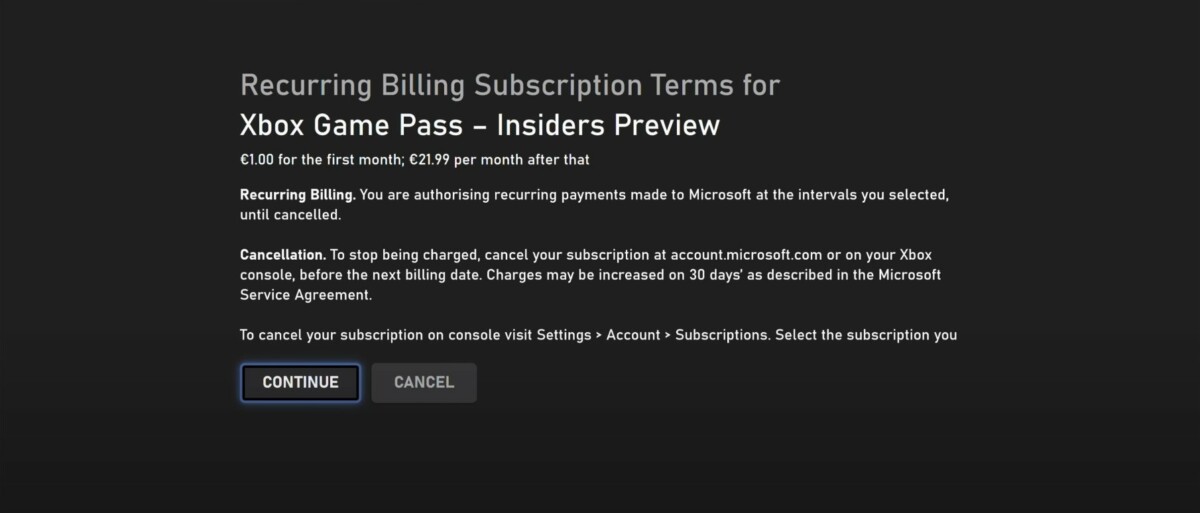 New package
It should also be noted that this means that the "trick" that allows access to Xbox Game Pass Ultimate at half price does not work with this new service. I wonder if Microsoft will put an end to this trick when this new plan becomes available. However, unlike Netflix, Microsoft doesn't appear to be limiting subscriptions. In other words, it should be possible to split the bill between members even if they don't live in the same household. Microsoft also mentions the ability to share it with friends, not just family.
As mentioned above, this test is currently limited to Colombia and Ireland. On its official blog, Microsoft notes several known bugs in this new service. For example, an Xbox player who already has an active subscription cannot accept an invitation to a family plan.
To follow us, we invite you to download our app for Android and iOS. You can read our articles, files and watch our latest YouTube videos.