To do business, the use of cryptocurrencies certainly offers a wide range of opportunities. But each opportunity also brings its share of difficulties depending on the technological, accounting and managerial culture of the company that dares to take the step. (Photo: 123RF)
LES KEYS DE LA CRYPTO is a section that patiently deciphers the world of cryptocurrencies and its stock market, industrial and media turbulence. François Remy's mission is to identify promising entrepreneurs, decode technical progress, and anticipate the industrial and social impacts of this digital currency.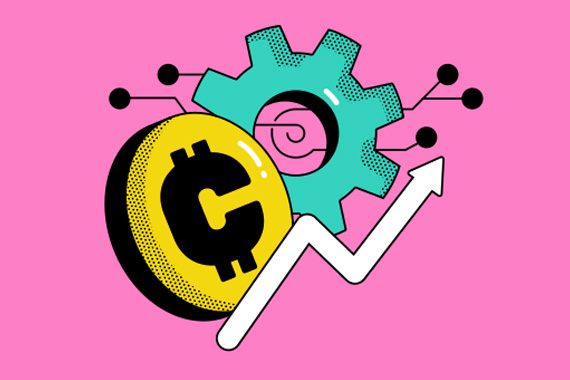 (Illustration: Camille Charbonneau)
The year 2021 marks a famous time for blockchain startups. Funding rounds are blowing up accountants around the world.
"A year that has already broken all records", mentions the business analysis company CB insights in its new quarterly report The State of Blockchain https://www.cbinsights.com/research/report/blockchain-trends-q3- 2021. Global funding of startups active in blockchain and/or cryptocurrencies continued to rise (+384% compared to 2020) to reach new heights: the equivalent of 19 billion Canadian dollars (B$) since January.
A phenomenon that has not stopped at the borders of Canada. In the last three months alone, growth companies have seen an inflow of almost $645 million, ten times more than in the previous quarter.
These include Vancouver-based Dapper Labs, which became famous in late 2017 for its CryptoKitties https://www.cryptokitties.co/ (yes, digital kitties to breed, collect, or sell), but which rose to the league head of the crypto industry. with the NBA Top Shot https://nbatopshot.com/ (great moments of basketball players immortalized as NFTs on the blockchain).
With 220 employees and valued at $9.5 billion, the Dapper Labs unicorn completed a $300+ million mega round last September https://venturebeat.com/2021/09/22/dapper-labs-raises- 250m-and-seals -deal-with-laliga-for-soccer-nft-collectibles/, which will serve, among other things, to further democratize digital collectibles.
A month earlier, another major player in the bitcoin ecosystem also did a $261 million mega round https://blockstream.com/2021/08/24/en-blockstream-secures-210m-series-b-financing/, Blockstream company based in Victoria, British Columbia.
[CARTOGRAPHIE DES FINANCEMENTS]
Founded in 2014 with a mission to "build the financial infrastructure of the future" by following open innovation, the company has established itself as a leader in the field of blockchain technologies and cutting-edge research in cryptography and distributed systems. This is a new unicorn, whose value is now close to 4,000 million dollars.
It must be said that with twelve new unicorns on a global scale during the observed period, this "entrepreneurial birth rate" has never been higher. That said, the pack is still very American, with 15 of the 31 unicorns listed this year.
Another noteworthy fact is that while "crypto exchanges" attracted the largest share of funding from all other categories of activity this year, Canada does not record any funding in this specific sector.
In the international venture capital scenario, Canada stands out for its dynamism compared to the rest of the world with approximately 10% of financing during the observed quarter, while operations represent only 2% of global volumes (286 operations). Much larger, Europe accounts for 15% of funding, while Asia accounts for 20%. But it is the United States that largely dominates (50%).
To wrap up the top five quarterly fundraisers in Canada, to a significantly smaller extent than their counterparts, let's look, first, at Figment, a Toronto-based provider of decentralized web infrastructure, which raised $62 million https://figment .io/ resources/figment-announces-50-million-in-funding-series-b/. Then we find Horizon Blockchain Games, another Toronto company, which as its name suggests creates crypto games and tools to help others do the same, which is worth $5.6M. Finally, the "global decentralized group of passionate developers" Fuel Labs, which develops protocols that can be added to Ethereum, received financial support of up to $1.9M https://www.businesswire.com/news/home/20210921005286/en /Fuel-Labs-announces-1.5-million-in-support-led-by-CoinFund.
In short, since the beginning of the year, more than CAD 1.2 billion has already been injected into cryptocurrency-related startups and expansions. And the trend shouldn't reverse anytime soon…
Accepting bitcoin in an organization is not just about integrating a new means of payment. This is a digital transformation. Cryptocurrencies raise fundamental strategic questions for which many departments or structures do not necessarily have solutions.
Imagine that a digital agency in Saint-Hubert became the first of its kind in Canada to accept cryptocurrencies. It is this pioneering position that the web marketing company MAC Media claims.
Its owner, Anthony Gibault (26), a self-taught multi-entrepreneur, refutes any publicity stunt. Millennials are strong believers in the rise of decentralized technologies like blockchains and how they are shaping the digital future. 2022 should see great progress in crypto adoption and ecosystem development. (The metaverse, does that speak to you?)
No bank fees, facilities for international transactions… According to him, MAC Media and its clients have every interest in using bitcoins and ethers, to name only these two cryptographic currencies. So let's face it, users don't actually pay in crypto. The payment providers used by the digital agency are immediately converted to good Canadian dollars.
That said, the business experience offered by Anthony Gibault's company gains in flexibility by offering another means of payment. Medium that, from their point of view, does not introduce any additional risk if the business management is kept under control.
real economic phenomenon
The trend is clearly emerging. Cryptocurrencies should benefit in 2022 from the digitization of transactions forced for almost two years by the pandemic. In fact, 24% of small and medium-sized businesses surveyed by Visa plan to accept digital currencies like bitcoin by the end of this year, according to the payment giant's Global Back to Business survey.
Faced with bitcoin and the 16,845 digital currencies that now coexist, skepticism still prevails in some traditional economic circles. So, let's talk about some avenues of theoretical reflection that advocate in favor of the adoption of cryptos by a company.
In addition to being able to deal directly with clients or investors, without a financial intermediary and, therefore, in a less expensive and more efficient way, the management of BTC and other altcoins allows us to understand technological innovation in a practical way.
This allows a company to explore a financial dimension that fiat currencies (programmable money) do not allow, to also position it in relation to the competition in an emerging area of ​​high growth.
The market approach can be broadened, accessing new demographic groups, with other purchasing power (potentially higher depending on the market), accessing new sources of financing…
New business model, one block at a time
In your opinion, why does a historical brand like Couche-Tard offer bitcoin vending machines?
To do business, the use of cryptocurrencies certainly offers a wide range of opportunities. But, there is a "but", of course. Each opportunity brings its share of difficulties, more or less acute depending on the technological, accounting and managerial culture of the company that dares to take the step.
Cryptocurrencies are not implemented in activities as easily as downloading a plugin in your web browser. It requires understanding and strategy. The exercise implies (will) risks of volatility and of putting the cursor on rather long-term objectives. During this time, questions and even regulatory unknowns arise. The various competent regulators often only give guidelines, the accuracy of which varies greatly from jurisdiction to jurisdiction.
Accepting a digital asset seems more important than adding a new payment channel. It is necessary to decipher the reasons of the company or its industrial environment.
Like any organizational transformation, investments are necessary, not only financial, but also in analysis and implementation time, in dedicated people, in controls, in openness for internal communication… Relevance must guide the application. Crypto remains first and foremost a technological tool, if it were still necessary to remember it.
To never miss this meeting again, receive the "Cryptographic Keys" in your inbox!
.
Rank Math Seo Pro Weadown, Wordfence Premium Nulled, Yoast Nulled, PHP Script, Fs Poster Plugin Nulled, Astra Pro Nulled,Woodmart Theme Nulled, Wpml Nulled, Avada 7.4 Nulled, Woodmart Theme Nulled, PW WooCommerce Gift Cards Pro Nulled, Elementor Pro Weadown, Newspaper – News & WooCommerce WordPress Theme, Nulledfire, Slider Revolution Nulled, Elementor Pro Weadown, Jnews 8.1.0 Nulled, WeaPlay, Business Consulting Nulled, WP Reset Pro, Newspaper 11.2, Flatsome Nulled, Woocommerce Custom Product Ad, Premium Addons for Elementor, Jannah Nulled, Consulting 6.1.4 Nulled, Plugins, WordPress Theme, Dokan Pro Nulled