Tesla offers several ways to have fun in its cars. There is in particular the video game Cuphead. Yet very demanding, it is perfectly playable. We tested it.
Tesla regularly updates its cars, which can be thought of as computers on wheels. In addition to fine-tuning performance, especially in terms of autonomy, the manufacturer never fails to add features – whether they are useful or not. In case you didn't know, cars marketed by Tesla offer access to platforms like YouTube or Netflix (when parked, of course). And vehicles are also… video game consoles.
On the occasion of a new test of a Model 3, we wanted to check whether it was possible to play a demanding title such as Cuphead in a car. So we armed ourselves with an Xbox controller – which we plugged into one of the USB-C ports available in the center console. We have also released our best reflexes to overcome the recalcitrant enemies of the video game that we very much appreciated on Xbox One when it was released in 2017.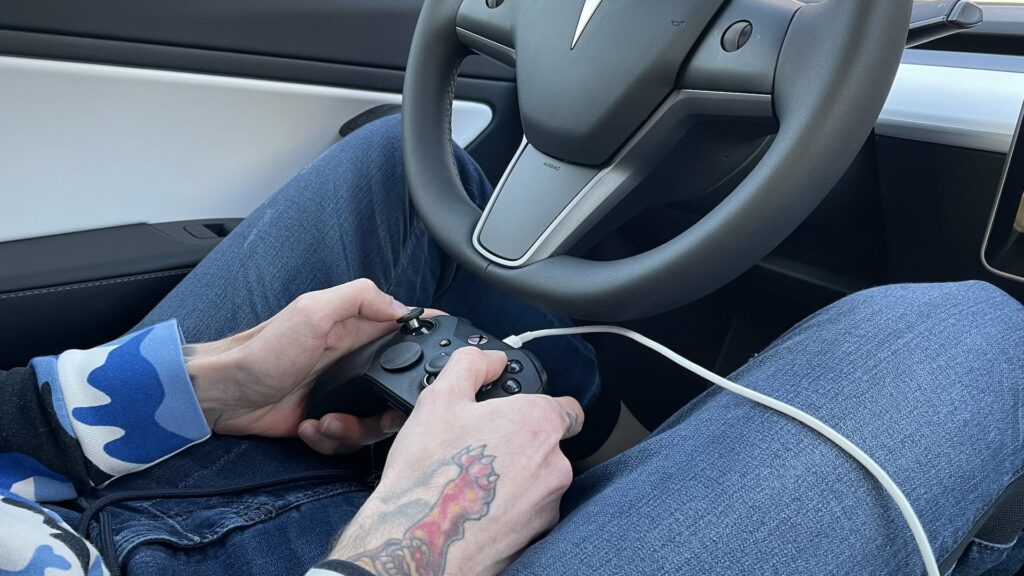 Cuphead is perfectly playable in a Tesla but…
Cuphead is not the kind of video game that we would recommend, basic, to relax next to a Supercharger, while the battery fills up (that's the goal of these small entertaining contents). Developed by Studio MDHR and paying homage to the aesthetic of 1930s cartoons, Cuphead is based on a maddening challenge that requires the player to defeat powerful bosses with a very small margin of error.
This is a 2D game that requires timing and observation, while the screen is constantly filled with deadly traps. Sadistic, the developers go so far as to show us a progress bar at each game over, in order to see if we are getting closer to victory (or not) …
Nothing to say about this Tesla version of Cuphead
One could fear a porting at a discount, with graphic and technical performance which would not rise to the height of the requirement of the gameplay. On the Tesla Model 3 screen, Cuphead is however as beautiful and fluid as in our memories, always with this incredible artistic direction. Between the shimmering colors and the precise animations, Cuphead does not lack charm. And since the Model 3's screen is based on HD definition (1080p) and a large 15-inch diagonal, visual comfort is real. In the form, we will find nothing to complain about this Tesla version of Cuphead, as pleasant as the one on Xbox.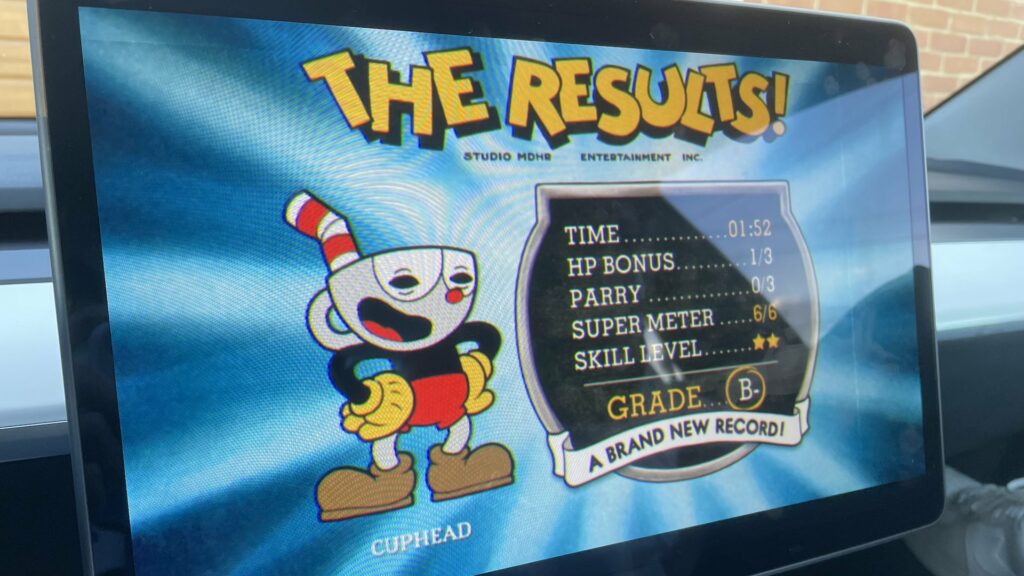 To play Cuphead in a Tesla, all you need to do is plug in a controller. We tested with an Xbox pad and the car recognized the device straight away. A few minutes – and, of course, a handful of game over – allowed us to quickly find our bearings. In a car, it feels like playing Cuphead on a 15 inch tablet. The handling is perfect and failures, if there are failures, are linked to human errors. Read: No need to target your Tesla, there is nothing the car can do to improve your skills with a controller.
On the other hand, there is one point that leaves a little hungry for this Tesla version of Cuphead : the contents. Strangely, this is a big demo offering only the first island of the game, five bosses – the least worst – and a few bonus levels. If you have already finished Cuphead on Xbox or Switch, you will undoubtedly fold the case in less than an hour. On the other hand, it will be longer if you discover Cuphead for the first time – maybe two or three charging sessions on a Supercharger, depending on your affinity with the genre.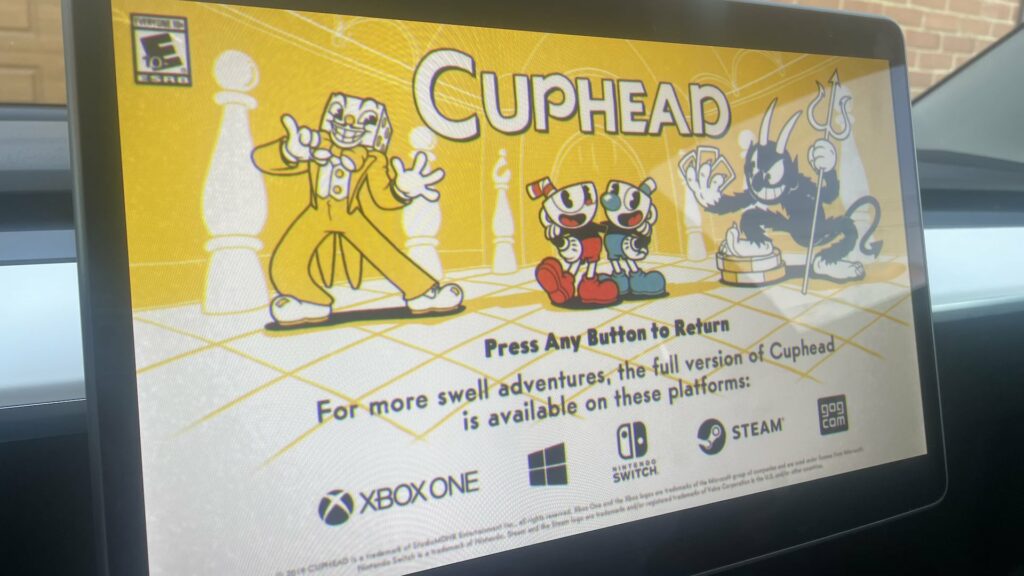 Cuphead proves that Tesla can become video game consoles, a way for the American firm to prepare the ground for the moment when 100% autonomous driving arrives (although it really is not for now).
The new Model S would also be powerful enough to run Cyberpunk 2077 with " a quality comparable to the most recent consoles »(Yes, the PS5) – according to Elon Musk. In short, Tesla is already working on transforming its cars into entertainment centers. We just have to hope that the experiments are complete, which is, unfortunately, not the case with Cuphead.
The continuation in video