Offended by Elon Musk's remark about the slowness of the Twitter app he helped develop, engineer Eric Fronhoefer tried to explain to him that he was wrong. At the end of the deal, Elon Musk publicly announced his dismissal.
Is publicly contradicting your boss a good idea? In retrospect, Eric Fronhoefer, a fact writer, describes his idea as "definitely stupid". If it seems clear that the engineer didn't have Elon Musk in his heart, his social media moment will cost him his place on Twitter, which he took to in August 2014. His mistakes are as follows: contradicts Elon Musk. publicly and did not satisfy the new boss of the social network when he asked him for an explanation. At the request of his fans, who did not like the statements of his detractor, Elon Musk fired Eric Fronhoefer.
Is the Twitter app running too slow?
It all started with a tweet published on November 13 by Elon Musk. Very active on Twitter, where he posts dozens of messages a day, the businessman wanted to "apologize for the slowness of Twitter in many countries." He then gave the reason for these delays, presumably caused by the application making more than 1000 RPC (Remote Procedure Call) requests to update the feed. Since Elon Musk wants to change everything on Twitter, this tweet hinted that he intends to simplify the process.
3 hours after Elon Musk's tweet, Eric Fronhoefer was in the spotlight. The engineer, a priori upset by the message of his boss, denied his words: "I have been working on Twitter for Android for about 6 years and I can say that this is a lie. »
With everything going viral in the Musksphere, Eric Fronhoefer's tweet was picked up by both the billionaire's detractors (who rushed to share it to make fun of him) and Elon Musk's fans, who perceived his arrogance towards their idol.
Elon Musk also reacted, asking his employee to justify: "Correct me. What is the correct number? Two minutes later, Elon Musk asked one of his favorite questions: "Twitter is very slow on Android. What did you do to fix it?". Since his arrival, Elon Musk has liked to ask everyone what they did well to earn their place, often assuming that most of his interlocutors would not have done anything in their day (he voiced this criticism, in particular, to Parag Agrawal, the former Twitter boss) .
In the process, Eric Fronhoefer posted a thread explaining his role on Twitter and the operation of the app, on which he rather collaborated.
The engineer explained to Elon Musk that the app was sometimes slow due to outdated code that needed to be improved. According to him, the number of requests made in the background is about 20, not 1000, as Elon Musk claims. He advised his boss to remove old features to make the app work better.
After this thread, Elon Musk and the engineer finally exchanged opinions publicly… about the quality of the Twitter canteen. Eric Fronhöfer responded to his boss' tweet about Twitter spending too much money on food by saying it really tastes good. Jokingly, Elon Musk told him that he agreed and that "the food was excellent", but on the other hand, the fact that "he doesn't understand that 1200 services are called in the Twitter application is not excellent." Eric Fronhoefer unsuccessfully tried to justify his calculations.
In response to some of his followers, Elon Musk explained that the number of requests, according to the people he spoke to, is 1200, and that Eric Fronhoefer was wrong. According to the billionaire, the Twitter application opens in 2 seconds in the US and 20 seconds in India due to poor optimization work (the engineer claims that it is not tied to Twitter).
Publicly fired on twitter
Some Elon Musk fans who spend their time singing the billionaire's praises then asked him to fire Eric Fronhoefer, who wouldn't have a "good attitude". Elon Musk replied with a simple "He was fired", without warning his employee in advance of his decision.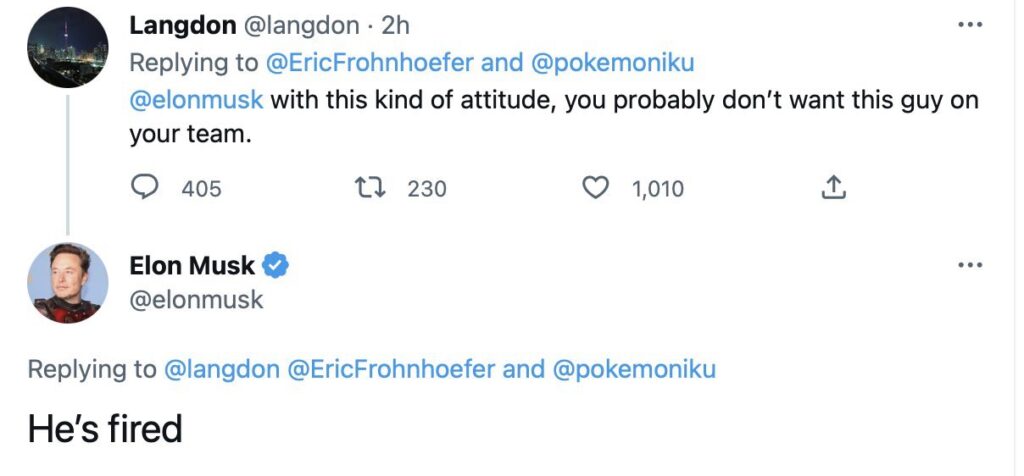 Twitter-active Eric Fronhöfer explained that his actions were "definitely stupid". Several Musk fans respond to all of his tweets in defense of the billionaire. The engineer also clarified that he was involved in a project released last week to allow users to mix content in a tweet (such as photos and videos at the same time).
Later, while trying to log into his work computer, Eric Fronhoefer confirmed that Elon Musk's tweet was not a bluff. Elon Musk fired him. The moral of the story is that it's best to avoid publicly criticizing your boss on social media, especially when the boss is the owner…